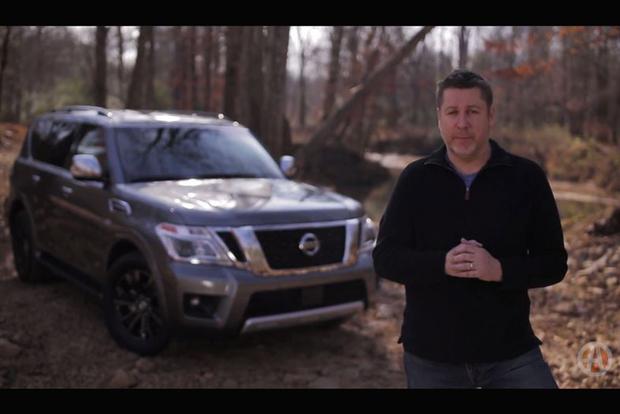 America's fascination with the full-size SUV is far from over, thanks to lower gas prices. To that, Nissan's timing couldn't be better in introducing the totally-redesigned 2017 Armada.
The Armada has been getting a lot of attention lately now that its platform has been changed. It used to be based on the Titan pickup truck, but that's no longer true. The new 2017 Nissan Armada is based on the wildly popular Nissan Patrol SUV. You don't see the Patrol here in the U.S., but it's a legit workhorse all over the globe and even has quite the Instagram following.
In the U.S., the Armada is built more for comfort than extreme off-roading. Americans don't get the locking front and rear differentials found on the Patrol. Still, the Armada is extremely capable, with an improved ride and a more luxurious interior compared to its previous iteration.
And with pricing starting around $45,000 for the base model, we expect shoppers will be very interested in test-driving the new Nissan Armada. It's offered in 2- or 4-wheel-drive versions and available in three trim levels.
All trims are outfitted with a robust 5.6-liter V8 making 390 horsepower. That engine is paired to a 7-speed automatic transmission.
We tested the 4x4 Platinum version, which comes in way above the base price but is still competitive with a Ford Expedition or a loaded Chevy Tahoe.
On the road, the Armada corners with confidence despite its heft, but there is some body roll. The V8 ensures that it can merge into traffic quickly or climb hills with a heavy load in tow.
Off-road, the 4-wheel drive Armada gets its work done thanks to its rigid frame, 2-speed transfer case and hill-start assist. Turn off the traction control and put the truck in low gear for some solid rock-climbing capabilities.
The Armada has plenty of power, so you can check that off your list, but Nissan also really dialed it in when it comes to cabin comfort. The Armada's quiet ride, sophisticated soft-touch materials and detailed craftsmanship are almost on par with its luxury cousin, the Infiniti QX80. Standard features like heated front seats, navigation and a great-sounding Bose audio system are also a good start.
The 6-way power-adjustable seats are very comfortable and there's even lumbar support for long commutes or road trips.
The SV and Platinum models step it up with heated second-row seats, dual DVD monitors with wireless headphones, and reclining third-row seats, all of which should keep your crew very happy while road-tripping or carpooling.
The third row is easily accessible with the quick pull of a lever. And when you need more cargo space, just push a button and the split third-row seats fold flat, giving you plenty of room for your gear. The comfortable loading height and the available lift gate are convenient, too.
As for tech, there's no lack of it in the new Armada, from the wireless phone charger to the 360-degree around-view camera. The Armada uses Nissan's older, more user-friendly information display, with which we do have one gripe: We'd like to see Android Auto or Apple CarPlay included. But on the upside, you'll find a wide range of available adaptive safety features.
All in all, for around $60,000 you can get a loaded 2017 Nissan Armada that includes spacious comfort, impressive safety tech and solid towing capability. A total package, indeed.