Car Video
2017 Nissan GT-R: First Drive Review - Video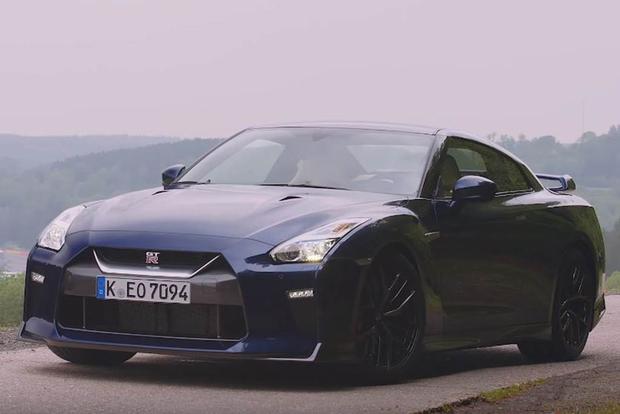 If you're looking for information on a newer Nissan GT-R, we've published an updated review: 2018 Nissan GT-R Review
The Nissan Skyline GT-R is a long-standing high-performance legend. For racing and sports-car enthusiasts, this iconic track star has been creating a stir since the 1970s with its breathtaking speed and nimble handling. It's no wonder that these cars command respect even today and are highly sought after by collectors -- which brings us to the present-day 2017 Nissan GT-R.
At first glance, it doesn't look all that different from the outgoing model, but it has enough tweaks to warrant a closer look. And who turns down an invitation to Belgium for a test run? Not us.
The GT-R may look somewhat unassuming compared to rival exotics, but it's all about the power. This track star clocks 0 to 60 miles per hour in a remarkable 2.7 seconds and reportedly tops out at around 195 mph. Look out, Usain Bolt. See the 2017 Nissan GT-R models for sale near you
What's even more impressive is that this car is just as fast or faster than some exotic cars that cost four times as much.
The GT-R is powered by a 3.8-liter twin-turbo V6 making an incredible 565 horsepower and 467 lb-ft of torque. And its dual-clutch 6-speed automatic is one of the best out there for lightning-fast shifting. Cornering at high speeds was effortless thanks to a superbly responsive steering system and Nissan's impressive all-wheel drive. Revised shocks provide a wider range of driving options, from comfortable on surface streets to downright grippy on a rainy track. And thanks to extra insulation, sound-deadening features and a noise-canceling windshield, the GT-R is quieter inside than you'd expect.
Within, the cabin feels more refined and modern with a thoughtful layout, premium materials and enhanced leather seats. The 2017 Nissan GT-R has definitely evolved, and we like what we see.
Built originally for the track, the GT-R is surprisingly comfortable for the day-to-day commute. We think this will attract a different type of driver without alienating the hard-core fans.
No, the GT-R isn't cheap. But at just over $100,000, it's a lot of performance bang for your buck. If you're a sports-car diehard, this one should be on your test drive list. Find a Nissan GT-R for sale