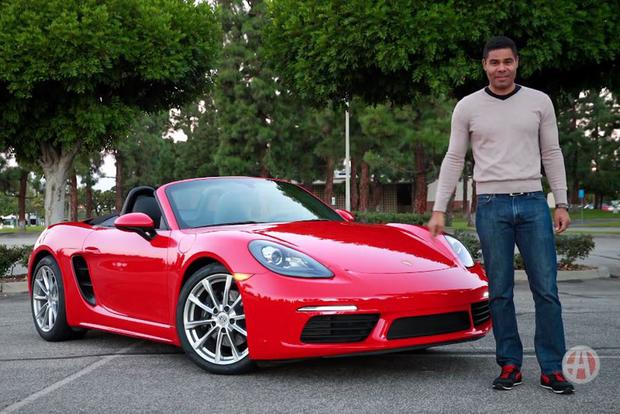 When you hear the name Porsche, you can't help but think of performance and prestige. The 2017 Porsche 718 Boxster embodies those qualities and much more. Here are five reasons to experience this midengine Porsche.
Attractive Styling
You know you can't really go wrong with a convertible, especially one with this much attitude. You get beautiful 18-inch alloys standard, as well as LEDs and an automated rear spoiler. From head to toe, the Boxster features one-of-a-kind styling while still remaining true to the distinct Porsche look.
Safety
In general, convertibles can be dangerous; that's why Porsche gave the 718 Boxster rear-rollover bars made from steel and aluminum. When you have a performance engine, you need performance brakes. The 718's 4-piston aluminum monobloc fixed calibers will bring you to a stop in no time.
Roadster Ride
There's just no other way to put it: This car is built for the track. In either form, stick or the PDK automatic, it just exudes confidence. The midengine layout is ideal for curves and tight corners. Although you'd be fine without it, we do recommend opting for the Porsche Active Suspension Management (PASM), which, with its lowered suspension, allows for even more fun.
Endless Features
Of course, you get premium standard features like hill-hold assist and parking sensors, but the upgrades really allow you to customize things. You can get adaptive cruise control, Apple CarPlay or even a 10-speaker Bose sound system. Ready to time some laps on the track? Well, you'll be track-ready with the optional Sport Chrono package, as it adds a cool stopwatch to the dashboard for timing laps.
Precise Performance
Yes, this is a Porsche, so you can bet the performance is there. But what will blow you away is the precision. Porsche decided to downsize to a more fuel-efficient 2.0-liter turbocharged 4-cylinder for the 718. No need to worry, though, as it's still good for 300 horsepower. Want more? The upgrade is a 350-hp 2.5-liter, though both engines are absolutely remarkable.
Autotrader Says
The 718 name has history, and it lives on in this latest version. Let the top down and prepare for precision at its best. Get into the 2017 Porsche 718 Boxster and hold on tight.