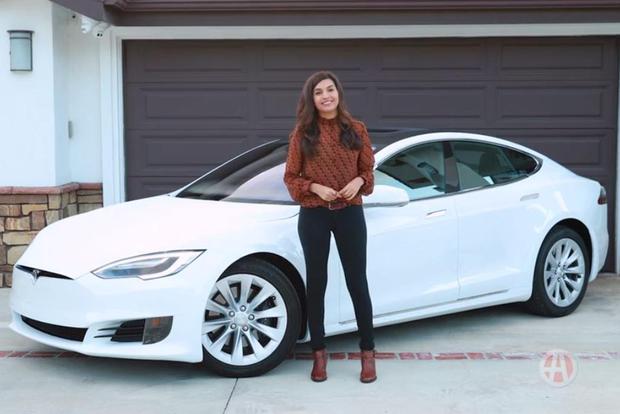 If you think the Tesla brand isn't revolutionary, you haven't been paying attention. The 2017 Tesla Model S 60 is the introduction to this deep electric-vehicle lineup, and we have five reasons why the Model S 60 is the perfect excuse to never have to deal with a gas pump again.
Farewell Fuel
There's no other way to cut it: The Model S is a leader for electric-car mileage range. The 60 offers an incredible 210 miles of range with 19-inch wheels (the larger wheel options give you less range). If you're worried about going on a long road trip, don't be. Tesla reassures you with free national rapid chargers to get you back on the road in no time.
Technology
In a Tesla, almost everything is controlled by a beautiful 17-in touchscreen. Whatever it is you want to do -- opening the sunroof, rolling down the windows or adjusting the climate -- you can do it all from this interface. The software is even updated periodically for newer features. The Model S is as innovative as anything out there.
Great Look
It almost goes without saying, but this car looks great. It has a simple elegance about it, yet it exhibits a modern overall feel. From the standard 19-in wheels to the LEDs, we think it's fair to say that other electric vehicles don't stand a chance as far as looks go.
Safety First
Tesla works extremely hard on safety. The Model S's electric drivetrain sits underneath, creating a lower center of gravity as opposed to a heavy engine block up front. So in addition to the most innovative safety technology out there, a 5-star overall crash-test rating should assure most buyers.
Electric Experience
Ever been in an electric car? It's different to say the least. It's super quiet, offers sporty handling and delivers exceptional torque -- 325 lb-ft in our Model S 60 test car, to be exact. And with 315 horsepower, you'll leave even most gas-powered competition in the dust.
Autotrader Says
There's a reason why the Teslas aren't stacked outside on dealership parking lots -- they're special, very special. Get into the 2017 Tesla Model S 60, and you'll know exactly what we mean.