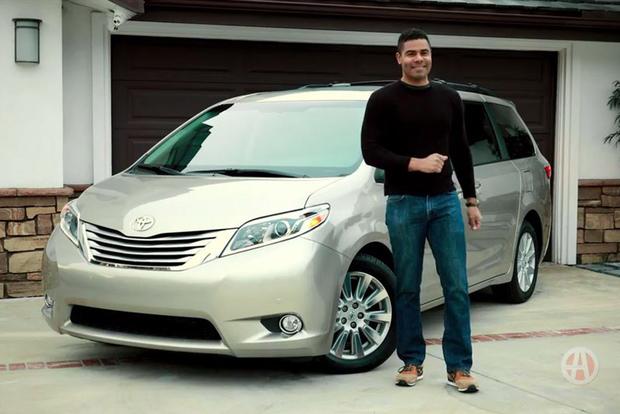 If you're looking for information on a newer Toyota Sienna, we've published an updated review: 2019 Toyota Sienna Review
Shopping for a family vehicle can be tough, partly because you want to make sure you have the perfect fit. That's why you need something reliable and tested. The 2017 Toyota Sienna is one minivan that won't let you down. We have five reasons to put your family in a Sienna.
Engine Enhancement
Not that it was ever a boring drive, but the Sienna now has a 296 horsepower 3.5 liter V6. The power isn't going to blow you away, however it packs a pretty healthy punch. Certainly enough for merging and passing with relative ease. It also has a smoother 8-speed transmission now, up from a previous 6-speed transmission. This engine delivers a good dose of power and smoothness.
Family Versatility
Families will love the Sienna and its versatility. Getting in and out of all rows is pretty easy. Inside, there is available lounge seating with comfy captain's chairs. There is standard tri-zone climate control, and if you have children you'll want to opt for the cool dual view 16.4 inch display screen. Another added bonus we like is the available dual moonroof, which allows everyone to enjoy the breeze. See the 2017 Toyota Sienna models for sale near you
Good Looks
Let's be honest, minivans in general aren't the best looking vehicles to drive. However, we feel differently about the Sienna. Automatic headlights and 17-in alloy wheels come standard, however the higher SE trim level has 19-in alloys. Also, the SE trim level has a cool grille up front and some lower body additions making the styling a bit more aggressive.
Functional Cabin
Toyota, as usual did a great job up front. All the controls and knobs are close to reach and functional. There is a standard 6.1-in screen however there is an upgraded 7-in high-resolution touchscreen. Toyota uses the Entune interface, which is fairly simple and easy to use compared to most. Some other nice options to consider include heating these front seats, heating the steering wheel and even a powerful JBL 10-speaker sound system.
Smooth Efficiency
The Sienna has always been a pretty smooth ride. But with an updated engine and a few enhancements, it feels even smoother than before, especially over bumps. It also remains pretty solid through turns and corners. Now take that, and add on a 27 mpg on the highway rating with the front wheel drive, and you are all set for a family road trip.
Autotrader Says
Yet another thing to keep in mind is that the Sienna also earned a five star overall government crash test rating. So it's safe, reliable, and if you have a growing family, the 2017 Toyota Sienna is definitely worth your consideration. Find a Toyota Sienna for sale