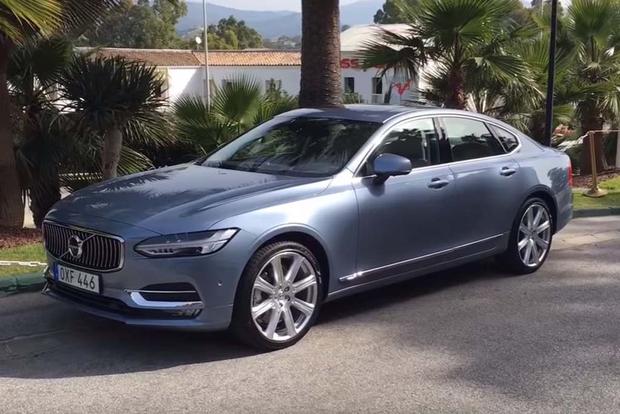 The 2017 Volvo S90 luxury sedan is on its way to the market, and we had the chance to take it for a spin. But before we tell you what it's like to drive, here are five quick facts you should know about the latest addition to Volvo's growing lineup:
The new S90 starts around $46,000, which makes it cheaper than rivals such as the Mercedes-Benz E-Class and BMW 5 Series. That makes sense, as Volvo's smaller S60 is also cheaper than its Mercedes and BMW competition.
Yes, there is a wagon -- it's called the V90, and Volvo says it'll be available by 2017. Direct competitors will likely include the Mercedes-Benz E-Class Wagon, the BMW 5 Series GT and maybe even high-end versions of the popular Subaru Outback.
Even the base-level S90 includes Volvo's Pilot Assist technology as standard equipment, which makes it the first car to offer semi-autonomous driving features as standard equipment. Unfortunately for autonomous-car hopefuls, however, this doesn't mean the S90 will fully drive itself just yet.
The available Bowers & Wilkins sound system is incredible, as you might expect from 19 total speakers. Interestingly, however, you won't be able to adjust the bass and treble.
Like many of the brand's earlier models, the seats in the 2017 Volvo S90 were designed with the help of orthopedic surgeons. Also like many of the brand's earlier models, the seats in the S90 are tremendously comfortable.