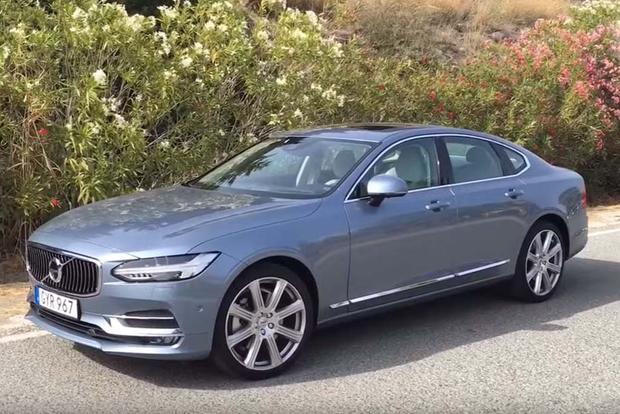 Five minutes behind the wheel of Volvo's new S90 luxury sedan, and you can tell the Swedish automaker has changed. Actually, the brand's rebirth is obvious as soon as you get a look at the new 2017 Volvo S90 sedan's design, and the V90 wagon really drives the point home. We can't think of another car that so effortlessly combines beauty and practicality.
The Fine Details
In a somewhat odd move for a luxury automaker, Volvo has decided to use only 4-cylinder engines in all their cars and SUVs. While that sounds like a recipe for safe but slothlike vehicles, the S90 is anything but slow. There are two powertrains: a 250-horsepower turbocharged engine in T5 models and a turbocharged and supercharged 316-hp engine in T6 models that delivers a 0-to-60 mile-per-hour time of 5.7 seconds.
The car features a large color display right in front of the driver and a 9-inch touchscreen in the middle of the dash. It even has Apple CarPlay, which can coexist with Volvo's native touchscreen features.
On the road, the S90 feels powerful and quiet. There are driver-selectable driving modes, including Comfort, Eco and Dynamic. You can even customize your own setup.
Hits and Misses
We like the Bowers & Wilkins sound system, the real-wood trim and the spacious back seat. The addition of a 360-degree parking camera is a nice touch, too.
The one thing we think is missing is a power tilt-telescopic steering wheel. The S90 is certainly luxurious enough, but a manually adjusting steering wheel feels like a miss on such a nice car.
The 2017 Volvo S90 starts at about $46,000. Expect a nicely equipped, all-wheel-drive T6 to run past $55,000. No word on the V90 wagon's pricing; it will be available later on, with the S90 sedan showing up by late summer of 2016.