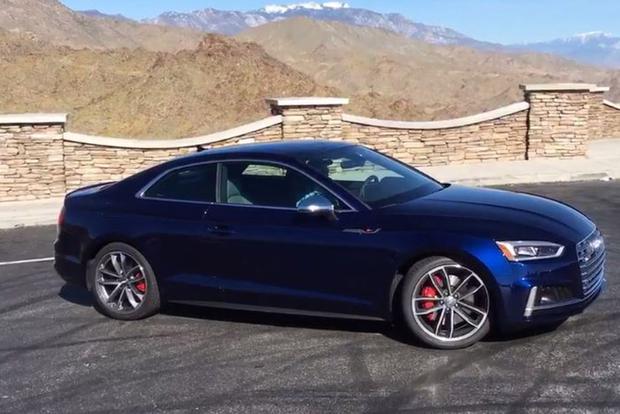 If you think the new 2018 Audi S5 looks similar to the previous version, we can't blame you. But look closer at some of the details and it's clear Audi designers intentionally gave the new S5 a more obvious performance coupe look. The sculpted hood, hard line along the side and more dramatic headlight treatment are more attention grabbing versus the previous, more subtle A5/S5. The taillights have a sort of 3D look and the quad exhaust outlets are certainly not subtle -- they even give the car a cool sound.
Of course the Audi A5 is a perfectly fine coupe, but the S5 cranks that formula up a notch with a more powerful engine, stronger brakes and better handling. However, the S5 doesn't scrap all comfort in an effort to shave one-tenth off the 0-to-60 time. The interior is still a very nice place to spend time. The seats are comfortable and the interior, in general, is a very compelling combination of luxurious comfort and a get-the-job-done performance car.
Opting for an S5 over an A5 does get you a few pretty specific upgrades like a turbocharged V6, more than 100 extra horsepower, an 8-speed tiptronic transmission an impressive 0-to-60 time of 4.4 seconds, more than a second quicker than the A5. Both the engine and transmission are new features in the S5. It's not a totally new engine, but much of it is new and it's the same engine in the S4 and S5.
Horsepower is now 354 and torque is at 369 lb-ft. Although the exhaust note sounds cool at first, it can get a little tedious depending on your driving style. Most S5 buyers will probably think it's just cool.
From the driver's seat, the S5 feels like exactly the kind of car Audi intended: A quicker and more engaging car than the A5 but with nowhere near the urgency and authority of an RS5; even the M4 feels more aggressive but less comfortable than the S5. Is that a compliment? It kind of depends on who you are.
The S5 is a car that offers a little extra entertainment when you want it, but won't beat you up if you have a daily commute.
Other details include a 12.3 in gauge display that's part of the virtual cockpit which automatically comes with the optional Navigation Pacakge; it's $2,600 extra.
Starting price for the 2018 S5 coupe is about $56,000. Plenty of safety and driver assist featues are included, like LED running lights and headlights, full color head-up display, Audi connect, cross-traffic alert, pre-collison sensing as well as Apple CarPlay and Android Auto for smart phone connectivity; various packages and options such as warm weather package, Bang and Olufsen sound system and an S Sport package are additional.
The 2018 Audi S5 is also available in convertible and sportback versions.