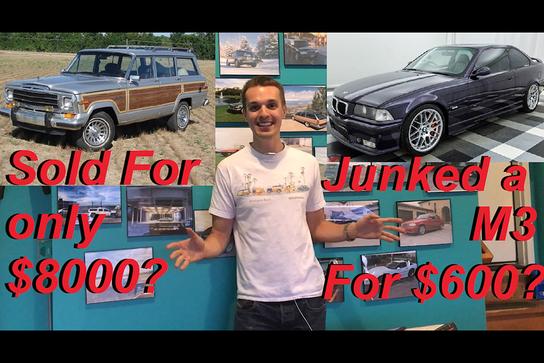 Some of you might think my current car-buying bender is a recent psychotic break on my part. In reality, I've been this nuts for almost a decade. With hundreds of cars under my belt, I have a deep well of stories from my past to draw from. In my first-ever "Flashback Friday" story, my impulsive nature and shortsightedness shines when I describe 5 cars I sold too soon -- before they rapidly appreciated in value.
1. 1989 Jeep Grand Wagoneer
I always had a fondness for faux wood paneling, and this 1989 Jeep Grand Wagoneer was my first fake woodie. When I found it on Autotrader back in 2009, my father warned me against buying it. He had one briefly 20 years earlier, and claimed it was the most unreliable vehicle he ever owned. Apparently, a friend of his also had a Wagoneer with electrical problems that eventually caused it to burn to the ground.
I didn't listen to my father, and drove to Oklahoma to check it out. It broke down on the test drive -- but I bought it anyway.
The previous owner had gone to great expense in restoring this Wagoneer. The exterior was completely repainted, with new vinyl wood stickers applied on top -- and the motor was freshly rebuilt. With only 101,000 miles, it was a great deal for $4,500 -- but my Jeep certainly lived up to its reputation. I couldn't stop the aftermarket carburetor from vaporlocking on a regular basis, leaving me stranded at random for at least 30 minutes at a time. It was also annoying to stay on top of the never-ending electrical gremlins.
Despite the constant headaches, I loved my Wagoneer -- but I decided to sell it anyway. With no garage space, I felt guilty about it being exposed to the elements, and I knew it would sell for more than what I paid for it. I listed it online and watched as a bidding war brought the sale price to $8,000. I was thrilled -- until I learned the buyer wanted it as a daily driver in salty Nebraska. When he drove away, while smoking a cigarette inside the mint interior, I felt sick. I had just sentenced my Wagoneer to a slow, painful death. It's especially sickening to think about now, since currently Wagoneers in that condition can bring over $30,000.
2. 1976 Mercedes-Benz 450SEL 6.9
Mercedes didn't officially start importing the 450SEL 6.9 into the United States until 1977, but this 1976 model somehow made its way here through the grey market. I purchased it from a dealer for $4,000 after it was traded in for a BMW and immediately fell in love with the power. The torque rating on the massive V8 was somewhere over 400.
Overall, the Mercedes was a very nice driver, and I spent about a thousand bucks fixing what I could. Sadly, I owned this vehicle when I was too young -- and I knew I didn't have the funds to properly maintain it. With the motor's dry-sump oil system, an oil change requires 12.7 quarts -- and prices for parts on the hydraulic suspension system were beyond ridiculous. Plus, I'm sure there was something else that I wanted to buy at the time -- so I sold it to another Mercedes enthusiast for $5,000.
While I broke even selling it back in 2009, if I had kept it all these years, it would have been worth at least $15,000 -- though I imagine the running costs over nearly a decade would've far surpassed that number.
3. 2004 Jeep Wrangler Rubicon
Buying this Jeep was one of the best purchase decisions of my life. In 2008, I traded my horribly unreliable 2003 BMW X5 4.4i straight across for a showroom-fresh 2004 Wrangler Rubicon with just 10,000 original miles.
The Wrangler Rubicon was Jeep's response to the aftermarket, offering many of the off-road upgrades commonly installed by enthusiasts. My Rubicon looked and felt brand spanking new, and little did I know I had purchased what many consider to be the best Jeep ever. At the time, the latest Wrangler was being widely criticized for its size, its weight, and its lack of power -- a step backward when compared the lighter-feeling body of my old Wrangler, with its torquey inline 6-cylinder engine.
At the time, I never thought it was anything special. Just a fun-to-drive little Jeep that I used through a pretty harsh winter. Come spring, I was longing for something European again and traded it for only $13,000 toward the purchase of a 2004 Mercedes E500 wagon. If I wanted to get back into a similar vintage Rubicon today, the few low-mileage examples available on Autotrader have asking prices of around $30,000.
4. 1995 BMW M3
I once owned a 1995 BMW M3 for literally a matter of hours. I owned it so briefly that I never even took a photo of it. Pictured above is a similar-looking one that's currently for sale on Autotrader. Mine was a desirable coupe with a manual transmission -- and in 2012, I bought it on impulse at a dealer auction for only $600.
It ran great for a few miles -- and then it violently overheated due to a bad head gasket. It was in decent shape otherwise -- but typical of BMWs of that era, the interior was falling apart. I decided I didn't want to mess with it, and sold it to a salvage yard for what I paid for it.
I realized my mistake a few years later at another auction, when I came across an identical purple M3 coupe. This one had 80,000 miles and was in great condition. I expected it to sell for around $7,000. When the Bimmer crossed the block, it was swarmed with buyers and a bidding frenzy resulted in a shocking $13,000 sale price. Even a basket-case M3 brings $5,000 nowadays. If only I had had a barn to stash that one away...
5. 1968 Porsche 912
I saved the worst for last, and I'm sure there are plenty of other Porsche enthusiasts who can sympathize with me. In early 2014, I bought this 1968 Porsche 912 -- just a few months before prices started skyrocketing on all air-cooled Porsches. The 912 was the economical version of the 911, with a 4-cylinder engine similar to that of the older Porsche 356. I jumped at the chance to buy this decent example from a family friend for only $6,000.
Prices were starting to rise at the time, but I wasn't confident enough about the condition of the car to ask a lot of money. The floor pan had been patched, and the body had been repainted twice -- once from its original white color to bright green -- before getting resprayed again in black. The motor did have a recent documented rebuild, but the transmission was getting crunchy and the front suspension needed work.
I sold my Porsche within hours of listing it, for $9,000 to a dealer in California. I realized my mistake when he promptly resold it for $14,000. That hurt, but it was even worse seeing prices skyrocket from there. In today's market, a 912 in that condition is easily worth $25,000.
In hindsight, I can't help but feel dumb. Of course, there's maintenance, storage, insurance, taxes and depreciation from use to calculate into all of this -- but if I found the same abandoned mine Doc Brown used in Back to the Future: Part III to magically preserve these cars for years, I would be $60,000 richer. My recent Acura NSX purchase is my first attempt at riding this appreciation wave of young classics. If my goldfishlike attention span doesn't cause me to sell too soon, I might finally be on the winning side of this. Fingers crossed...