Car Video: 
Oversteer
A Tale of Two Mercedes: When the Grey Market Made U.S.-Spec Cars Compete With Euro Models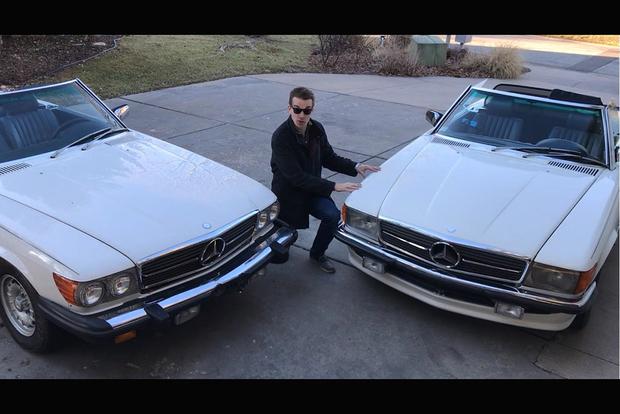 In the early 1980s, it was the worst of times to buy a new car. A combination of safety and emissions regulations, insurance company pressure and consumer trends created an atmosphere that birthed some of the worst cars ever. A prime example of a car that was nearly ruined by what's become known as the "Malaise Era" is the Mercedes-Benz 380SL -- but for enthusiasts at the time, there was hope from something called the grey market.
When I say the 380SL was nearly ruined, I mean this beautiful car was beaten with the malaise ugly stick to within an inch of its life -- and left desperately gasping for air to meet its emission requirements. The 5 mile-per-hour impact bumpers and sealed-beam headlight requirements were forced on the car to meet U.S. regulations dating back to the 1940s -- and the 3.8-liter V8 struggled with its pathetic 155 horsepower to make a 10-second 0-to-60 time.
Despite all of this, it was one of the best convertibles of the early 1980s -- but that's like saying ""Knight Rider was a better crime drama than "The A Team," "T.J. Hooker," and "CHiPS," all of which looked ridiculous and lacked substance.
While it seemed like a dark time to be a car enthusiast, there was hope -- thanks to a little known back door called the grey market.
There were plenty of crippling regulations for cars built for use in the United States, but few rules stopped people from importing just about anything. This meant anyone with a dealer's license could contact a Mercedes-Benz dealership in Germany, purchase whatever new car they wanted and ship it to a port of their choice. From there, they could "Federalize" the car and resell it to American customers.
Federalizing Euro-spec cars was enforced inconsistently, if at all, with rules varying from state to state. This meant most cars were sold without emissions requirements, big bumpers or antique headlights. For the SL, it meant you could import something like a fantastic 280SL with a peppy inline 6-cylinder engine and 5-speed manual transmission -- or you could bring in the Autobahn burner of the day, the 500SL.
With an all-aluminum, rally-inspired V8, the 500SL had a much more respectable 240 horsepower -- and it looked fantastic. The crazy part was you could purchase this far superior car through an importer or directly from Germany and pay the same or less than you would for a 380SL from a franchise Mercedes-Benz dealer in the U.S.
Obviously, this was all way too good to be true, and it was a bad deal for official Mercedes dealers -- so the grey-market back door was slammed shut after 1985. From then on, American car enthusiasts could only look upon the rest of the world with envy.
Mercedes unveiled a more powerful 560SL in 1986. It wasn't as fast as the Euro-spec 500SL, but it was a much better-looking and -performing car than the old 380. Thankfully, we don't have to suffer much in 2017, thanks to the rule allowing any car over 25 years old to be imported legally.
All of this is the backdrop to my own X-Men origins story. Unlike Wolverine, I wasn't born with mutant powers and made into a superhuman through a secret government program, but rather I credit my becoming an automotive idiot savant to growing up with this major catalyst: a Euro-spec 1985 500SL that's been in my family since new. I've been driving it for nearly my entire life.
It all started with my grandmother wanting a new car. Being a recent empty-nester, she wanted her first convertible, and her initial pick was a Chrysler Lebaron. I was just a twinkle in my dad's eye at the time -- but even then, he was looking out for me, and he pointed her towards ordering a Mercedes-Benz through the grey market.
Really, he was just looking for something he could joyride on occasion -- and he filled out the order form for her. My grandmother was clueless to the high-performance German hot rod being created, but she scoffed at my father's color choice. Black on black was thrown out for white with navy blue leather, and the car arrived through the port of Houston later that year.
I grew up with this 500SL. I even tried driving it once at 4 years old, which resulted in a minor accident -- after I rolled down the hill and into the back of a truck.
When I finally reached the age to legally drive, the 500SL was the car I started with. I'm one of the lucky few car guys to have a great first car -- and I was able to hang onto it. Other than some period-correct AMG appearance bits and a Nardi wood steering wheel, it looks and feels exactly the same as it did 15 years ago.
It's hard to say I feel nostalgic when I'm driving it, since it's been a fixture throughout my life -- but whenever I get behind the wheel, I can recall childhood drives with my grandmother, or high school shenanigans, or recent top-down sing-alongs with my daughter.
Like in a sappy car commercial trying to create brand loyalty, the 500SL really has become a member of the family.
Tyler Hoover went broke after 10 years in the car business and now sells hamburgers to support his fleet of needy cars. He lives in Wichita, Kansas.
MORE FROM OVERSTEER:
Did You Know the McLaren F1 Has Three Trunks?
The Lamborghini Jarama Is the Weirdest-Looking Lamborghini
Here's Why the Jeep Wrangler Pickup Truck Is Awesome