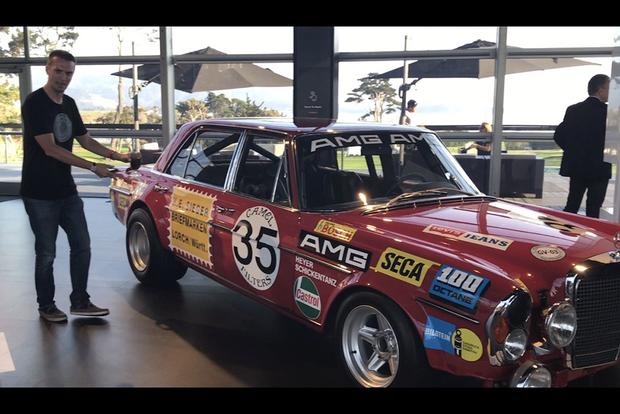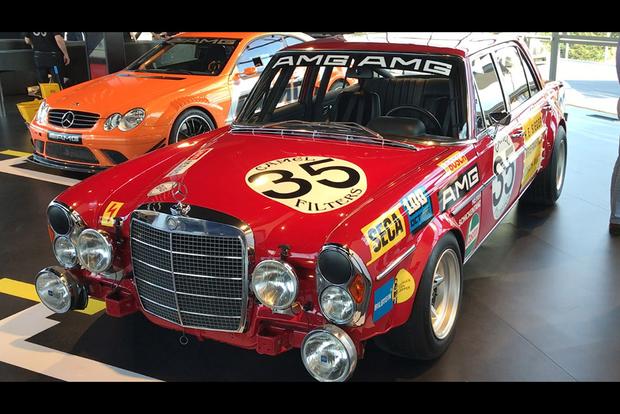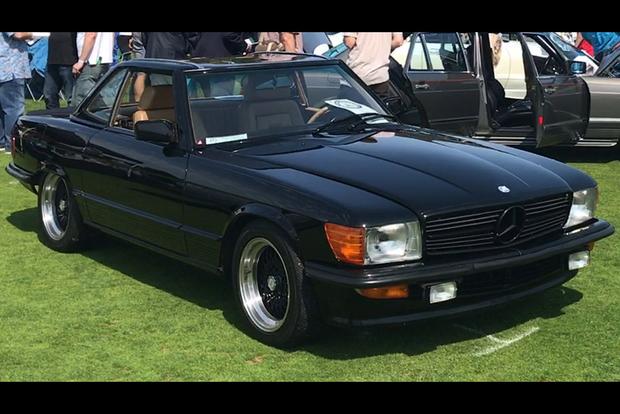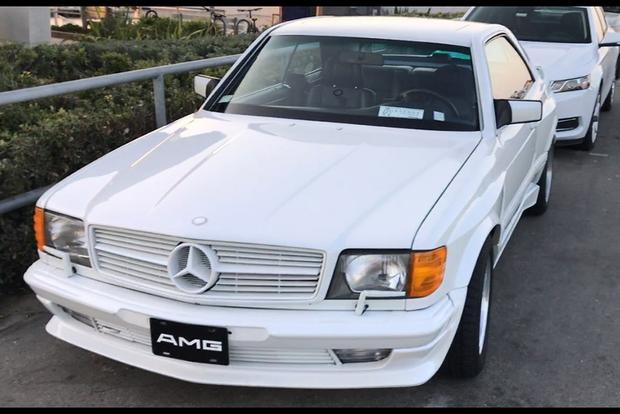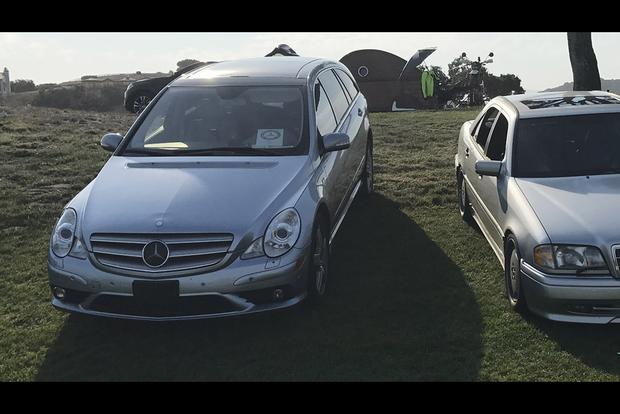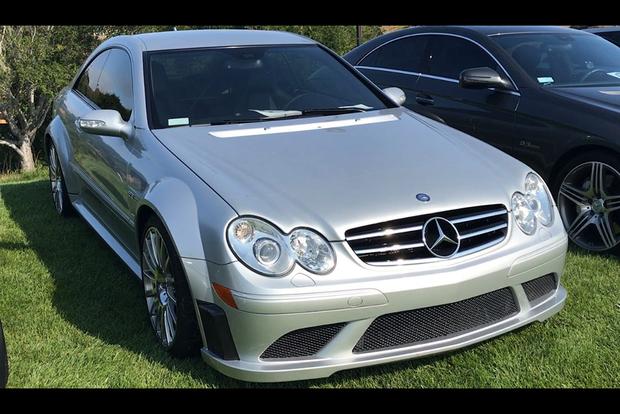 For this AMG fan, celebrating 50 years of the legendary tuning company at Monterey Car Week was an incredible experience. Using car week as the perfect backdrop, I was able to create the video above, showing the history of AMG. Of course, the video has my own stupid spin on it, including a karaoke session of M.C Hammer's "Hammer Time" while looking at AMG Hammers. For this article, I've chosen to skip the history lecture and list five of my favorite AMG cars spotted during Monterey car week.
1. 1971 300SEL 6.8 AMG "Red Pig"
While the original "Red Pig" AMG racer was sadly destroyed, this recreation by the Mercedes classic center is an exact copy of AMG's original race car. The Red Pig competed in the 1971 Spa 24 hours race, and its massive size made it look ridiculous next to the competition -- comprised predominately of sports cars. This giant red mascot put the AMG name on the map, helping the tuner establish itself as the preeminent supplier of performance parts and accessories for Mercedes-Benz vehicles.
Slapping racing livery, oversize wheels and fender flares on the elegant S-Class of this era might look ridiculous, but the car is a stunner in person. Call me crazy, but I spent more time drooling over the Red Pig than the CLK GTR parked across from it.
2. 1982 500SL AMG with 5-Speed Getrag Manual Transmission
I had known of this unicorn of an SL on the West coast for a number of years, and it was a thrill to finally see it in person. The owner reports this car as being one of only four manual-transmission-converted AMG SL convertibles in the United States, and the modifications don't stop there. In addition to the AMG appearance package, the engine heads were ported and polished, reportedly increasing output to over 300 horsepower. The interior was also transformed with some fantastic-looking period Recaro seats.
Years ago, I was on a quest to transform my 1985 500SL into a period AMG by sourcing original parts. I've found (and installed) the correct wheels and body kit but have yet to find any of the unobtanium performance equipment.
3. 1988 560SEC Widebody 6.0
I stumbled across this incredible rare car parked unassumingly in Monterey's Cannery Row -- and I was thrilled to meet the owner, as well as the original AMG mechanic who built the car. The Hammer sedans, based off the E-class, were the most publicized cars -- but AMG also gave the Hammer treatment to many S-Class sedans and coupes. I always thought the widebody kit and the screaming 6.0-liter V8 looked best on the 560SEC, and finally seeing one in person cemented that opinion.
This 560SEC also competed at the Legends of the Autobahn meet, where it was awarded best in show. Only during Monterey Car Week do you see show-winning cars being causally driven to dinner.
4. 2007 R63
Another first was seeing the now-famous 500-hp AMG minivan in person. I couldn't miss the opportunity to park my C36 next to it at the Legends show for a photo. It struck me as the most plain-looking AMG I've ever seen, with very few exterior changes to differentiate it from a normal R-Class. It's no wonder they sold so few of these -- but I would guess a crazy-looking AMG minivan would have sold even worse.
With less than 100 sold in the United States, I probably won't see an R63 again until AMG has its 100th anniversary -- and by then, I'll probably be making videos in a retirement community about my fleet of mobility scooters.
5. 2008 CLK63 Black Series
I've loved the Black Series cars for bringing AMG back to its bonkers roots -- and this CLK63 was the first of many to come. Like the R63, the styling changes of the CLK's regular AMG version were too subtle, and they failed to dramatically differentiate the CLK from normal Mercedes-Benz production cars. With the massive fender flares and spoilers fitted on the CLK63 Black Series, there was no mistaking it for anything but a seriously bonkers AMG.
The car was built to resemble the Formula 1 safety car, and it had an interior stripped of rear seats and most luxury items for weight savings. I expect this to be a highly collectible classic in the future -- and if I made more responsible financial decisions, this car would certainly be in my dream garage.