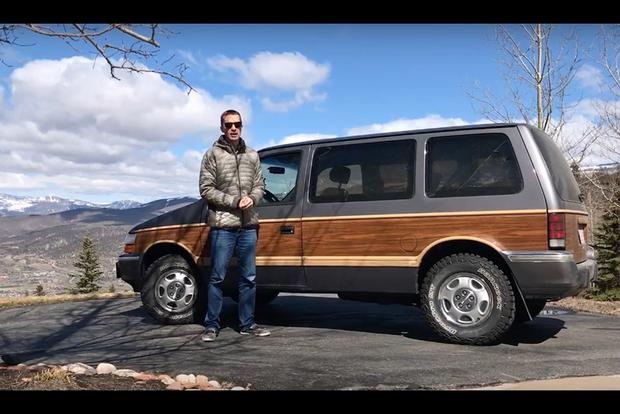 There are two reasons why I failed at using my 1991 Dodge Caravan Woodie -- with rare optional all-wheel drive -- as my "winter beater." The first is that there was barely any winter weather in Kansas this year -- and the second is that I've idiotically invested over $5,000 into this van, which is way beyond what anyone would call "beater" money. In a last ditch effort to justify my stupidity, I've taken my "Mighty Van" to Colorado, hoping to find some bad weather and off-road adventures -- and I succeeded. Kind of.
My younger sister lives in Colorado, and she's VERY pregnant with her first child -- likely to pop any day. Since my kid is now old enough to tell me that my latest car purchase was stupid and smells like someone "doodied" in it, I decided to load up my van with the baby stuff I no longer need and deliver it to my sister.
The drive from Kansas to Colorado will make you question your own sanity. The 500-mile trip goes in an endlessly straight line with zero interesting landmarks along the way -- just endless rolling prairie grassland. The halfway point is a small cattle town that smells exactly like the 100,000 cows that surely live there. Other than counting the eight hours of your life wasted, there's no way to discern you've driven any distance until the mountains mercifully appear on the horizon.
When I finally started my mountain climb in the Mighty Van, I was thrilled to encounter a legitimate snowstorm. In one particular stretch of interstate, there is a 1.6-mile long tunnel dug through a giant mountain. The mountain is long enough that weather patterns on each side of this tunnel can be completely different from each other -- which was the case for me that day. Surprised by the blizzard-like conditions on the west side of the tunnel, motorists went careening out of control in a dramatic pileup -- forcing authorities to shut down the interstate.
Thankfully, I noticed the closure alerts and exited the highway to avoid waiting in traffic for hours -- but the alternate route required climbing the mountain on a narrow pass. A pass with sheer cliffs and no guard rails...during a snowstorm. But since the roads were well-treated, it really wasn't challenging at all. The only issue was the 150-horsepower V6 in the Mighty Van having a hard time climbing at 12,000 feet in elevation. Much to the dismay of the countless Subarus stuck behind me, I could barely maintain 40 miles per hour.
The weather cleared by the time I reached my destination near Vail. In all, the only issues I had with the van were some minor electrical hiccups you would expect from an early '90s Chrysler product -- but the Mighty Van managed to heal itself by the time I set off for some off-roading fun the next morning.
Unfortunately, there's no way to avoid 1990s Chrysler quality on dirt roads and off-road trails -- so it seemed like every part of the van was rattling violently with every bump. It was exhausting, and I was relieved to complete the trail with the van in one piece.
Admittedly, I didn't drive anywhere very challenging. After filming a failed attempt at a handbrake turn, I was surprised to see a Mazda 3 sedan crest the hill behind me. My van was blocking most of the road -- and the driver suddenly stopped at the sight of me. I was holding my long, metallic, pointy looking tripod in one hand, and I waved at her with the other. She clearly thought I was a serial killer, and quickly sped off in the opposite direction.
While I didn't do anything serious to show the Mighty Van's off-road chops, I'm leaving it with my sister in Colorado for several months. As the snow melts, and more off-road trails begin opening up, I plan on REALLY testing the van's off-road abilities -- and I have no doubt I'll probably end up REALLY breaking something.