On a quiet and calm Sunday morning, my brother and I found ourselves waking up in our hotel room, ready for what the day would bring. Because the event we're attending starts to wind down just as it seems to start getting wound up, we opted to spend the night at a nearby hotel. We did this because the event is nearly five hours away from where we live, because it officially starts at 8:00 in the morning and because it has nearly completely disbanded by the time lunch rolls around. We made an attempt last year to get up severely early in the morning and go down and back in one day — but, much like our attempt to watch the sun rise from the top of Mount Washington, we fell short of getting the full experience from our journey.
If you're thinking I'm talking about a cars and coffee-type event, you'd be right. This one is called Caffeine and Carburetors, and it's located in New Canaan, Connecticut, which sits just outside Greenwich. Some of you may now be wondering why we would get in a car, drive for 10 hours, and pay for a hotel room for a 4-hour car show when there are actual cars and coffee events right here in Vermont. Well, in a picture:
The Barn Find 1967 Lamborghini Miura that was featured on Petrolicious in August 2016 is unlikely to make an appearance where I'm from. If you get close to it, you'll find that — even a year later — it's still in original condition. It's had a bath since it was pulled out of the barn, and it's been made to run again, but, that's about it. It's beautifully rough around the edges and it spits, sputters and smokes — but it has a plate on it, and it drove away under its own power. Trailer queens need not apply.
As we pulled into town, this was driving around, making an enormous commotion while searching for the ideal parking spot.
Ohh, yeah. Did I mention it has a 7.0-liter Ford Galaxie V8 in it? You could say that the word subtle is not in this car's vocabulary. It appears to go by the name Jaguar Egal, and is basically a semi-lightweight E-Type with an enormous engine.
Of course, there are also the crazy exotics that everyone craves. For instance, the total value of the cars in this picture is verging on "a lot of money." Yes, that's a Ferrari Daytona convertible, a 512BB (both of which had Montana plates, naturally), two Veyrons, a McLaren P1 and that orange blip at the far end is the cameo appearance of the Miura pictured above.
But it's not all million-dollar cars made of carbon fiber and unobtanium. Here are some humbler cars that were chilling out too. This one even has a wicker trunk:
According to its odometer, this car has traveled either 89 miles or 100,089 miles. Since I can't imagine anyone wanting to spend more than a very short time in one, I'm guessing it's not the latter. Okay, so, maybe there's one trailer queen here.
Or, if an enormous American barge is your preference, how about this bad boy?
"But, Bill! I need more muscle!" Don't worry, that's covered too, in the form of things like this DeTomaso Pantera equipped with rear tires as massive as its engine.
You know what? If nothing up above floats your boat and all you want is a 1980 Toyota Tercel with 36 coats of paint, you won't leave disappointed either.
And here's the best part. All of the cars above were on just one of the two streets that were closed! Since Ferdinand Porsche's birthday was also in September, the second street was dedicated to all manner of Porsche models — and just about every Porsche from every era was present. For instance: here's one of the seven or eight Keen Project 911s. We talked with the owner of this one for a few minutes and he seemed like a great guy — who's already had a lot of awesome adventures in it all over the country. Yes, that's a Martha's Vineyard beach driving permit on the front. Apparently its time on the beach didn't go very well — at least, not with those tires.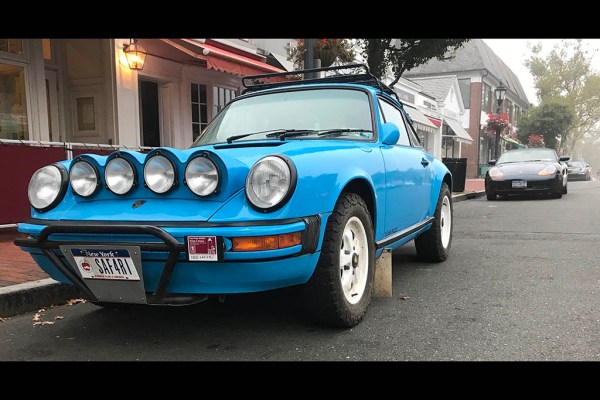 We even, after things were winding down, snuck my old beauty of a Porsche 911 onto Main St. for a quick photo opportunity we simply couldn't pass up:
Here's a decision to make: You can either have the car on the left, or 100 of the car on the right … which do you choose!?
Anyway, here are all the pictures I took! And I have no regrets about driving five hours and staying in a hotel just to go to a cars and coffee!
MORE FROM OVERSTEER:
My 1985 Mercedes SL Has Been Continuously Broken For 15 Years
Here's Why the Mercedes-Benz CLK63 AMG Black Series Is the Best AMG Car
Here's a Great Story About Finding 2 Stolen Lamborghini Gallardos