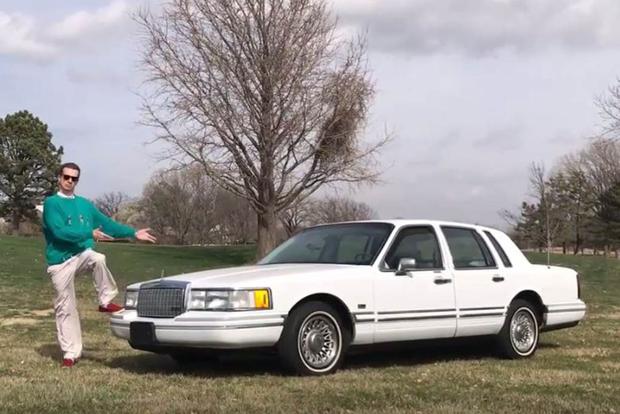 As I write about my latest purchase for Oversteer, I find myself procrastinating by Googling "How to control impulsive behavior," and I've diagnosed myself with "Compulsive Buying Disorder." The disorder is not only classified for people who are constantly buying items well beyond their financial means, but also for individuals who spend an inordinate amount of time shopping without purchasing anything. So if you're the type of person that spends hours a day just looking at cars online, you might be almost as sick as me.
I'm so far gone at this point that only a lobotomy could stop the madness. But my itch has been scratched for now -- this time for only $500. And as you can see in the video, I got something really nice!
It's a 1993 Lincoln Town Car Jack Nicklaus Special Edition. Lincoln gave the hottest golfer at the time creative license to design his own signature Town Car, and he decided to bring the golf course inside the car. The leather seats are white like a golfer's glove, the door speakers are covered in a fuzzy material like a dust cover for golf clubs, and the plush carpeted floors are GREEN. Yes, as green as the perfectly manicured fairways at the Pebble Beach Golf Links.
This makes it one of the strangest special edition cars ever made, but maybe not the strangest Lincoln. Several designers have given their treatment to big Lincolns, such as fashion designer Bill Blass, who, in the late 1970s, must have been trolling Lincoln owners by designing his land yacht with a nautical theme.
So when I saw this Lincoln sitting in reject row at the auction, I did a double take. I first noticed the unusual wheels, then the funky Golden Bear logo (Nicklaus' brand) on the fenders. Once I opened the door and saw the green carpet, I knew I had to buy it.
It didn't matter that the car refused to idle, would misfire violently under acceleration, and none of the windows worked and it was incrediby dirty ... this junkie had found his latest fix.
Turns out I was the only person in the world that wanted it. I couldn't personally attend the auction, so I asked a friend to watch it for me and bid on my behalf. He got distracted and missed it rolling across the auction block -- but it didn't sell. The Lincoln didn't even get a single bid. My friend was able to track down the seller after the auction to make a deal -- and I was the proud new owner of Jack, as I've unimaginatively named him, for only $500.
As I suspected, fixing the runability issue was easy. By disconnecting the mass airflow meter, it sent the motor into a default mode, and it ran great. A new airflow meter permanently solved the problem, making it a totally usable driver. Next was addressing the windows: When I looked into it, I discovered all four window mechanisms had somehow failed. For now, I've only replaced the fronts.
Other than the dead AC and rear windows, everything else works fantastic. The air ride rear suspension ensures that my Town Car floats down the road, the lumbar support still pumps up in the pillowtop seats, and the smooth V8 doesn't have any leaks. Other than a small divot I accidentally put in the roof while making this video, the body is free of any rust or damage. It's shocking how good this car is.
I thought the cash for clunkers program had killed off bargains like this, but I guess there are still good cars that can be found for less than a few hours with a psychiatrist. What a great way to manage my newly diagnosed disorder.