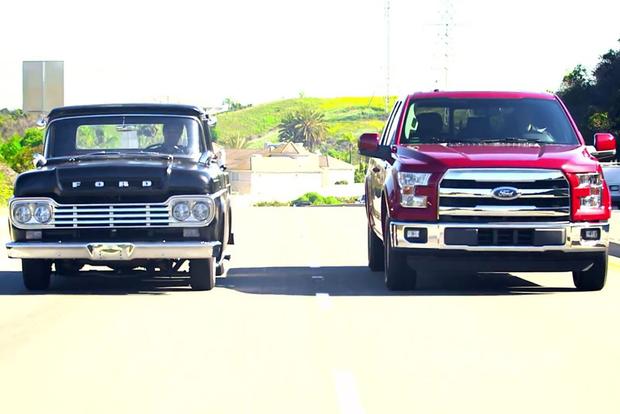 If you haven't heard, there's a new Ford F-150 in town, and everyone's talking about what it's made of.
Literally.
That's because the latest F-150 has weight-saving aluminum body panels, which is partly why it's the quickest and most capable F-150 ever.
But things used to be a little simpler, and that's where our well-preserved 1959 Ford F-100 loaner comes in. It doesn't have any of the F-150's modern technology, but it's certainly brimming with character.
So how do they compare? Let's see if this old dog's got some life in it yet.
Behind the Wheel
Inside the F-100, it's a time machine. With a body-color dashboard and gorgeous metalwork, it's like you're sitting at an old soda fountain. Of course, there's plenty of stuff missing that we take for granted today. There are no headrests, for example, and it offers hardly any buttons to press. But it also lacks complexity, and these days, that's pretty refreshing.
The F-150, of course, is on the other end of the spectrum. Recently redesigned, it offers a ton of features, including leather upholstery, automatic climate control and even the MyFord Touch infotainment interface. Its interior quality has improved too, with better materials than before. But is it as cool inside as the old F-100? No sir. The old one takes this round.
Pedal to the Metal
When you floor it in this F-100, you won't have trouble hearing what comes next. The 223-cubic-inch inline-6 exhales via long-tube headers with "cherry-bomb" glasspack mufflers, and that makes for a very assertive soundtrack. In contrast, the new F-150 is whisper-quiet, with no fewer than two twin-turbocharged EcoBoost V6s available. The 2.7-liter EcoBoost is a great choice for fuel economy on a budget, while the 3.5-liter EcoBoost hauls the mail with its massive 420 lb-ft of torque. Either way, the F-150 admittedly lacks the drama of the F-100, but it's also a whole lot quicker. Advantage: new guy.
Fashion Show
First of all, there's no doubt that the new F-150 has presence. It looks mean and aggressive from the curb, with one of the strongest, most upright grilles of any modern vehicle. But the 1959 model has presence too, even though it has a few more curves in its formula. The F-100's four round headlights are fantastic, not to mention the "FORD" lettering above with its own separate grille built into the hood. As modern trucks go, the F-150 has a great look, but few trucks of any era can compete with a 1959 F-100.
Which Is Better?
If you want to talk price, the '59 wins in a landslide. You can get a nicely restored F-100 for barely half the price of a new Ford F-150. That's amazingly affordable compared to the market for restored muscle cars. But are you willing to put up with the F-100's shortcomings on a regular basis? That's a personal choice, but for us, owning an antique F-Series truck would be very difficult to resist.