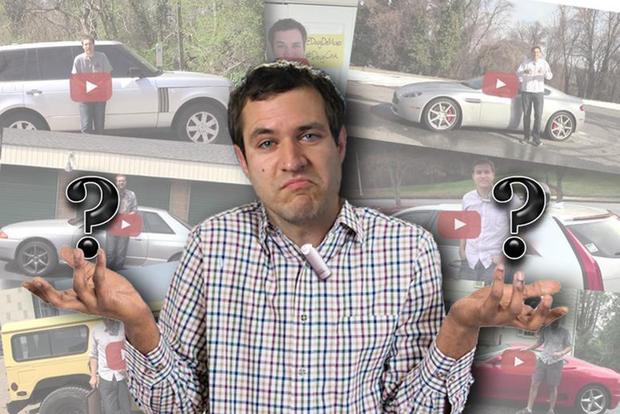 A few weeks ago, I told you I was going to get a new car to buy and write about -- and I asked for your help choosing the car. Well, you helped. A lot. Today I'm going to tell you all about the cars you recommended for me, including my usual breakdown of interesting DougCar statistics.
But no statistic is more exciting, impressive, and truly amazing than the sheer number of suggestions you gave me. Right before I launched the DougCar post, the Oversteer team took a quick vote on how many comments we thought we'd get. My guess was the highest, at 1,400. I received that number in 3 hours.
In the end, the total number of comments here on Oversteer is 5,479 (and counting). The YouTube video asking for help received over 15,000 comments -- which is so many that YouTube won't even let me access them all. I had to stop after counting up 500. I also counted up another 250 comments on Facebook, 250 on Reddit and 500 on Twitter -- and they're still periodically rolling in.
And while I swore I'd look at every comment here on Oversteer, there were simply too many for me to personally go through them all: It takes me about an hour to record 200 comments, which means Oversteer alone would've been a 27-hour process.
Fortunately, I had some help. It came from an analytics firm called Datanautix, whose co-founder (and Porsche owner!) Neel Patel used Datanautix's tools to help me pull the most popular suggestions and two-word pairs out of the Oversteer comments -- which saved me countless hours of work. It also helped me paint a complete picture of all the crazy cars you people suggested. And so, here are the top 20 DougCar suggestions from all sources, along with the total number of times they were suggested
1. Ford Raptor - 452
2. Pontiac Aztek - 293
3. Land Rover Defender - 197
4. Isuzu VehiCROSS - 174
5. Chevrolet SSR - 165
6. Toyota Land Cruiser - 157
7. GMC Typhoon - 148
8. Unimog - 147
9. GMC Syclone - 120
10. Ford F-150 Lightning - 114
11. Jeep Grand Cherokee SRT-8 - 105
12. Mercedes G-Class - 101
13. Dodge Ram SRT-10 - 99
14. Ford F-650 - 94
15. Volkswagen Touareg - 93
16. Mercedes-Benz R63 AMG - 91
17. Ford Bronco - 89
18. Nissan Murano CrossCabriolet - 85
19. Lamborghini LM002 - 80
20. Porsche Macan - 80
Perhaps more interesting than the suggestions themselves is the way the suggestions came in. The Pontiac Aztek performed fairly well on Oversteer, Twitter and the others -- but it dominated the YouTube comments, beating the Raptor by nearly 50 percent. I have no idea why YouTube commenters like the Aztek so much.
Same goes for Reddit and the Ford F-650. The F-650 was by far the most popular suggestion on Reddit, getting nearly four times as many votes as the next-most popular suggestion -- but it didn't even crack the top 30 on Oversteer, and I only recorded three F-650 suggestions from YouTube. I chalk this up to Reddit's upvoting and downvoting system, which can lead to a bit of a "hive mind" effect, where collective ideas occasionally overwhelm individual thought.
Beyond the vehicles themselves, a few more statistics. I told you people I wanted an SUV or a truck, and you generally played along: 79.2 percent of you recommended either an SUV, a pickup or a "truck," which I defined as some enormous vehicle like a Unimog. The remaining 20 percent were undeterred in their quest to see me in a car. Country of origin wasn't a shock at all: American vehicles received nearly half the votes, with Germany (17.4 percent) and Japan (16.9 percent) a distant second and third. As for decade of suggested vehicle (where specified), the 2000s won big, with roughly 45 percent -- likely a function of the increasing popularity of SUVs and trucks in the modern era.
Of course, none of these statistics answer the most important question, which is: What car am I getting? I already know the answer to this question, and I'm happy to share it with you WHEN I'M GOOD AND READY. And also, we'll have to wait until, you know, I've actually bought it. Until that happens, please enjoy these charts and graphs and prepare yourself for another exciting year of DougCar.
Doug DeMuro is an automotive journalist who has written for many online and magazine publications. He once owned a Nissan Cube and a Ferrari 360 Modena. At the same time.
MORE FROM OVERSTEER:
The Porsche 918 Spyder Has HOV Access In Florida Because It's Electric
The Hummer H2 Is the Most Embarrassing Car You Can Buy
The Chevy Astro Had a Cult Following in Japan