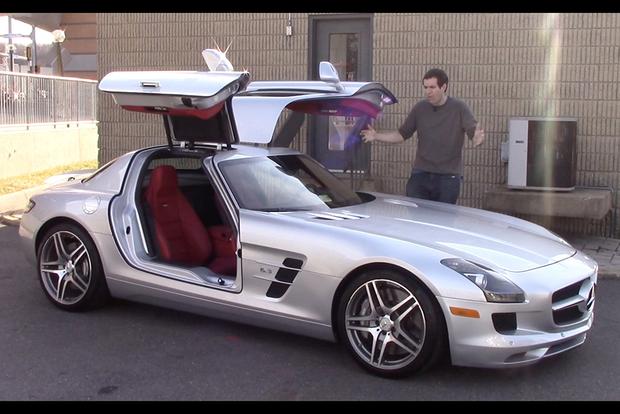 I recently had the opportunity to drive a Mercedes-Benz SLS AMG, which is an exotic car that was manufactured from 2011 to 2015. If you're like me, you thought this car was really cool when it came out in 2011, because it had gullwing doors, and then you forgot about it in approximately 2013. I remember when Mercedes launched the "Final Edition" SLS in 2015, my primary response was: They still make that thing?
The reason we forget the SLS, I think, is that it plays in the territory of Ferrari and Lamborghini, but it just has a Mercedes badge on the grille. Ferrari and Lamborghini have staying power; they're icons, immortalized in music videos and racing games. The SLS is just a Mercedes. You can buy a Mercedes at your local used car dealer for $2,500 and a couple of unused gift cards to Applebee's.
But there's something interesting I recently noticed about the SLS: It hasn't lost any value. Not a penny. Not a drop. Not a corpuscle. The base MSRP back in 2011 was something like $183,000, and the average asking price for a 2011 model on Autotrader is currently something like $182,000. This is in contrast to every single other AMG Mercedes model, which loses value about as quickly as a used mattress. Which begs the question: Why is this thing still worth so much money?
So I drove an SLS AMG in order to find out. The particular SLS in question was graciously loaned to me by Exclusive Automotive Group, which sells Bentley, Aston Martin and McLaren in the Washington, D.C., area, and I have to admit I was tremendously excited to take it for a spin. The SLS may not be as memorable as a Ferrari or a Lamborghini, but when you see it in person, and you take in its wide stance, its long hood and its gullwing doors, it's hard not to be a little impressed.
So that was a little unexpected. But even more unexpected was how the SLS drove. In fact, here's something that I mean wholeheartedly: I'm not entirely sure I've ever been so surprised by a car's driving experience in the three and a half years I've been reviewing cars and writing about them.
To help explain that, a quick aside. Before I review a car, I try to do as little preparation as possible, largely because I don't want other reviewers to get in my mind. If So-and-So over at Vehicle and Street says some car has a vague on-center feel, that's going to be in my mind when I drive it. I don't want that. I want to come in fresh, and completely uninfluenced, like a blank canvas, except one that's wearing socks with holes in them.
Because of this, before I drove the SLS, I think it had been probably four years since I read anything about it. And because I didn't really remember what any of the reviews said, I sort of expected to feel like getting into this thing was like climbing into a regular 6-year-old Mercedes. Cool and neat-looking, but clearly aging and mediocre to drive. I also expected it to feel like a big touring car, because let's be honest: Was the Mercedes-Benz of 2011 really capable of making anything other than big touring cars?
The answer is yes. Yes, they were. Because the SLS AMG is a true sports car, and it's amazing.
Of all the SLS's excellent characteristics, the absolute best was its handling. While Ferrari and Lamborghini have been making mid-engine cars on the "You can't argue with physics" theory, Mercedes went with front-engine -- which I'd initially assume was a mistake. Not in this car. The handling is tremendously precise and amazingly predictable; there's no body roll. This car gives you the same "master of the road" feeling as you get in the Ferrari 488 and the Lamborghini Huracan, which came out years later. In fact, the handling is so sharp and so connected that I truly can't believe this car was sold at the same time as the Lamborghini Gallardo. If you gave me a choice to own the Gallardo or the SLS, I'd laugh in your face as I opened the gullwing door of my new Mercedes.
But that's not to say the rest of the SLS wasn't delightful, too. The acceleration is massive: It feels every bit as fast as the latest crop of supercars, of which it absolutely isn't a part. Put your foot down and you get the exact same rocket ship feeling you get in a 488 or an Aventador, with absolutely no feeling like you've made some performance compromise. I'm sure it isn't as fast as those cars if you look at the 0-to-60 times, but I could scarcely tell from the driver's seat. That may have something to do with the amazing exhaust note, which almost sounds like a muscle car exhaust has mated with a supercar exhaust and produced this as its offspring. As for the transmission, the SLS uses an early dual clutch automatic which feels a little jerkier than today's ultra-smooth units -- but barely. Mostly I'm just looking for one single negative thing to write about this car.