Car Video: 
Oversteer
I Bought the Cheapest Acura NSX in the US With a Manual Transmission and Clean Title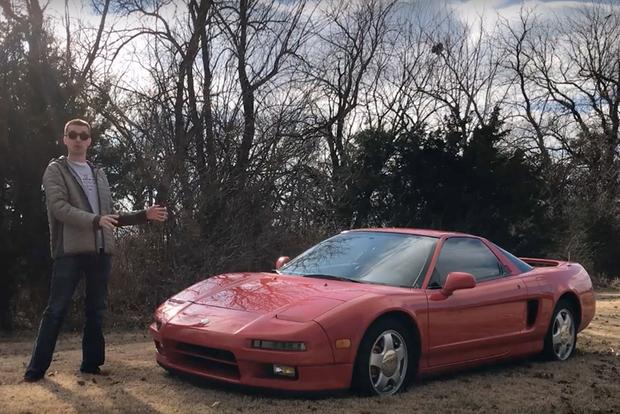 I tend to buy a car (or two... or five) around Christmas every year because there are so many fantastic deals. The last thing people are thinking about in the middle of winter is buying a sports car -- and even if they were, their bank account is wiped out from all the holiday shopping. This is certainly the slowest time of year for the used-car business, which created a perfect storm for me to luck into the cheapest Acura NSX in the U.S. with a clean title and manual transmission.
For a decade, I was in the used-car business, and -- despite being a junkie that nearly ruined himself hoarding cars and never selling them -- I still keep my ear to the ground for deals. Nobody has started an AA for gearheads yet, so my addiction continues to go untreated.
Doug had recently posted an article about six future classics you should buy now, with the headline image being a shiny red NSX. Since I am very open to suggestion, I immediately started shopping for one -- and I was shocked by the prices. The average asking price for an early (1991-1993) NSX on Autotrader is $52,000! I recall that just five years ago, you could find nice ones in the $25,000 range. So when I came across this shiny red NSX being offered on a dealer wholesale website for $31,000, my itchy trigger finger went into convulsions.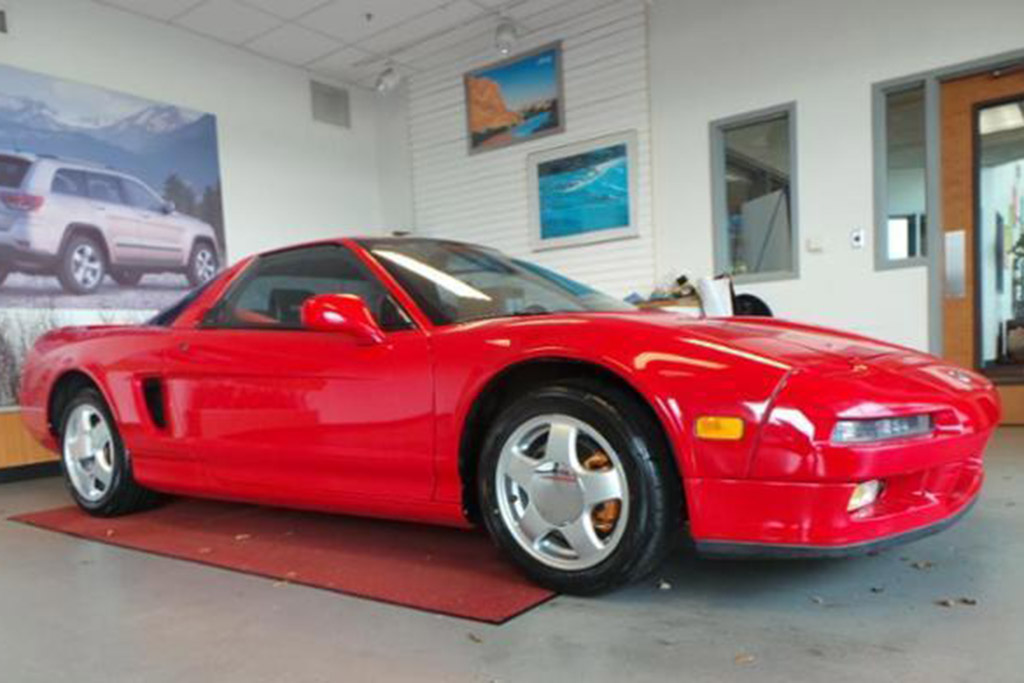 There were a few obstacles to consider -- the main one being this NSX was in Seattle, which is about 2,000 miles away from where I am in Kansas. It was traded into a Chrysler/Dodge/Jeep dealer, and they were wholesaling the car as-is. It was listed with 83,000 miles, and the Carfax didn't show anything scary. I Googled the VIN number and learned it went through a classic car auction 3 years ago. Back then, it had some hideous aftermarket wheels and it sold for $35,000.
When I called the dealership's used-car manager to get the scoop, she said they tried retailing the car for a month but got tired of all the kids coming by for a joyride with no financial means of purchasing it. The car was being offered at the Buy-it-Now price of $31,000 before going to auction the following day. This meant no time for inspections or sleeping on it.
Of course, being an irrational idiot and prone to impulse purchases, I bought it -- with no idea how it ran, drove or even looked outside of the 20 or so pictures in the ad. I had just bought myself the craziest Secret Santa gift in the world.
The next issue came when I had to pay for it. People might think I'm loaded because of my fleet, which consists of Mercedes, a Porsche, and a wood-paneled 1991 Dodge Caravan -- but I'm not. Mostly, these are all cars I picked up really cheap. I've never spent anywhere close to $31,000 for a car. For me to come up with that kind of cash, it would mean wiping out all my accounts, cashing in my 401k and digging under the couch cushions.
Instead of financially wrecking myself, I went to my local credit union for a loan. Once the loan officer quit laughing at me, I was able to explain the difference between an NSX and an Integra. He did a little homework -- and saw the value based on comparable vehicles -- and approved the loan at 3.5 percent for 60 months.
Not only was I approved at a fantastic rate, but I was also offered an aftermarket warranty on the drivetrain. For only $800, they would cover any mechanical failures on the engine, transmission and driveline for three years. I think if Doug was with me during this, he would have fainted.
With the financials sorted out, I paid for the car and arranged shipping across the country. This is where I made a critical error. Instead of spending an extra few hundred for enclosed shipping, I went with an open transporter, and my car was shipped from Washington state to Kansas during the first major snow event of the season. The NSX arrived looking like this: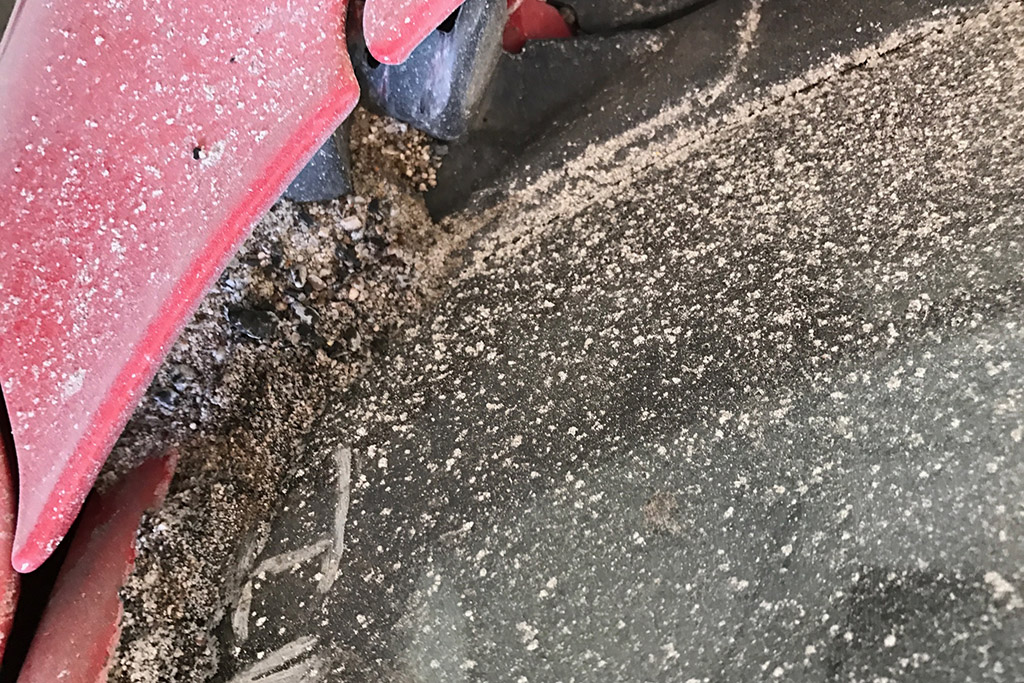 The car was covered in grime, with road salt and sand getting into everything -- and I mean EVERYTHING! The door jams, all three compartments -- even the engine was caked with the horrible stuff. I had just exposed this West Coast car to unimaginable torture, and I couldn't race to the car wash fast enough.
Once it was clean, I could finally process everything. This incredible car was all mine, and for the first time I had a vehicle people noticed. My fleet of Hoopties tends to fly under the radar, getting only the occasional thumbs up or -- in the case of my minivan-- pointing and laughter. While the NSX is certainly subtle as supercars go, it still gets attention on Kansas roadways, which are usually devoid of anything exotic.
Perhaps I'm sensitive to my newfound attention because I'm not used to it. I notice non-car people giving it a second glance, as it looks like something vaguely exotic. Car guys point it out to their friends or snap a picture, which is fine. What gets a little weird is when you run across a Honda guy. Honda enthusiasts are a very devoted, hardcore group. To them, seeing an NSX is a religious experience. They gush like a 15-year-old girl seeing Justin Bieber.
This has happened a couple of times in the few weeks I've had it. I have enjoyed the conversations with admirers so far, but I'm still getting used to the attention. The car appeals to such a wide swath of car enthusiasts that it makes sense it's appreciating rapidly. Who wouldn't want a supercar from the last moments of the analog era, inspired by Honda's Formula 1 glory days, with legendary driver Ayrton Senna's seal of approval? The NSX is described as the ultimate driver's car, and it's considered one of the best-handling sports cars ever made.
But I would have no idea, because mine is so screwed up.
That's right, my NSX has some serious issues I need to deal with -- but first, let's start with the positives.
The exterior condition is fantastic. All I need to do is lose the horrible chrome wheel caps and I have a nearly mint-looking NSX with what looks like original paint. The other thing that feels factory fresh is the engine, transmission and clutch, which means the car is a blast to drive. The feel of the gearbox is magnificent.
The car starts to disappoint when you open the door and cringe at the interior. At some point, my NSX was modernized with a two-tone treatment that hearkens back to the MTV show "Pimp My Ride." I could probably get over the loud interior if not for the "Fast and Furious" plastic steering wheel.
The interior is also victim to a botched stereo install. A hole was made in the center console for a touchscreen stereo but was cut too large. The solution to keep the stereo in place was to hold it up with the permanently open ashtray door. There's also some broken trim likely caused by the careless installation.
The most annoying problem with my car is the suspension. It's aligned to the same specifications as a Mustang, as it pulls hard to the right toward the sidewalk.
I tried taking it to an alignment shop, but the camber was too out of spec to correct. Something is seriously wrong with the front right suspension, and there was a clue to the problem in the trunk. Inside was a broken control arm sitting in a box from a used-parts supplier. I would assume the control arm was replaced after some kind of impact, but something is still amiss. Mercifully, the alignment guy didn't see any damage where the suspension mounts to the body, but it needs further diagnosis from a mechanic.
This may be the reason why the car was traded in, and I suspect the factory wheels were installed after one of the hideous aftermarket rims was destroyed by the curb hit that damaged the suspension. I was also shocked to find paperwork in the glove box showing the previous owner paid $48,000 my NSX less than a year ago.
In addition to the suspension mystery, I have an ABS system that's going nuts, and the temperature adjustment for the climate control is nonresponsive. I also smell a whiff of coolant when I open the engine bay, and I have no idea when the timing belt was last changed.
At the time that I purchased my NSX, the next cheapest clean-title example with a manual transmission and under 100,000 miles was over $40,000. This made me feel good about mine, and I thought I could fix the problems and still be way ahead. Then this popped up on Autotrader:
It's another 1992 with similar miles, from an Acura dealer within driving distance of me -- and it's a one-owner car for only $35,995! It looks like another fantastic winter bargain!
So was I better off spending an extra $5000 to $10,000 for a more sorted example? Probably -- but I never claimed to be the brightest bulb. I look forward to sorting this one and making it my own, with no fear of ruining a unmolested original car.
The garage is getting full!
Tyler Hoover went broke after 10 years in the car business and now sells hamburgers to support his fleet of needy cars. He lives in Wichita, Kansas.
MORE FROM OVERSTEER:
What Is This Weird Jeep Grand Cherokee?
The Chevy Tahoe Hybrid: Great Idea, but Not Good Enough
Autotrader Find: Crazy Chevy Pickup With Ridiculous Modifications