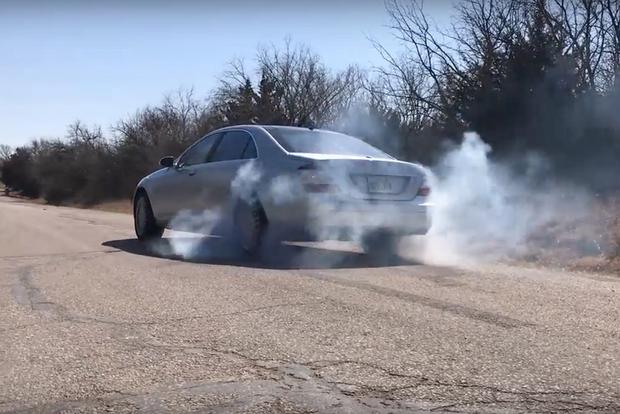 At the end of the last video I made with my 2007 Mercedes-Benz S600, I stated that I was going to tune it for 600 horsepower and 700 lb-ft of torque. I also said that I was a complete idiot -- and this mod would probably break my surprisingly reliable car. To date, my stupid video has gathered a shocking 1.8 million views. The unfortunate part of this much attention is I had no choice but to follow through with my plans -- and now that it's done (and, as predicted, my car is broken), I can tell you how much I regret it.
About a month ago, I posted a fateful video about my V12 S600 luxury barge. I purchased the car over a year ago for $4,500 with a bad motor -- and after spending around $10,000 fixing it, I had a completely reliable year of ownership. I was planning to make a video about a friend's Ferrari 355 that week -- but, in typical 355 fashion, it refused to start. In its place, I scrambled to put together a video about my Mercedes, which ended up going viral.
I don't have a clue why this video -- or this car I named the "Silver Elephant" -- was worthy of this. My Porsche 911 (with nearly a quarter million miles) or my basket case Acura NSX seem like way more interesting subjects, but they didn't gather a small fraction of the attention. It seems YouTube is pretty unpredictable like that. For example, who would have thought a morbidly obese cat playing an electric piano would hit 46 million views?
Transforming an S600 into a torque monster is really easy. All you have to do is remove the computers controlling the engine and transmission, and send them off to a tuning company for reprogramming. When they return a few days later, you plug the computers back in, and POOF! Your sedate S-class suddenly thinks it's a supercar.
My Mercedes is now more powerful than the Ferrari 458 Italia, a Lamborghini Huracan and a Nissan GTR -- though, of course, it weighs a ton more. The only way for a fair drag race with these three supercars is making them run while pulling a horse trailer with a hippopotamus inside.
Perhaps the most apt description of this transformation is putting the heart and mind of an Olympic athlete into a 600-pound body. It has the knowledge and desire to run a 4-minute mile, but can't overcome the laws of gravity -- falling on its face at the starting line.
And falling on its face is exactly what this car does while attempting to launch aggressively. Turn the traction control off, and it will roast the tires until they explode. Leave it on, and the system freaks out at even the modest touch of the accelerator pedal. The only noticeable difference in acceleration will be at speeds that will send you directly to jail -- without passing "Go" or collecting $200.
There are a few things I like about this tune, such as the fantastic throttle response and better shift points. In fact, I was initially very proud of the changes I made -- and I spent my first Saturday hanging out with the local supercar club. After attending the local cars and coffee, we cruised to a local airport for a photo shoot. I challenged a GTR, and thought I stood a chance if it was a rolling start at 40 miles per hour. Not surprisingly, the Nissan completely humiliated my Mercedes.
After the photo shoot, I tried using an app to read quarter mile times. I romped the car repeatedly on a deserted road closed off years ago due to a highway expansion, and I couldn't even match the original Car and Driver Magazine test time of 12.6 seconds due to traction issues.
After the run, and after making some outdoor footage of hard launches and high speed drive-by shots, I started hearing a horrible grinding noise from the front of the car. As the grinding noise got louder, I began to realize something had broken.
I suspected the brakes, but they felt fine -- and the noise didn't change if I pressed the pedal. Instead, the noise got worse if I put more weight on the front-left hub, which has led me to believe I've roasted a wheel bearing. Admittedly, a new OEM front hub with bearing is cheap: just $250 and easy enough to replace. But as I continue to test the limits of my titanic supercar, this failure is probably just the tip of the iceberg.