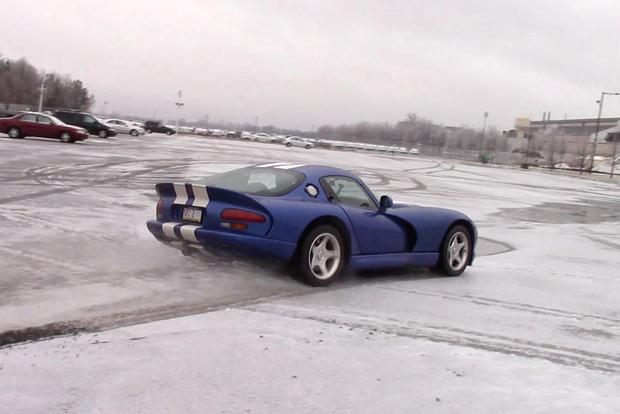 Ever since I got my Dodge Viper 4.5 months ago, people have been telling me to be careful with it. It's almost uncanny how many people have said this to me, as if I'm going to be driving along, minding my own business, and the car is going to decide of its own accord that it wants to know what a roadside telephone pole tastes like.
So far, I haven't had any problems of the "I barely touched the accelerator, I don't know what happened" variety. Admittedly, I haven't done anything too crazy in my Viper, and I haven't really tested its limits -- but I'm not an idiot, either. I recognize that maaaaybe you shouldn't floor the accelerator in the middle of a corner, and so I don't. And guess what? My Viper is still in one shiny, blue piece.
Actually, it's not so shiny, because I recently took it out in some slushy, rainy, wet roads in order to answer the following question: Is this thing really as dangerous as everybody says it is?
Here's my thinking. I've driven the Viper on dry roads for several months now, and I haven't really had any issues. But where everyone says it's especially scary -- and where I've been particularly nervous -- is on wet roads. The way people talk about the Viper on wet roads, you'd expect it to wipe out an entire school bus full of our nation's brightest young thinkers if you hit, say, an errant contact-lens case.
Of course, I understand why people say this. The Viper is a beast of a muscle car with no traction control, no anti-lock brakes, no stability control, rear-wheel drive and 450 horsepower. But it's also a modern automobile, manufactured in 1997, with airbags, power windows and a keyless entry system. It's not like I'm bringing my kids to soccer practice in a Top Fuel dragster. The Viper is a road-going automobile, designed by modern engineers to drive on modern streets. So what if they're wet?
In other words, how bad could it be?
A few weekends ago here in Philadelphia, we had the perfect weather to figure all this out: a light dusting of snow, followed by rain and low temperatures, which created this icy, slushy, rainy, snowy mix on the roads. For a Viper owner, this is absolutely the last weather in which you'd ever want to drive your car. Naturally, I decided to drive my car.
There were two components of my drive: the city, where everything was clear but wet and cold, and outside the city, where there was still considerable slush on the roads. I live in the city, so that's where I started, and here's what I discovered: Yes, the Viper will get a little squirrelly if you apply too much throttle in the rain, when it's cold, on wet roads. And yes, "too much throttle" means pressing the accelerator a distance greater than the full travel of a piano key. But guess what? Even with 30-degree temperatures, cold tires, overnight snow and falling rain, I didn't have a single problem keeping my Viper on the street. It turns out that if you're careful, aren't an idiot and aren't of those people who feels a compulsive need to tell his passengers to "watch this!," you'll probably be just fine.
And then I got outside the city.
The place outside the city where I took my Viper is a decommissioned U.S. Navy station that's now experiencing a resurgence, with hipster-style offices that feature many exposed things, such as brick, pipe and possibly asbestos. During the week, it's full of young employees driving Honda Fits and listening to NPR -- but on the weekends, it's totally empty, and the roads aren't cleared. This would be the perfect place to test the Viper's bad-weather capabilities.
The first thing I did was drive the Viper on slushy, wet, icy streets -- and I discovered, once again, that it isn't just going to randomly swerve into a sidewalk. Yes, it can be scary if you let it get away from you. But the Viper isn't an uncontrollable death machine. If you're careful, light on the throttle, intelligent and aware of the effects of your actions, the Viper won't do anything you aren't expecting it to.
And then I tried a few performance tests. This is where things got a little less controlled.
First, I decided to floor the accelerator in a straight line. Although the car surprised me by traveling more or less in a straight line, it didn't do it very quickly. What I mean by this is that the Viper could've easily been outrun by a small dog -- even one of those ultra-small dogs whose legs are no larger, in total, than the original iPhone.
Then I tried turning at high speeds. This also did not go well, in the sense that the Viper generally turned in the direction I wanted it to, but then the rear end swung around, and the car ended up facing a rather different direction than the one I wanted to go, in a rather different area than where I began my turn in the first place. For this reason, I would have to caution Viper owners against attempting high-speed turns in slushy conditions.
Interestingly, I then tried braking, and I was rather impressed: From 30 miles per hour, the Viper didn't appear to need too much additional space to stop than it would on dry roads.
After concluding all my performance tests, I began the 20-minute drive back home -- and after just a few stoplights, a State Trooper pulled up next to me. He smiled at me, laughed and then asked if I was crazy -- before telling me he would never drive his Mustang in this kind of weather. "It isn't so bad!" I protested. "I swear it's not as awful as you might think! You just have to be smart about it!"
He wasn't convinced. Hopefully, after reading this column and watching this video, you might be.
Doug DeMuro is an automotive journalist who has written for many online and magazine publications. He once owned a Nissan Cube and a Ferrari 360 Modena. At the same time.