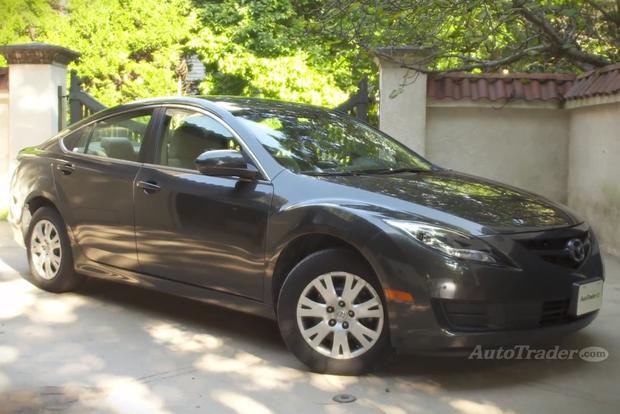 There are many great choices in midsize sedans, especially if you're open to a used car. Since the Mazda6 was completely redesigned in 2014, you can find good deals on the previous version, especially for model years 2007 through 2013.
And while the current third-generation model is very nice, the previous one is far from a bad car. It's a roomy, nicely equipped family sedan that's attractive and handles well.
Fuel Economy and Performance
While it feels sportier than other family sedans, the 6's fuel economy doesn't stack up so well against competition like the Accord or Camry, but it's still perfectly respectable.
You'll find the previous-generation Mazda6 to have either a 2.5-liter 4-cylinder engine or a 3.7-liter V6, which will cost you a bit more at the pump. If strong acceleration is important to you, opt for the V6. The 4-cylinder "i" models come in an automatic or manual transmission, while the V6 "s" models are automatic only.
Well-equipped
The base model is the SV, and it comes standard with A/C, full power accessories and a 6-speaker CD stereo with steering-wheel-mounted controls. Not exactly stripped down.
And if you want something more high-end, look for a Grand Touring model. It comes standard with Bluetooth, satellite radio, reverse camera, power sunroof and remote start. On the downside, the interior details aren't exactly luxury quality. And some say the rear visibility isn't all that great.
Safe and Secure
This midsize Mazda has been popular with families due to its strong safety record with the National Highway Traffic Safety Administration over the past several years. It comes standard with ABS brakes, traction control and front, rear and side curtain airbags. More recent models offer stability control, blind spot sensors and a rear parking camera.
Minor Shortfalls
According to owners, 2007-2013 models are reliable with very few trouble spots. There have been reports of interior squeaks, rattles and road noise, so keep that in mind as you test-drive the older models. The 2009 and 2010 models also had occasional issues with brakes, power equipment and electrical systems, but it didn't hurt the car's overall reliability scores. Of course, have your own mechanic check out a car before you buy it, just in case there's an issue.
The Consensus
The 6 comes with a lot of pluses and a few little minuses. If you're looking for a spacious, edgy and reliable family sedan, consider a used 2007-2013 model. You may be impressed.