In my last report about my 2000 Mercedes ML55 AMG, I bragged about the cheap cost of ownership over the past year. I also bragged about being able to sell it for enough money to have owned this funky AMG at no cost. To prepare the ML for sale, I sent it to my local detailer for a thorough cleaning — but, unfortunately, someone else wanted my AMG for free. Yes, my Mercedes was stolen, and I just spent last week going to crazy lengths to get it back.
I opted for a full interior shampoo, which makes the carpets fairly damp. The rainy weather that day made drying difficult, so the owner of the shop decided to run the car with the heater blasting in an effort to dry things out. I've known him for many years, and have easily sent more than 100 cars his way during my old dealership days. There was never a problem with theft, as he was always in the garage or adjoining office to watch over things.
Unfortunately, that day he let his guard down enough for someone to slip into his garage and steal my ML55. I received a strange phone call from him that evening, asking if I had picked up my car without saying anything to him. Uh-oh.
I rushed down to his shop and called the police. Normally, they don't come out for simple auto theft — but since the thief entered the garage, it was considered a burglary. After filing the report, I spent several hours searching for it, driving around with the spare key, hoping some kind of Jack Bauer "24" miracle would happen and I could find my car. Two days passed with no results and no word from the police.
I decided to take the investigation into my own hands, blasting social media and creating a Facebook page called "Find Hoovie's Mercedes." I also wrote a press release to the local media, trying my best to portray the ML55 as a rare collectible — and myself a famous automotive writer and YouTuber.
Much to my shock, it worked. One news station came to my house for an interview — and I was a lead story on the ten o'clock evening news. The anchorwoman correctly referred to my car collection as "the hooptie fleet" and called my Mercedes "fancy." My Facebook page lit up with activity — and I received an unbelievable tip later that evening.
A woman was browsing Facebook and came across my news story online with a photo of the ML55. She then scrolled a bit further down and saw this photo (names changed and faces removed, of course):
As you can see, a man is posing with my ML55, and another man is seen sitting in the driver's seat. The woman who sent me the photo knew the driver of the car, and claimed he was a known car thief. We met up so she could take me to all of his hangouts — but unfortunately, we didn't see the ML55. After I updated the police with this new information, we parted ways.
The same sainted woman decided to search the following morning by herself — and spotted the Mercedes! She called the police — but they arrived just as it was driving away. This time, an associate of the idiot photographed yesterday was behind the wheel. A brief chase ensued, where an officer reported the ML55 hit speeds of up to 80 miles per hour, swerved into oncoming traffic and ran a few stop lights. It was too dangerous to continue the pursuit, so they broke it off. My AMG managed to outrun the cops!
There were a few other sightings of the ML55 driving recklessly later that day. At this point, police were very motivated to catch the driver — and my social media blitz had every local car enthusiast on the lookout. It seemed like we were closing in — but then … total silence.
A few days later, the police let me know that the driver who fled police in my ML55 was arrested on an unrelated charge — but not in my car. I was also told they chose not to hold him, and he was likely released with zero questions answered about my AMG. Days passed without a single lead. I began to resume my normal routine and started to accept my Mercedes may never be found.
Then I finally got the phone call: An officer had located my Mercedes in a large vacant lot. My first question was about the condition of the car, which he described as having some front-end damage after running over several small trees. I rushed over to the location — and couldn't believe what I saw.
This crazy jerk literally used my ML55 as a bulldozer, with the front bumper plowing through the thickly wooded area. The 342-horsepower engine and all-wheel-drive system easily snapped over trees as it drove deeper into the hedge. My car plowed over 30 yards before the driver made a sharp right turn, effectively hiding the Mercedes from public view.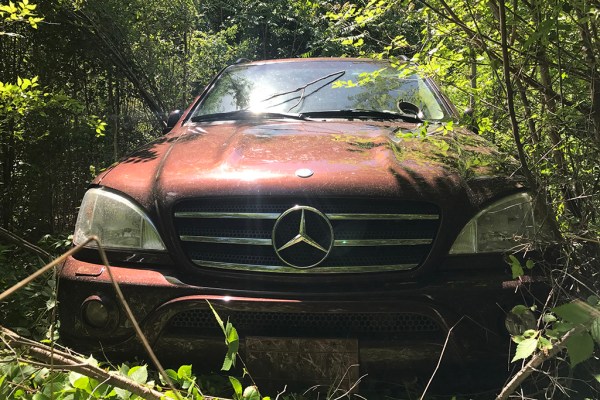 Police brought out a crime lab officer to dust for prints — but they didn't appear to find any. Afterwards, I was able to enter the vehicle and inspect the contents. The thieves had left several personal items, including tools, dirty underwear and a book about building healthy relationships.
I brought along my extra key — and much to my relief, the ML55 fired right up. I rocked the car back and forth a few inches to make sure the transmission still engaged, but there was no way to remove the car without doing lots of damage. Amazingly, other than the mutilated front bumper and plenty of scratches, it survived this incredible trek with way less damage than you'd think.
I won't know the full extent of the injuries until after I've completely removed the car. The way it's wedged in its current position will require a chainsaw to carve out, as well as clearing all the downed trees from the 30-yard dash of destruction. It was too late in the day to get this done, so I have to wait until the morning.
This means I'm in for another sleepless night. I will be very grateful when this is finally over. Find a Mercedes-Benz ML 55 AMG for sale
Tyler Hoover went broke after 10 years in the car business and now sells hamburgers to support his fleet of needy cars. He lives in Wichita, Kansas.
MORE FROM OVERSTEER:
There's a Red Bull MINI Cooper Pickup Truck For Sale on Autotrader
I Like the 4-Door MINI, and Here's Why
I Tracked My Acura NSX — and It Was an Amazing Experience