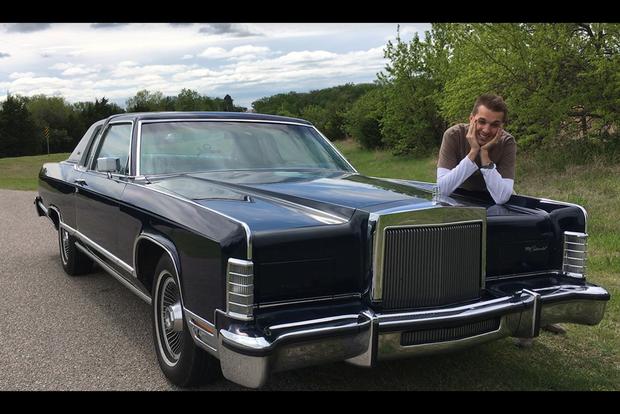 My favorite part of Doug DeMuro's Ferrari saga entailed dealing with the enormous pain of selling it. At the time, I felt sorry for him -- but not anymore. Turns out, it's way worse when you're selling a land yacht.
Much to the dismay of the Lincoln fans, including one Australian man who wanted me to "do more cold starts in really tight jeans, mate" I sold my 1978 Lincoln Continental Town Coupe. I owned this 6 MPG wonder for almost a year -- and that's not by choice. It took 6 months for me to find a buyer, and I had to take a massive loss.
In the attached video, I describe the purchase details -- including my Lincoln literally catching fire shortly after delivery, and the constant repairs afterwards -- but to sum it up, it was a horrible ownership experience, and I lost nearly $7,000. Selling these cars is extremely difficult because nobody wants to buy these things.
At least when Doug was selling his Ferrari, he had plenty of interested buyers -- even if most were driving him insane. In 6 months, I can count on one hand the number of people who inquired about my Lincoln. I spent hundreds of dollars advertising it in several different places -- with zero results.
There was one man who committed to buying it shortly after I started advertising, even going so far as to announce his purchase on a popular Facebook group devoted to these cars. Then he disappeared the next day. A few others ghosted after delivering the deadly "let me talk with the wife" line. One very nice dude drove 5 hours just to hang out with me for a bit -- with seemingly no intention of purchasing.
This certainly wasn't because of my selling strategy. I was a full-time car dealer for years, and I've sold hundreds of cars. I've concluded that people love seeing these cars -- but nobody is crazy enough to write a check for one.
You can always find a buyer for a pristine, low-mileage example of anything -- but if the best example is only worth $15,000, then what's an average one worth? It would cost a minimum of $30,000 to restore an average example to mint condition, which means my car is worthless to a collector. Nobody is looking for these as a daily driver, either. It gets 6 miles to the gallon, it has a body longer than a Ford Excursion, and it possesses the driving characteristics of an aircraft carrier. Who would possibly want that?
Apparently, the answer is me and the guy who sold it to me -- who's also the guy I sold it to. Yes, I sold the car back to the previous owner. He was the only one to ever make me a serious offer. I paid $9,000 for it, I spent almost $4,000 fixing it, and sold it back to him for $6,400. He's planning on making it an 85th birthday present for his father.
When I add all the costs associated with this car, I lost a total of $6,860. Not including cars I owned for years and experienced normal depreciation with, this is the most money I've ever lost on a car. This dethroned another land yacht that previously held the title: a 1966 Imperial Crown Coupe I sold 3 years ago, which gave my bank account a $5,800 haircut. I've had countless $3,000 hits with German cars -- but nothing has come close to the land yachts.
You'd think I'd learned my lesson by this point, and I would swear off buying another malaise-era land yacht. Unfortunately, I do really like these cars -- and my automotive masochism can only be stopped by bankruptcy or death. I've already bought something to replace it -- though it's more of a land dinghy than a land yacht.
Let's hope it's not another HMS Minnow.