I recently spent a week with the new 2020 Toyota Sequoia TRD Pro. After a successful run with the 4Runner, the Tundra and the Tacoma TRD Pro models over the past five years, Toyota has applied its top-tier off-road vehicle formula to the Sequoia, an aging vehicle that's badly in need of a redesign. This is a common formula in the auto industry — take a dated design and breathe new life into it through the introduction of a fun new trim level. The Sequoia is barely competitive by modern standards, but the new TRD Pro model certainly adds some fun into the equation and should help to bolster sales through the next year or so, before a redesign arrives.
On that note, here's a quick outline of all the unique off-road bits you get with the Sequoia TRD Pro.
To start, the Sequoia TRD Pro gets the TOYOTA wordmark grille that's become synonymous with Toyota's TRD Pro lineup. It looks kind of like an afterthought on the Sequoia, but it still achieves its goal of giving the Sequoia TRD Pro a tougher appearance.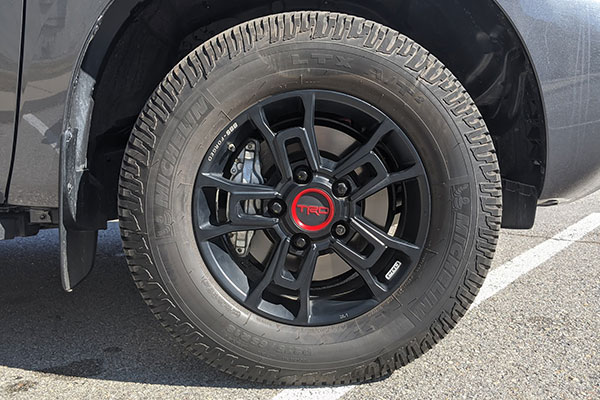 An underrated feature of Toyota's TRD Pro line is the inclusion of fog lights from aftermarket light maker Rigid Industries. I had a chance to test these out on a Tundra TRD Pro that I drove through Montana during a snow storm. While they aren't necessarily brighter than your everyday regular fog lights (they still have to adhere to DOT regulations), they do put out an extremely crisp, clear white light, and I really enjoyed them.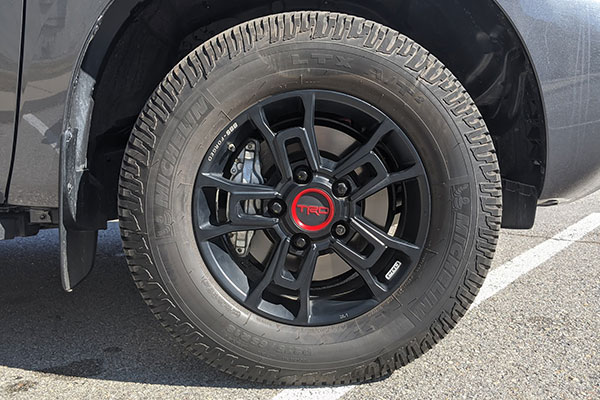 The main selling point of any TRD Pro model is the off-road suspension. Like the rest of the lineup, the Sequoia TRD Pro comes supported with TRD and Fox co-branded shock absorbers. The shocks are an aluminum-bodied internal bypass design with external piggyback oil reservoirs. The design allows the shocks to get progressively firmer, depending on the amount of travel. This helps the vehicle resist bottoming out on rough trails. Meanwhile, the external reservoirs hold the shock oil away from the main body of the shock, which helps it stay cool for longer, thus preserving performance.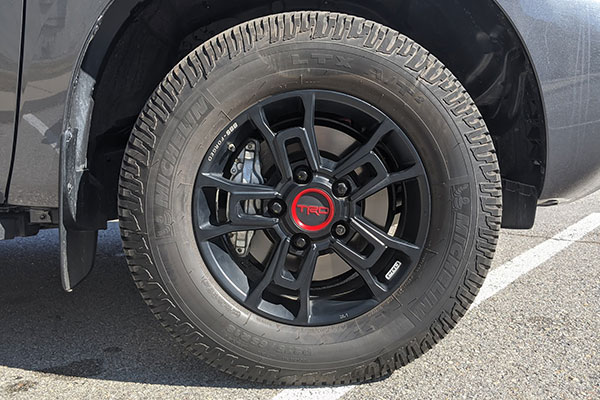 The Sequoia TRD Pro also gets an aluminum front skid plate, which protects the front differential and other components if you come down too hard on the front suspension.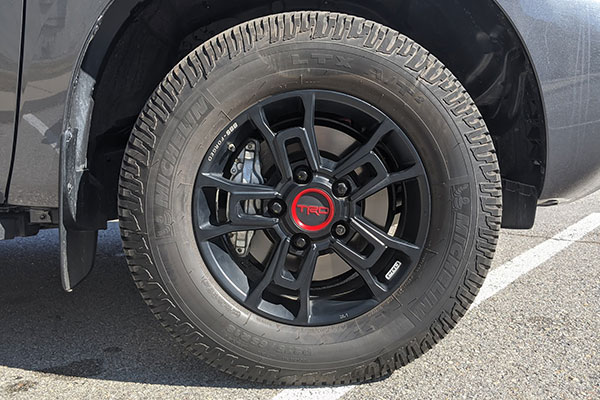 The Sequoia gets unique matte black 18-in BBS wheels, which are shared with the Tundra. These are also the same wheels used on the 2020 Land Cruiser Heritage Edition, except on that vehicle they're painted gold. The wheels come wrapped in Michelin LTX A/T2 tires, which are mild all-terrain tires that'll give you a little more capability off-road while preserving fuel economy and ensuring highway noise is kept to a minimum.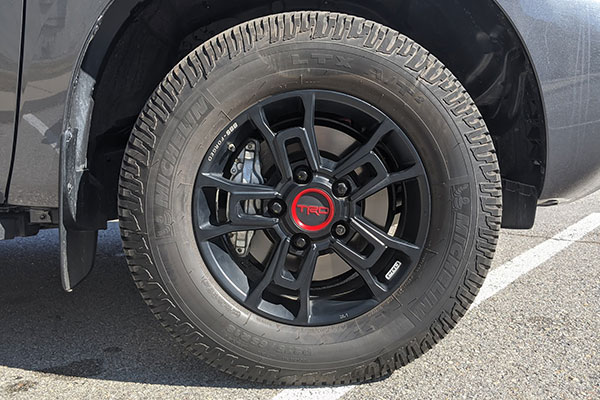 My tester came with a TRD Catback exhaust, which is often advertised as being part of the TRD Pro package. But in the case of the Sequoia TRD Pro, it's actually a $1,050 option. To be blunt, I didn't like it. Maybe I'm getting old, but while the TRD exhaust sounded kind of cool on start up, after a few miles of driving, I couldn't stand its endless low-pitched drone, and I cringed any time I had to step on the gas pedal hard, as the noise only got louder. Needless to say, I'd skip this option and stick with the Sequoia's regular exhaust.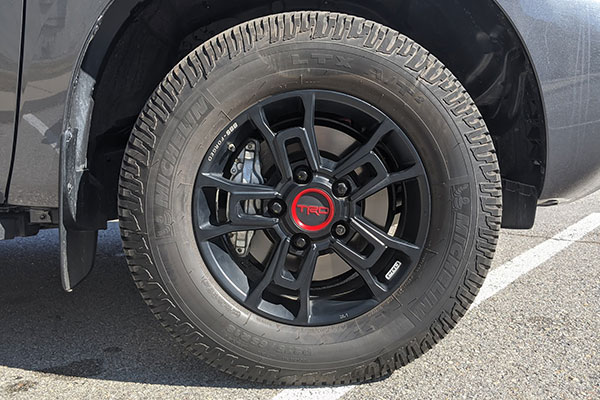 Like the other TRD Pro models, the Sequoia TRD Pro comes with TRD Pro-branded all-weather floor mats.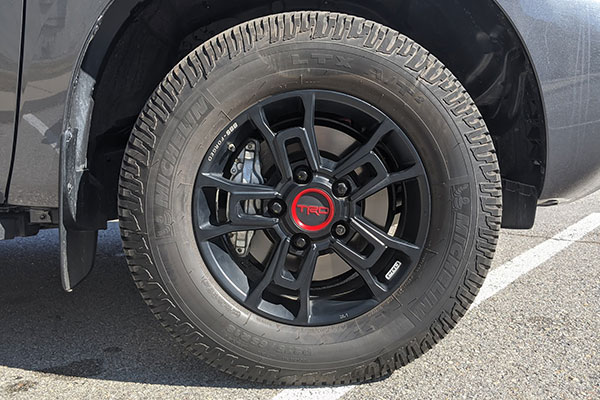 The Sequoia TRD Pro also gets a unique roof rack that's kind of interesting. When this vehicle was revealed at the 2019 Chicago Autoshow, at first glance, the rack looked like a basket-style design that you typically see on modified overland vehicles, which offers real benefits with regard to overall utility. Upon further examination, though, it turns out that the rack is just designed to look like one of these overlanding roof baskets but doesn't really add any extra functionality outside of the inclusion of a third cross bar.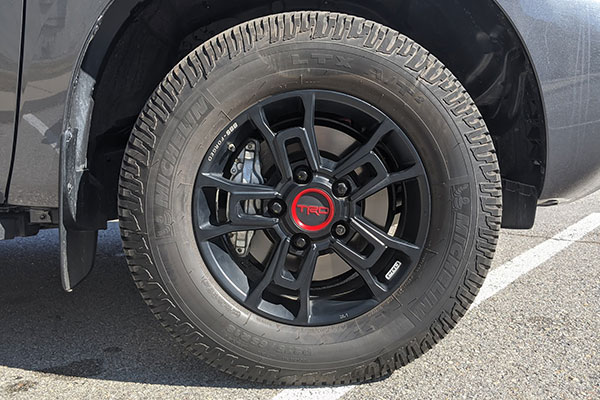 Beyond those functional elements, the Sequoia TRD Pro comes with metal TRD running boards, TRD Pro badging, TRD Pro embroideries in the front headrests and red stitching on the interior upholstery. Additionally, every 2020 Toyota Sequoia comes with an updated infotainment system with Android Auto and Apple CarPlay, a full array of active safety features and push-button start. Altogether, it's an interesting package that breathes some new life into the tired Sequoia body style. While the Sequoia TRD Pro is nowhere near as capable as a Land Cruiser (which comes with loads more off-road features and a solid rear axle, not to mention a much nicer interior), the Sequoia remains a capable family hauler and, in this new TRD Pro trim, should offer greater comfort and a little more fun during light off-roading. Find a Toyota Sequoia for sale
Chris O'Neill grew up in the Rust Belt and now lives in Salt Lake City, Utah. He worked in the auto industry for a while, helping Germans design cars for Americans. Follow him on Instagram: @MountainWestCarSpotter.
MORE FROM OVERSTEER
Video | Tyler Hoover Found the 5 Craziest Examples of McLaren Depreciation
Jeep Once Sold a Two-Wheel-Drive Wrangler, and It Was Weird
Autotrader Find: 1994 Oldsmobile Cutlass Supreme Convertible in Spotless Condition