I recently spent a week with a Kia Telluride, which is Kia's all-new large 3-row family SUV. Launched for 2020 alongside the Hyundai Palisade, the Telluride has quickly emerged as the more popular of these two extremely competent big SUVs. This is likely due in large part to its attractive design, as it's otherwise virtually identical to the Palisade. Altogether, given its exceptional combination of form and function, the Telluride is arguably the most impressive execution of the 3-row family crossover formula yet. And on that note, here are five elements of the Telluride that I find to be particularly cool. For a visual representation of each of the five things I list below, check out the video linked above.
The Design
Like I said, the Telluride's design is really the only thing that differentiates it from the Palisade (there are two other small things: The Palisade uses a push-button gear selector and is available with a fully-digital gauge cluster, neither of which can be had in the Telluride). The Telluride's design is boxy and almost old-school. The front end is blunt with a rectangular grille and headlights, the greenhouse a rectangular shape and the rear is broad and slab-like, with parenthesis-shaped taillights bracketing the model name spelled out across the rear lift gate.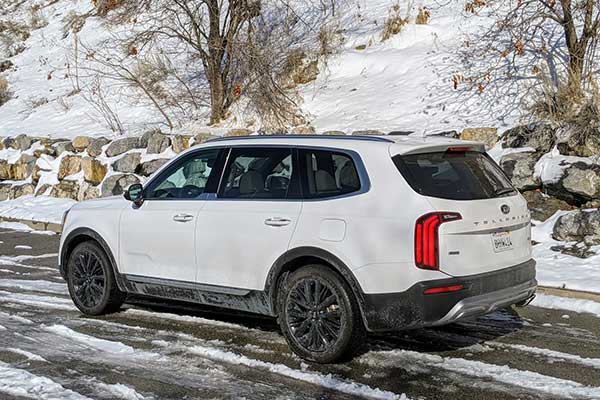 The Lighting Signature
Now that nearly every new vehicle uses LED headlights, cars can now have unique designs integrated into their lighting layouts. Audi started this back in the late 2000s and now just about every other automaker has followed suit. The Telluride's lighting signature — namely the trapezoidal shapes displayed in its daytime running lights — serves to give it an added presence on the road, while the vertical columns in its taillights aren't a bad look either.
Infotainment Quality and Screen Resolution
While virtually every new vehicle on sale today can be had with a center infotainment screen, not all screens are created equal. Some automakers get by on dated, low-resolution systems that seem to have been designed years ago, while others offer sharp modern screens that are responsive, easy on the eyes and loaded with features. Kia is one of those latter companies. The Telluride's 10.25-in center infotainment screen is among the sharpest in the industry, and comes standard with Android Auto and Apple CarPlay. There's also a 7-in screen in the gauge cluster that, among other things, displays a camera feed of your blind spot any time your turn signal is on. Both of these screens enhance your experience with the vehicle and will keep your Telluride feeling modern for years to come.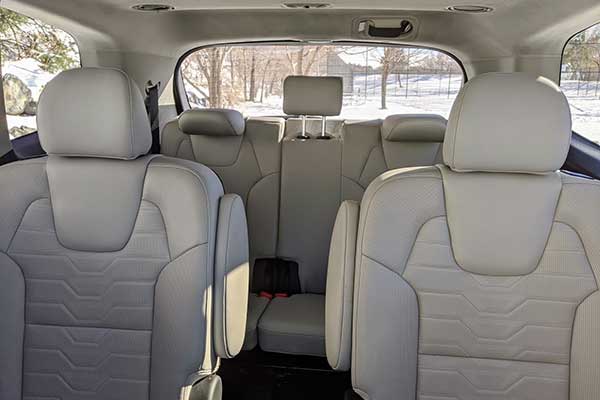 Comfortable, Well-Appointed Second and Third Rows
The Telluride is packed with family-friendly second- and third-row features that are sure to keep kids content on longer trips. My example came with second-row captain's chairs that were both heated and ventilated, slide forward and backward, recline, and can be folded electronically via buttons in the cargo area. There's a USB port in both of the front-row seatbacks — one for either second-row passenger — along with both a 12-volt and a 3-prong homestyle power outlet located at the back of the center console. The Telluride's third row is relatively spacious, as far as third-row seats go, and comes with four cup holders and two USB ports. When the third row is folded flat, the third-row outboard seat belts even clip into attachment points on the "walls" of the cargo area to prevent them from rattling around.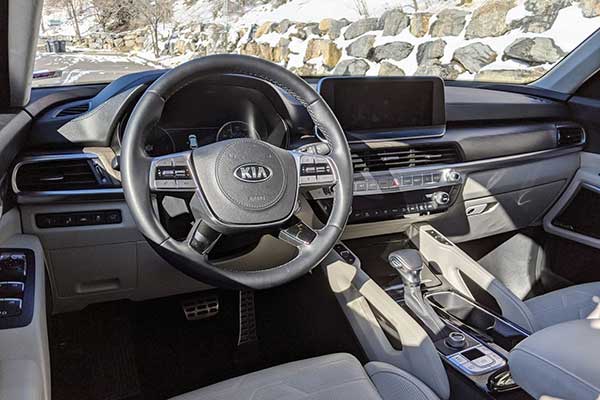 Value
Going in, I knew the Telluride was a good value, but I didn't realize just by how much. After my first few miles behind the wheel, I guessed to myself that its sticker price was around $53,000, and then checked the actual window sticker, which revealed that I was off by $6,000. That's right, fully-loaded with Napa leather, two sunroofs, heated and ventilated first- and second-row seats, an excellent infotainment system, and all the cameras and active safety features you could want, the Kia Telluride tops out at just $47,000 and change. Factor in Kia's awesome 5-year/60,000-mile basic warranty and 10-year/100,000-mile powertrain warranty, and you're looking at one of the best values in the industry. Find a Kia Telluride for sale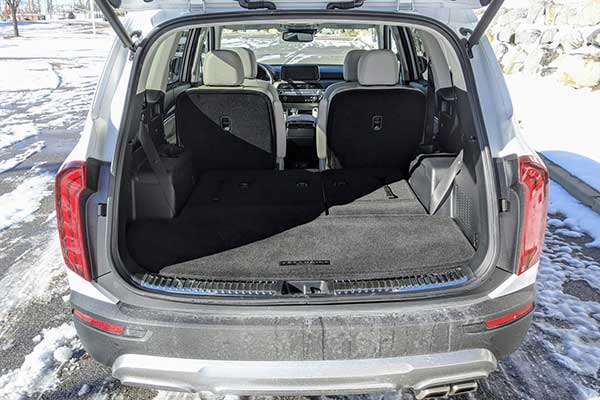 MORE FROM OVERSTEER
Video | Ram's 'RamBox' Feature Is Clever, but Probably Isn't for Everyone
5 Good Used Mazda Miata Models for Sale on Autotrader
Autotrader Find: 2003 Land Rover Discovery That Was Driven Around the World