A few weeks back I got the keys to the most ridiculous vehicle I've ever driven. It was a 2019 Alfa Romeo Stelvio Quadrifoglio. The exterior color was Rosso Competizione Tri-Coat and the interior was black leather with stitching that mimicked the colors of the Italian flag. Under the hood was a Ferrari-developed twin-turbo V6. It had massive paddle shifters and a bunch of different drive modes, the names of which I can't fully remember because they were all in Italian. After a week, my thoughts could be summed up rather succinctly: This is a car for maniacs.
This is due to a few different things. Mostly good. Some bad. But mostly good.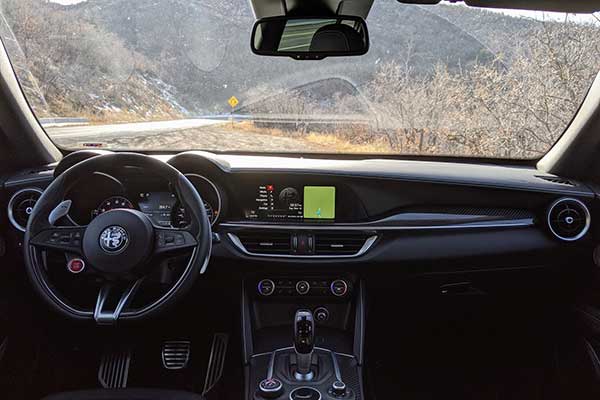 The Stelvio Quadrifoglio is powered by a 2.9-liter twin-turbo V6 that was developed with help from Ferrari. Output is an eye-watering 505 horsepower and 443 lb-ft of torque. 0-to-60 mph comes in an absurd 3.6 seconds. The quarter mile takes 11.8 seconds, while top speed rings in at 176 mph.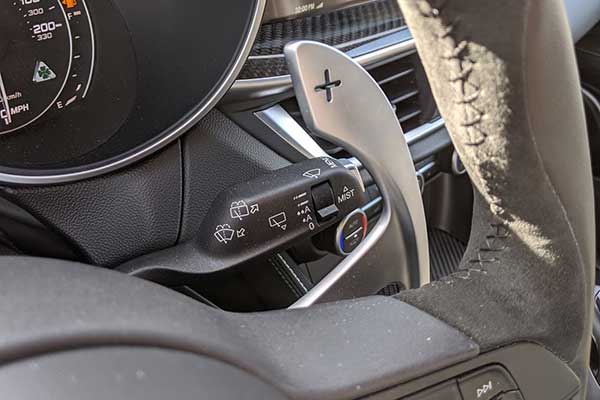 That engine is mated to an 8-speed automatic transmission that you can manipulate via massive column-mounted paddle shifters made of cold, hard metal that make a gentle "clink" noise any time you pull one. I emphasize column-mounted here because the vast majority of vehicles sold today with paddle shifters have them mounted to the back of the steering wheel. With column-mounted shifters, you never lose track of which side the up and down shifters are on, making it easier to change gears mid-turn. Yet another indication of this vehicle's high-performance tilt.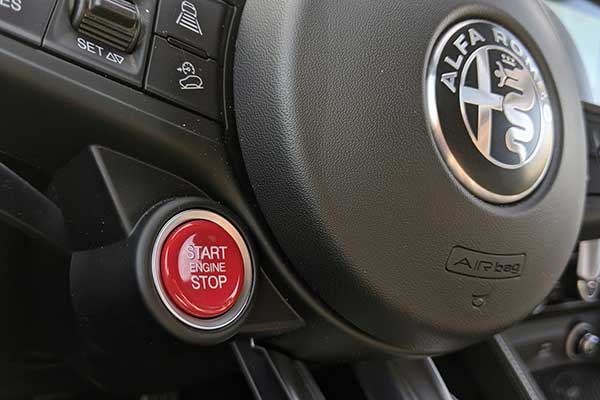 One thing I've noticed about Alfas is the driving position. As opposed to other vehicles where you casually sit back in the seat and reach out to hold the steering wheel, in the Stelvio (and in the Giulia, with which the Stelvio shares its architecture) you almost sit on top of the wheel, which is thinner in girth and smaller in diameter than you're probably used to, in what was obviously a conscious move on Alfa's part to channel some vintage Italian sports car energy. It works, and it's a big part of what makes the vehicle feel special.
To start the Stelvio Quadrifoglio, you push a big red "START" button located on the steering wheel. Once everything roars to life and you get out on the road, it becomes clear that the Stelvio is a special vehicle, especially when it's in Race mode.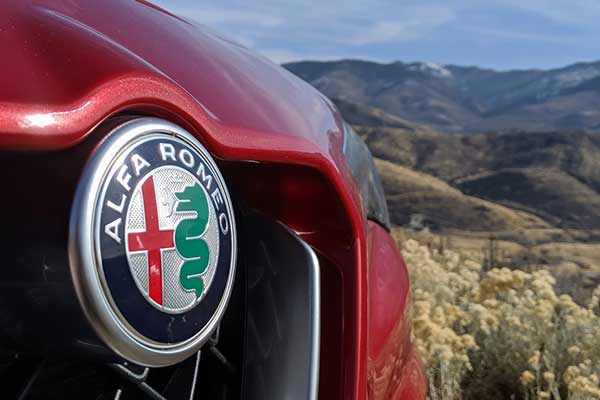 The suspension is stiff, the power is plentiful and the handling is arguably the best out of any SUV, ever. It's that good. And when you really get up on it, the aural experience is magnificent. The engine burbles under even mild acceleration, while the exhaust note rattles violently on upshifts before letting out a machine gun reverb. Driving the Quadrifoglio hard through a tunnel or a downtown setting with tall buildings on either side of you feels like nothing short of assault on the auditory systems of everyone around you. I doubt I'll ever get the same feeling from another vehicle.
(Even if you don't watch the video linked above in its entirety, at least click through to the 16:13, 16:39 and 21:29 marks to hear this thing in action.)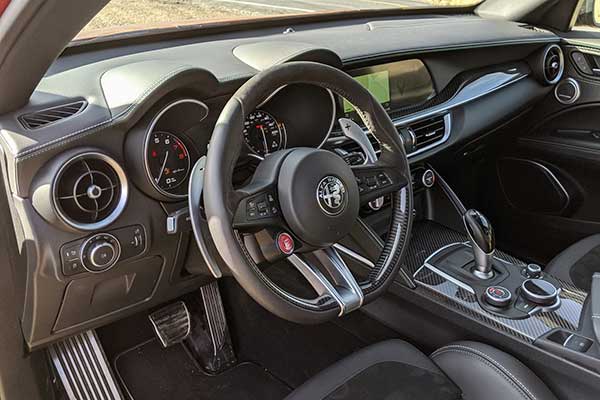 Certainly, the Stelvio Quadrifoglio is not without its drawbacks, and they can be significant. The interior isn't great. For an everyday car, it's fine, but when you consider that at $90,000, the Stelvio Quadrifoglio competes with vehicles like the BMW X3 M, the Mercedes AMG GLC 63 and the Porsche Macan Turbo, you can't help but notice that the interior just isn't up to par. There's hard brittle plastic where there absolutely shouldn't be, there are way too many different finishes and materials used throughout the cabin and the knob for controlling the infotainment system feels like a Gatorade cap.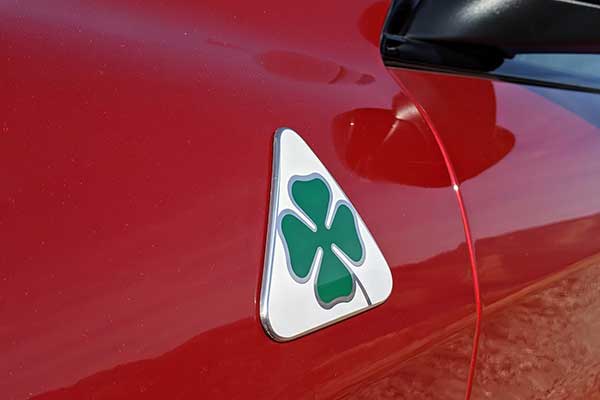 Next, this wouldn't be an Alfa review if we didn't address reliability. Since the brand relaunched in the United States just a few years ago, its products have earned a reputation for spending as much time in the service bay as they do owners' garages (for what it's worth, I experienced no issues over the course of my week with the keys, although there were a few random lights lit up on the dashboard the first time I started it up, but they went away after a minute). While we have to think that Alfa has been working diligently to rectify these issues, it's this reputation that will likely cost the brand for years to come. And that's if the brand even makes it. Alfa left the United States in the early 1990s only to return a few years ago, and as a result of this long sabbatical, the company enjoys virtually zero brand recognition among American consumers, and sales have been slow. Combine that with weak reliability, and you're looking at steep depreciation, making the ownership proposition a bit tough to stomach.
But it's the invigorating, edge-of-your-seat driving experience that makes the Stelvio Quadrifoglio what it is — one of the most visceral vehicles on sale anywhere today. It's got an amazing powertrain, incredibly dialed-in driving dynamics, it looks good, it sounds good and even just a quick run to the grocery store can leave your heart pounding and your palms sweaty. Issues aside, it's vehicles like this that push the bar forward and keep the automotive space interesting, and for that reason, I'm glad the Alfa Romeo Stelvio Quadrifoglio exists. Even if you do have to be a bit of a maniac to own one. Find an Alfa Romeo Stelvio for sale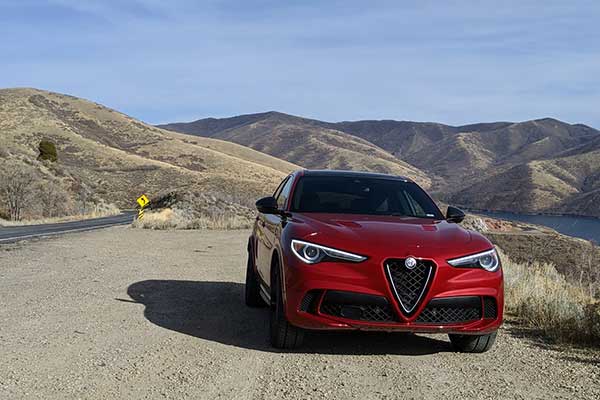 Chris O'Neill grew up in the Rust Belt and now lives in Salt Lake City, Utah. He worked in the auto industry for a while, helping Germans design cars for Americans. Follow him on Instagram: @MountainWestCarSpotter
MORE FROM OVERSTEER
Ford, Saab and VW Once Gave You A Bicycle When You Bought a New Car
5 Cool 2-Door SUVs For Sale on Autotrader
Autotrader Find: 1990 Ford Mustang 7-Up Edition