On a recent trip to Steamboat Springs, Colorado, I passed through the town of Dinosaur, where all of the streets are named after dinosaurs. This fascinates me, so I made a video about it, which is linked above.
The town sits in northwestern Colorado just across the border with Utah. It gets its name from its close proximity to Dinosaur National Monument, which is home to over 800 paleontological sites (aka fossils) on the Utah side, and winding, river-carved canyons on the Colorado side.
First a quick history lesson on Dinosaur. It was originally named Baxter Flatts, after the Baxter family, who homesteaded there in the late 1800s. It was during the Baxter era that the town grew into a hub for the local ranching community. With the oil boom of the early 1930s, the Baxter Flatts moniker slowly faded away, and the town then became known as Artesia, thanks to the presence of an artesian well discovered in the area years earlier. It was under the Artesia name that the town experienced significant growth, thanks in part to the newly constructed Highway 40 that passed through the area.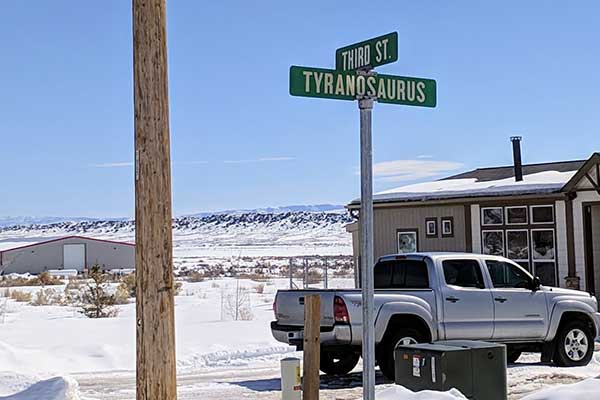 In 1933, a resort opened in the area. According to Colorado.gov, "Wiley's resort was for many an oasis in a dry land, offering good music, cocktails and dancing. By 1937 it was a main destination for people traveling along the newly constructed Highway 40 and by 1943, the height of the oil boom, Wiley's resort had a café, dance hall, hotels, apartments, grocery stores and a park".
Flash forward to 1966, after the oil boom had stabilized, and the town chose to re-name itself "Dinosaur" in order to capitalize on the popularity of the nearby National Monument.
In doing so, the town apparently opted to rebrand itself completely in a dinosaur theme. For starters, over the mile or so for which it runs through Dinosaur, Highway 40 is referred to as "Brontosaurus Boulevard." While the east-west running streets in Dinosaur have basic numeric names, the north-south running streets all have dinosaur names, which include Allosaurus Lane, Tyranosaurus Street, Diplodocus Drive, Camptosaurus Crescent, Brachtosaurus Street, Ceratosaurus Circle, Stegosaurus Freeway (which is little more than a through street), Antrodemus Alley, and Triceratops Terrace. In addition, travelers can further amuse themselves by stopping at the aptly named Bed Rock Depot and other dino-themed businesses as they pass through town.
I've been through Dinosaur a few of times now in my travels throughout the Rockies and, while there's nothing particularly notable about it outside of its amazing street names, I just find it to be extremely amusing — and I thought you might, too.
Chris O'Neill grew up in the Rust Belt and now lives in Salt Lake City, Utah. He worked in the auto industry for awhile, helping Germans design cars for Americans. Follow him on Instagram: @MountainWestCarSpotter.
MORE FROM OVERSTEER:
Here's Why the Koenigsegg Agera RS Is Worth $10 Million
I Bought the Most Unreliable BMW Ever Made
Autotrader Find: 1990 Subaru Legacy With a Landau Roof