This year's Moab Easter Jeep Safari was the 53rd iteration of the nine-day event, and my second year making the drive down to Moab to take everything in. Like last year, I made a point to take a stroll up and down Moab's Main Street before heading out of town to take in some of the coolest Jeeps I could find. Here are ten of them.
There's nothing particularly notable about this clean CJ-7 — everything here just works.
Apparently, this Wrangler started life as a 4-door JL Unlimited model and had its rear doors removed and a custom soft top fitted for a unique long-wheelbase 2-door aesthetic.
This one looks a lot like a CJ-2A, but it technically isn't even a Jeep. Rather, it's a Mahindra Roxor. The two vehicles' aesthetic similarities are no coincidence, though as Mahindra, an Indian company, started off building flat-fender Jeeps in India way back in the 1940s under license from Willys, and now builds the Roxor using much of the same design. Instead of going through the costly federalization process to get this thing road legal in the U.S., Mahindra simply offers it as an ATV for off-road use here in the States.
The Jeep team brought this original J10 Gladiator to the concept drive. I was more than a little pleased to get this photo of it with the new Gladiator in the background.
Will the original ZJ Grand Cherokee be considered a classic someday like the Wagoneer? Time will tell, I suppose. This one had a V8 under the hood.
Easter Jeep Safari would not have been complete without a Forward Control sighting. Like the one I saw last year, this one is an FC-170 model, and offered a longer wheelbase and increased payload over the lighter duty FC-150 model, which itself was built on a Jeep CJ-5 platform.
This one was insane. It rode on 54-in tires and looks like a JK Wrangler modified with a truck bed, but according to CARFAX, it's registered as a 2017 Ram 2500. Needless to say, there are probably a lot of different parts from a few different vehicles involved here.
This Willys CJ-2A is about as basic as it gets.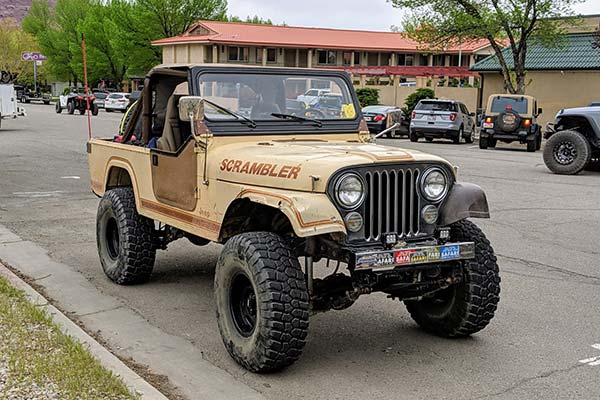 This CJ-8 Scrambler bore some resemblance to the Gladiator-based Scrambler concept that the Jeep brand brought to the event this year.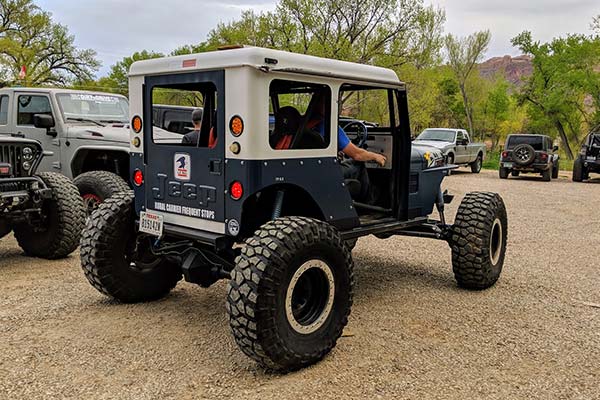 This right-hand-drive Postal Jeep rock-crawler was "Mail Rated" according to a little sticker opposite the license plate. It also wore 'LS Mail" decals, which seemed to imply there was an LS motor under the hood. It was also probably my favorite Jeep that I saw during my 48 hours in Moab. Find a Jeep for sale
Chris O'Neill grew up in the Rust Belt and now lives in Salt Lake City, Utah. He worked in the auto industry for awhile, helping Germans design cars for Americans. Follow him on Instagram: @MountainWestCarSpotter.
MORE FROM OVERSTEER:
Video | The Lamborghini Murcielago Roadster Was the Last Insane Lambo
Video | The Audi E-Tron Is the Electric Future of the Audi SUV
Autotrader Find: 2008 Alfa Romeo 8C Competizione for $349,000