I'm on a mission to visit every major mountain town in the Western U.S. and Canada, and this past Labor Day weekend, with help from a 2018 Toyota Tacoma — and an off-road teardrop trailer loaned to me by a local startup camping trailer company — I got to check another one off of my list.
Ketchum, Idaho — adjacent to Sun Valley ski resort and the gateway to Idaho's Sawtooth Mountains — is about four and a half hours north of where I live in Salt Lake City. The long drive gave me the opportunity to put the Tacoma through its paces when it comes to highway towing, and the long weekend gave me a chance to get a feel for what it's like to live with a teardrop trailer.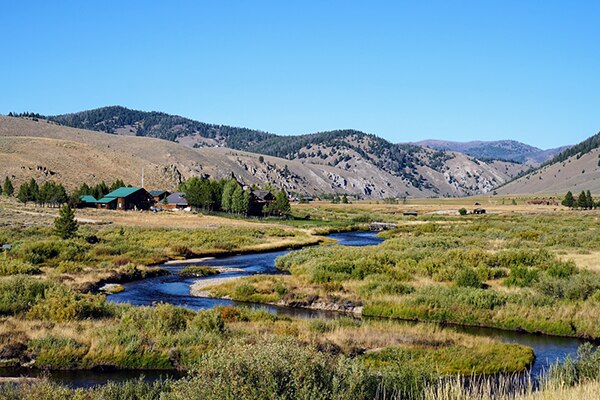 Ketchum is the kind of town where there's a Porsche Cayenne with a bike rack on it parked at every trailhead, and whose tiny local airport is just littered with private jets at any given time. The enthusiast car scene is impressive too: I saw not one, but two BMW Z8s, multiple pristine Jeep Grand Wagoneers, several Land Rover Defenders, countless camper vans and obscure RVs and even a Merkur XR4Ti. Sawtooth and Salmon-Challis National Forests are just to the north, and they offer epic views — not to mention old mining operations and ghost towns tucked within their canyons.
The Tacoma TRD Off-Road is an excellent overall package, as it boasts features that go just slightly beyond what the average buyer will likely use. Anyone interested in a Tacoma would be wise to target the TRD Off-Road trim level, as it serves to highlight the Tacoma's strongest points, falling right in the sweet spot between functionality, features and cost. While the TRD Off-Road is technically positioned below the Limited model, check the box for the $3,660 Premium Package and you've got a truck that has just as many amenities as the Limited, has more functionality and utility, is only slightly more expensive and is much, much cooler.
Sure, the TRD Pro is a viable option for buyers expecting to go off-road a lot, but for most people, the TRD Pro means paying a lot more money for only marginal added benefit. TRD Off-Road models offer most of that capability while costing around $5,000 to $8,000 less than the TRD Pro. TRD Off-Road models also hold their values especially well, and it's hard to find a used example for under $30,000 without going back several model years. When you factor in this slow depreciation, the idea of forking over $41,000 or so for a new Tacoma TRD Off-Road seems very reasonable, knowing that depreciation will be relatively low over your course of ownership.
Toyota is certainly aware of this, though — and in some cases, Toyota seems to want to get by on this attribute alone, ignoring more tangible aspects of the vehicle.
Case in point: the Tacoma's seating position is awkward, and the seats offer no height adjustment capability, while the leather is more about functionality than comfort — easier to clean than fabric, but not very breathable and hard to the touch. The cabin as a whole is made up primarily of hard plastics and other materials that end up being hard to clean.
The Tacoma does offer great standard driver-assistance safety features: blind spot detection, lane-departure warning, radar cruise control, automatic emergency braking, rear cross-traffic assist, pedestrian detection and automatic high beams come on every 2018 Tacoma. In this regard, the Tacoma offers the best overall package in its segment — way more than what's offered by the Chevrolet Colorado and the archaic Nissan Frontier. While this will surely change once the new Ford Ranger goes on sale, the Tacoma is unquestionably the safest midsize pickup on the market for the time being.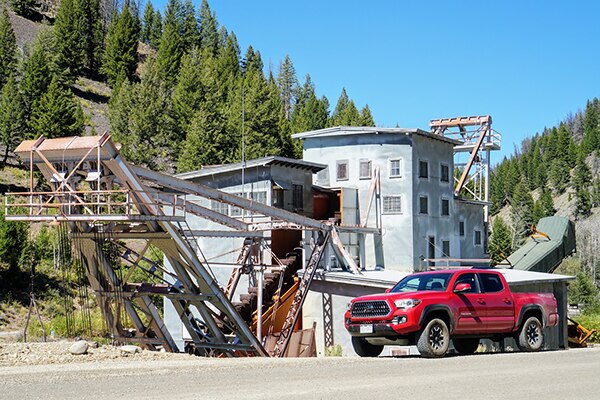 On the other hand, the Tacoma is sorely lacking when it comes to infotainment. Like most Toyota products, the Tacoma eschews Apple CarPlay and Android Auto compatibility, and offers just one USB port, which charges devices at a trickle — think around 10 percent per hour for a modern smartphone.
The 2,000-lb teardrop trailer we towed behind the Tacoma only served to highlight the flaws in the Tacoma's transmission, which was constantly cycling through gears and in many cases settled on third gear for highway cruising at 75 — 80 miles per hour, causing the engine to run at around 4,500 to 5,000 rpm — uncomfortably close to its 6,000rpm redline. Given that the Tacoma's quoted towing capacity is 6,800 pounds, I was really surprised at how much the driving experience was altered by this relatively lightweight trailer. Normal or not, towing with this thing was at times unpleasant. I hear that the manual transmission rectifies some of these issues, but either way, buyers looking to tow with a Tacoma should take note.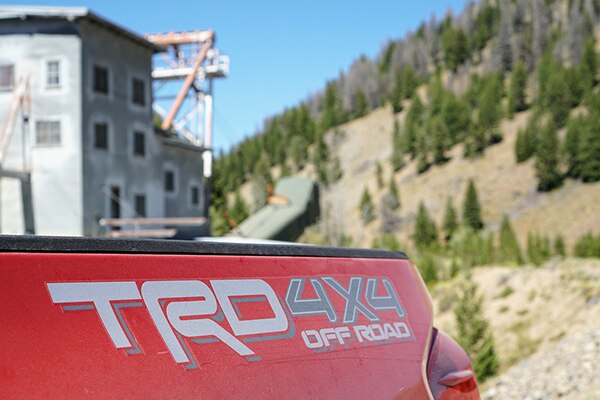 While I've found a lot to criticize with the Tacoma, in the end it's still a supremely useful vehicle that offers industry-leading reliability and resale value. The TRD Off-Road's Bilstein suspension eats up bumps on the road and allows for higher-speeds off-road, and the vehicle's locking rear differential, Crawl Control and Multi-Terrain select features make for even more capability in the dirt. Still, Toyota seems a bit too content to rely on the Tacoma's reputation for longevity as the vehicle's main selling point though, as tangible benefits that buyers look for, like infotainment and refinement, seem to have fallen by the wayside.
On to the trailer. Teardrops provide a happy medium between sleeping on the ground and investing in a full-blown RV or camper van. They provide shelter and amenities while also being relatively cheap, and allowing you to uncouple and enjoy the full, untethered capabilities of your tow vehicle. Altogether, I towed the trailer over about 350 highway miles and then down a short dirt road to a nice riverside campsite in the Sawtooths. Once we set up shop, I was able to then decouple and take just the Tacoma another 50 miles north to check out one of the aforementioned ghost towns outside of Stanley, Idaho. Like most teardrop designs, this one features a clamshell opening at the back that reveals a full stand-up outdoor kitchen with a counter, sink, refrigerator, stove and storage areas.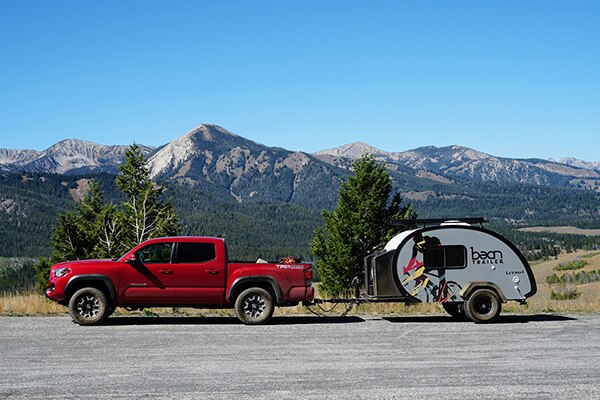 While all of Bean's trailers use the same basic construction, the company offers a few different grades — this one being the heavier duty version of two available off-road models. It featured an axle-less Timbren suspension setup and additional structural bracing, along with heavy-duty stand on fenders, off-road wheels and tires, as well as roof rails capable of accepting a roof top tent, which doubles sleeping capacity from two to four. Prices start at just under $15,000 and exceed $20,000 in fully-loaded off-road configuration. From what I can tell, Bean's off-road teardrop trailer splits the difference nicely between a simple on-road tow-behind and a heavy-duty off-road overland trailer — spacious and comfortable while still possessing enough off-road ability for most scenarios. This happy medium helps to keep costs down in a market where apocalypse-proof overland trailers can exceed $50,000 with regularity.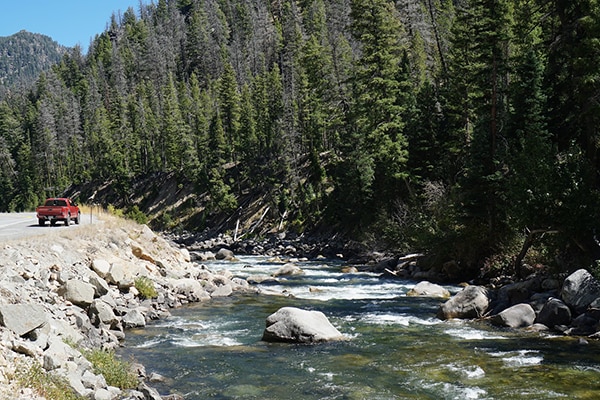 Altogether, the Tacoma is the de facto best midsize pickup on the market — although this is unlikely to be the case for much longer, as the reincarnated Ford Ranger is expected to be supremely good, and an updated Colorado is likely to follow soon after. While a few of my criticisms can probably be applied to the midsize pickup segment as a whole — namely, a lack of simple, comfort-oriented features and the use of harsh interior materials — the Tacoma's transmission behavior was confounding, and given the effort it took to maintain highway speed while pulling the 2,000-lb Bean, I found myself scoffing at the idea of towing anything close to the Tacoma's 6,800-lb tow rating. Still, if I was in the market for a midsize pickup, and I had to buy one today, this would probably be it.
Chris O'Neill grew up in the Rust Belt and now lives in Salt Lake City, Utah. He worked in the auto industry for awhile, helping Germans design cars for Americans. Follow him on Instagram: @MountainWestCarSpotter.
MORE FROM OVERSTEER:
Here's Why the Koenigsegg Agera RS Is Worth $10 Million
I Bought the Most Unreliable BMW Ever Made
Autotrader Find: 1990 Subaru Legacy With a Landau Roof