I've always found it funny that Lexus, of all automakers, offers a first aid kit in the back of its vehicles, or at least in the back of all of the vehicles that I've driven from the brand. Why these kits are so common in Lexus' models, but not in more mainstream vehicles like Toyotas and Jeeps is beyond me. Intrigued, I opted to do a little unboxing of the kit in the trunk of the RC350 I drove a few weeks back.
According to the Lexus website, the first aid kit is technically a dealer installed option, and pricing is apparently determined by the individual dealership. The kit was held down by a strap on the passenger side of the trunk area. A little security tag on the kit said: "Remove Before Use".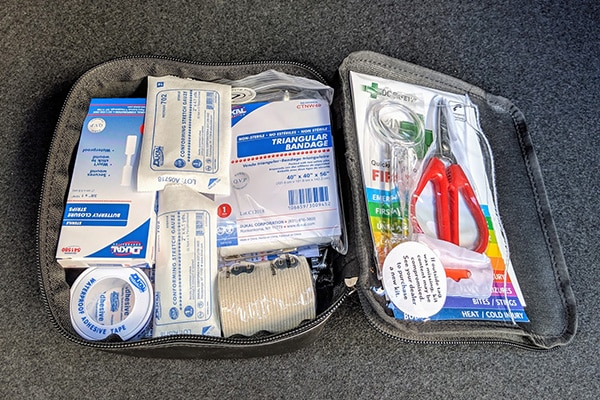 Once I removed the tag and undid the zipper, I was immediately surprised by how many items were packed inside of the little kit. On the inside flap was a little plastic sleeve containing a mini magnifying glass and pair of tweezers.
There was also a pair of scissors. Medical emergency or not, I can think of plenty of practical uses for just these three items alone.
There were also two cards. One served as a table of contents — Lexus branded, of course — and another showed how to treat various injuries and ailments, from choking to bleeding to poisoning to eye injuries.
Moving on to the main area, there was more good stuff. The majority of the kit was your everyday first aid supplies — an elastic bandage, band-aids, medical tape, gauze and butterfly closures. The kit also included moist towelettes and sting relief wipes.
The most surprising item included in the kit, and my personal favorite, was a "survival wrap" — otherwise known as a space blanket. This is a thin, silver 4-foot by 7-foot reflective wrap, useful for both staying warm and getting the attention of a passing motorist if you were to find yourself stranded in your vehicle.
Altogether, I was pleasantly surprised by just how much useful stuff was in the kit. If you have a first aid kit in your own vehicle, I recommend familiarizing yourself with its contents — because even if nobody's injured, you never know when you may need some tape and a magnifying glass. Find a Lexus for sale
Chris O'Neill grew up in the Rust Belt and now lives in Salt Lake City, Utah. He worked in the auto industry for awhile, helping Germans design cars for Americans. Follow him on Instagram: @MountainWestCarSpotter.
MORE FROM OVERSTEER:
Video | The Buick Grand National Was the Ultimate 1980s Muscle Car
Video | Hyundai Has Come a Long Way Since Its Horrible XG350L
These Are the Best-Preserved 1980s Cars for Sale on Autotrader