Cars for Sale by Owner
Selling a car? Or looking to buy one — but prefer a car from a private seller? In either case, we can help.
More Car Information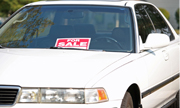 If you're interested in
selling a car yourself
, you'll find it's quick and simple on Autotrader.com. And did we mention profitable? Selling your car yourself can put thousands more in your pocket than trading in.
If you're in the market to
buy a car
, and you've decided you want to purchase from a private owner, AutoTrader.com can help you narrow your search to for-sale-by-owner cars in your area.
Articles About Cars for Sale by Owner