The 2021 Chevrolet Colorado offers standout features while the 2021 Toyota Tacoma has a storied reputation for reliability. Which is better?
Quick Facts
Chevrolet Colorado: Multiple powertrains offer variety
Toyota Tacoma: Reliability; Resale; Renown
2021 Chevrolet Colorado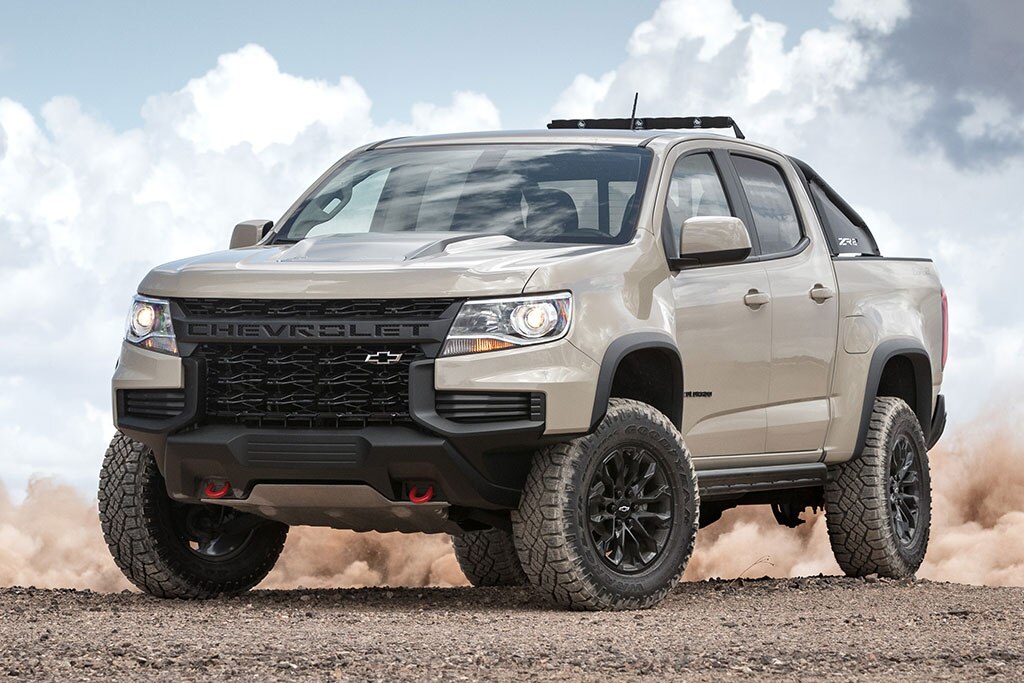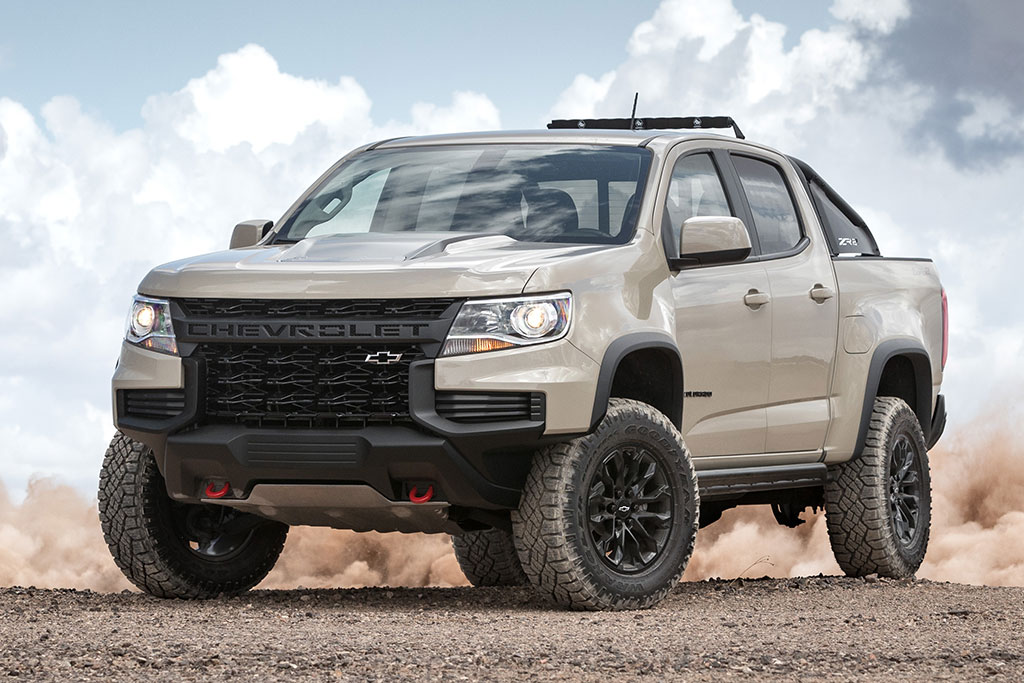 2021 Chevrolet Colorado Base Price $26,395 / Read our 2021 Chevrolet Colorado Review
What we like: Good choice of powertrains including Duramax Diesel; Best in Class Towing; Most customizing choices; Refreshed exterior
What we would change: Features can add up; Add enhanced safety suite
Overview: The 2021 Chevrolet Colorado continues to impress. Featuring a versatile powertrain selection including a 2.0-liter inline-4, a 3.6-liter V6, and a best-in-class towing winner with the 2.8-liter Duramax Diesel, it ticks off several important boxes. Available in either two- or four-wheel-drive, off-road enthusiasts can opt for the Z71 and ZR2 trim levels and their uprated rough-riding abilities.
What's new for 2021: Minor cosmetic touches continue to move the Colorado forward. Most Colorado trim levels will receive revised fascias. New badging and wheel options along with the LT's chrome appearance package are the big news items for the new year.
Features and technology: The Colorado presents a surprisingly livable ride that is the perfect alternative for those who want a do-it-all vehicle. The ride is so accomplished that you'll notice a lack of bone-jarring vibrations you would expect from a standard truck. Communicative steering relays road info to drivers. Being the only mid-size pickup with a Duramax 2.8-liter diesel powertrain option makes it a towing and mileage champ. Its off-road improvements include a wider track, raised suspension, revised bumpers, and functional skidplate. This way, you can go trail-busting on the weekend, and back to the office for the workweek.
What does the future hold: Expect mild refreshing in 2022 with a complete model overhaul in 2023. See 2021 Chevrolet Colorado Models for sale near you
2021 Toyota Tacoma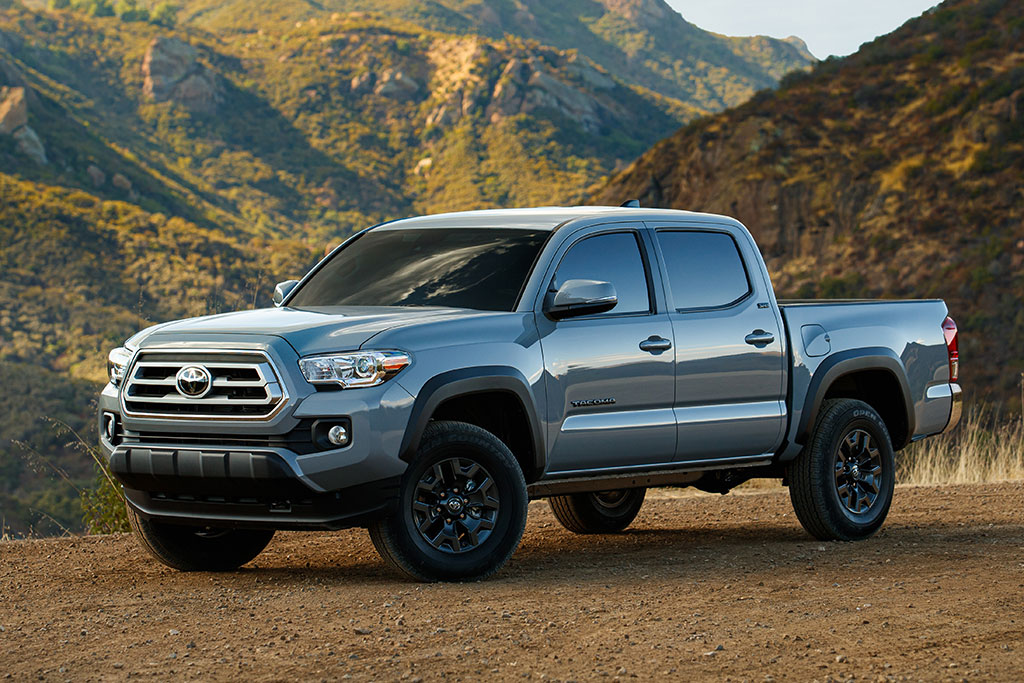 2021 Toyota Tacoma Double Cab starting price: $28,155 / Read our 2021 Toyota Tacoma Review
What we like: Highly customizable for a variety of needs; TRD package is off-road capable; Legendary Toyota reliability, build quality, and resale value
What we would change: The styling has become a bit dated; overdue for an update
Overview: The Toyota Tacoma is the brand's best-selling midsize truck on the road today, and is still the leader of the pack. Kudo's to the brand for excellent build quality. Many configurations can handle many buyer's needs; The possibility exists for 33 model combinations available with long or short beds, differing cab sizes, and more. Off-road enthusiasts can equip their TRD models with a six-speed manual transmission.
What's new for 2021: V6 Tacoma models receive dual-zone climate control standard. New Trail Edition is based on SR5 Double Cab, while the Nightshade model is based on Limited Double Cab. TRD Pro models get Lunar Rock as a new color choice for 2021.
Features and technology: Tacoma's standard power comes from a 2.7-liter inline-4 making 159 hp and 180 lb-ft of torque. The available 3.5-liter V6 makes 278 hp and 265 lb-ft of torque which almost gets the same mileage. Capable of towing up to 6,800 pounds.
What does the future hold: Rumors are worth what you pay for them, but we hear of a possible redesign for the 2024 model year. See 2021 Toyota Tacoma models for sale near you
Colorado vs Tacoma: Strengths Comparison
Chevrolet Colorado benefits: Diesel powertrain; with best-in-class towing
Toyota Tacoma benefits: Reliability; Substantial resale value; Impressive capabilities
2021 Chevrolet Colorado vs 2021 Toyota Tacoma: Which is better?
The Toyota Tacoma provides a wide variety of vehicles for most users and outstanding reliability and resale value. On the other hand, the new Chevrolet Colorado features best in class towing thanks to the Duramax Diesel engine. For that reason, the Chevrolet Colorado is our pick. Find a 2021 Chevrolet Colorado for sale / Find a 2021 Toyota Tacoma for sale