The all-new 2021 Chevrolet Trailblazer goes head to head against the 2021 Subaru Crosstrek. Which is better?
Quick Facts

The 2021 Chevrolet Trailblazer is an all-new model.
Addition of a new 2.5-liter 4-cylinder engine option on the Subaru Crosstrek.
2021 Chevrolet Trailblazer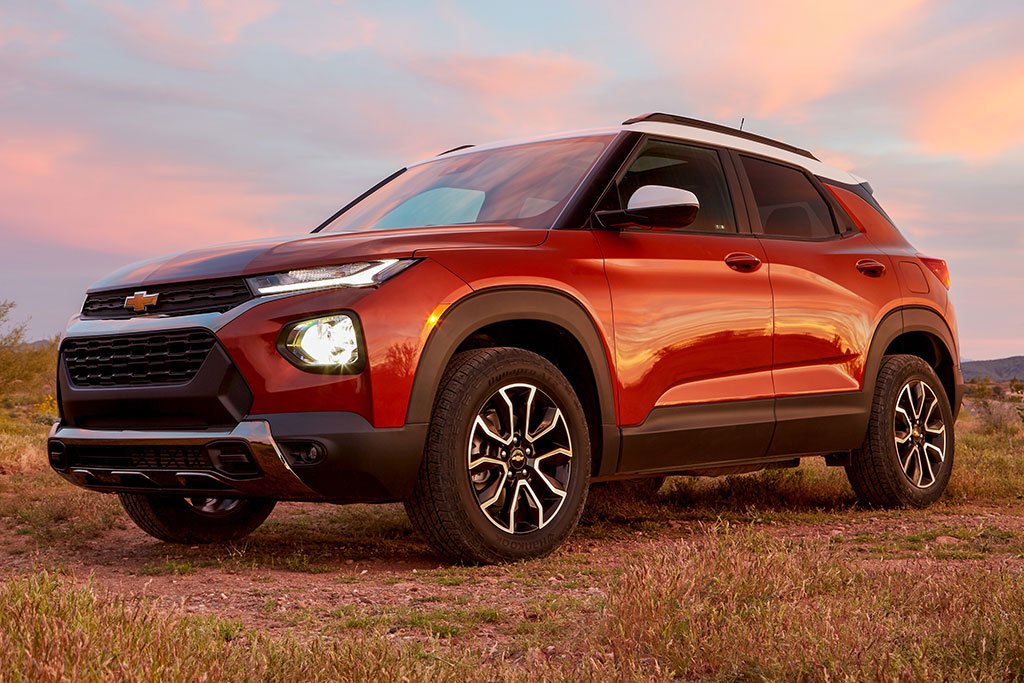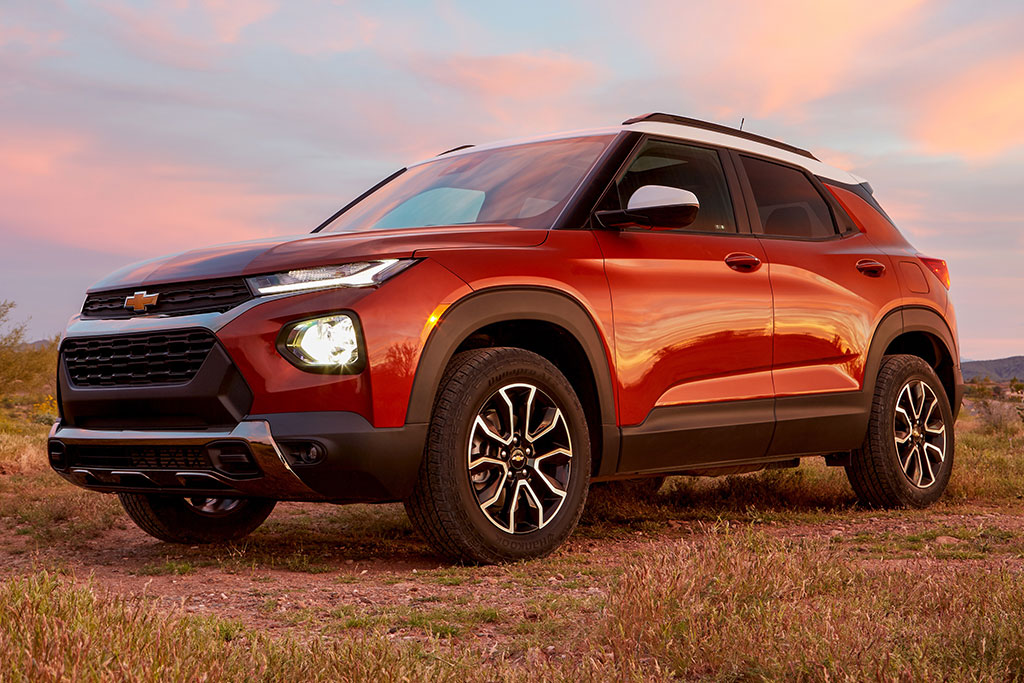 Base price: $19,995 / Read our 2021 Chevrolet Trailblazer Review
What we like: Low starting price, handsome looks, good standard tech, and safety features.
What we would change: Tight seats; add optional all-wheel drive to the base model.
Overview: Resurrecting a popular name from its past, Chevy brings back the Trailblazer for 2021 as a compact/subcompact crossover runabout for the city. In terms of size, it slots between the subcompact Trax and the midsize Equinox and carries familiar looks, including a headlight treatment pulled directly from the Camaro. The Trailblazer offers a choice of 3-cylinder turbocharged engines, and while the base 1.2-liter with a CVT is perfectly adequate, we prefer the 1.3 for its increased verve. Combine that with a choice of CVT or 9-speed automatic (which offers impressive fuel economy to boot) and steering that feels light but sufficient, and the Trailblazer makes for a nice little city car. The low starting price is appealing, and the Chevy comes decently equipped with both safety and tech features, although some interior materials seem a bit cheap. And despite its name, the Trailblazer is not an off-roader by any stretch of the imagination, with the base model not even offering all-wheel drive.
What's new for 2021: Everything. The Chevy Trailblazer is a brand-new model (albeit with a recycled name).
Features and technology: The 2021 Chevrolet Trailblazer is offered in five trim levels, from the base L model up to the more sport-inspired RS trim, with prices rising from under $20,000 to nearly $28,000 for the RS. It comes with a choice of engines and either a continuously variable transmission or a 9-speed automatic. The base model is front-wheel drive only, with the upper models offering all-wheel drive as well.
As an urban crossover SUV, the Trailblazer is well equipped with safety features, coming standard with forward collision alert, automatic braking, front pedestrian braking, lane-keeping assist with lane departure warnings, a teen-driver system, and a rear-seat reminder. Tech features include a 7-inch touchscreen and Bluetooth audio streaming for two devices, and both Apple CarPlay and Android Auto integration. Other features include two USB ports and 16-inch wheels. Upper trims include such options as an upgraded audio system, keyless entry, and push-button start, dual exhaust, and 18-inch wheels.
What does the future hold:
As the Trailblazer is a brand-new model for 2021, expect only mild updates in the future. See 2021 Chevrolet Trailblazer models for sale near you
2021 Subaru Crosstrek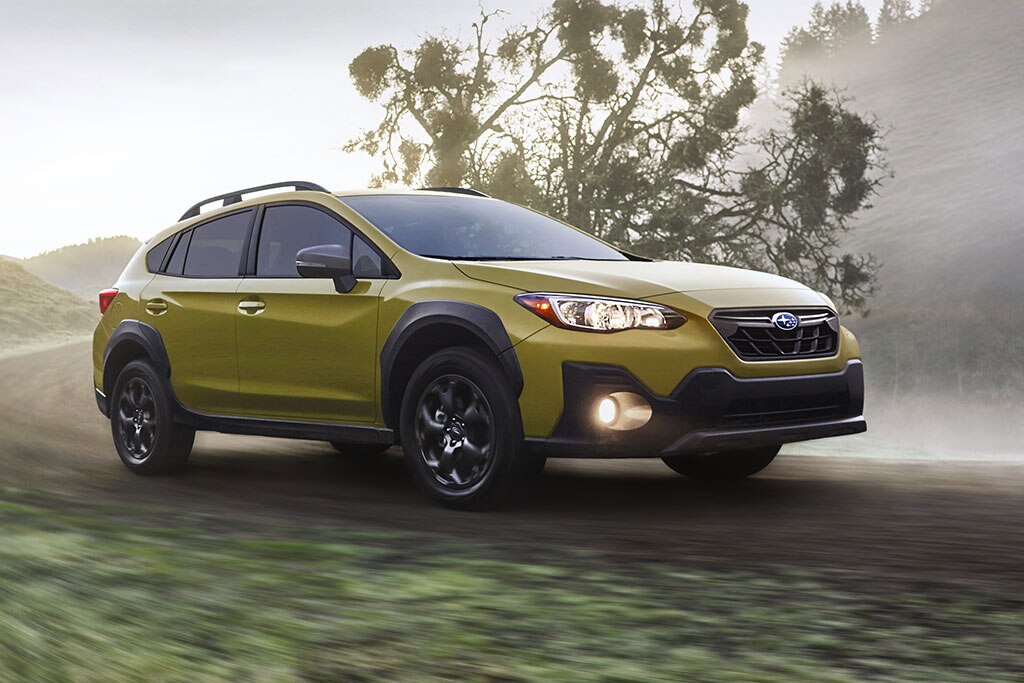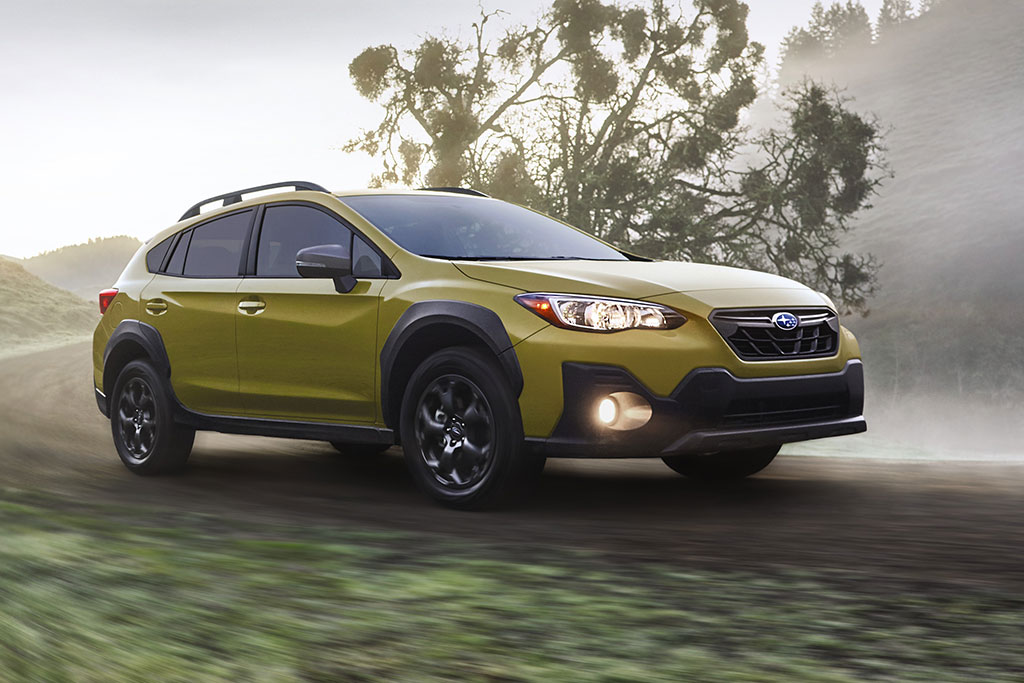 Base price: $23,295 / Read our 2021 Subaru Crosstrek Review
What we like: All-wheel drive comes standard; EyeSight safety suite in CVT-equipped models; decent off-road chops and 8.7 inches of ground clearance.
What we would change: Weak base engine; poor fuel economy with manual transmission.
Overview: In what has become a signature of the brand, the 2021 Subaru Crosstrek is neither a compact SUV nor a hatchback, but rather something in between, with a carlike ride but also some of the attributes of a crossover/SUV. With standard all-wheel drive and 8.7 inches of ground clearance, the Crosstrek is a solid camping vehicle, comfortable on anything from mud to dirt to snow, although it's still not a great choice for true off-roading on rocky terrain. We find the standard 2.0-liter engine to be a bit underpowered, but are more than satisfied with the upgrade 2.5-liter engine. We also don't much care for the manual transmission, since not only does the CVT deliver better gas mileage, but CVT-equipped models come with a more sophisticated AWD system, which offers Hill Descent Control. CVT models also come with SI-Drive, a driver-selectable powertrain management system that goes from more fuel-efficient to more sporty. The interior is comfortable and roomy, with a clear 360-degree view out front and 55.3 cubic feet of space with all seats folded.
What's new for 2021: Style changes include a redesigned grille and front bumper, while inside, Sport and Limited models get a 182-hp 2.5-liter engine, and adaptive cruise control comes standard on all CVT-equipped models.
Features and technology: Trim levels for the Crosstrek range from the base model up to the Limited, with the two lower levels offering either a manual or CVT transmission and the upper two with CVT only. Prices range from nearly $24,000 for the base model up to $29,000 for the base Limited, which includes more standard equipment.
Standard features include 17-inch alloy wheels, a 6.5-inch touchscreen, and automatic climate control. As we have mentioned, such things as SI-Drive and EyeSight are offered only on CVT-equipped models. Upper trim levels include such things as paddle shifters and foglights on the Premium, and the X-Mode all-wheel-drive system and a water-repellent interior on the Sport Model. The upper-tier Limited comes with 18-inch wheels, push-button ignition, a leather interior, an 8-inch touchscreen, and LED headlights, among other things. Other options include a moonroof on the Premium and up and a Harman Kardon audio system on the Limited.
What does the future hold: Subaru says there is a hybrid variant of the Crosstrek coming in 2021, but details are vague. The 2020 Crosstrek plug-in hybrid had 17 miles of all-electric range. See 2021 Subaru Crosstrek models for sale near you
Trailblazer vs. Crosstrek: Strengths comparison
Trailblazer Benefits: Significantly lower starting price; slightly better fuel economy; stylish looks.
Crosstrek Benefits: Standard all-wheel drive on all trims; higher safety rating; excellent resale value.
Trailblazer vs. Crosstrek: Which is better?
If this comparison test were merely on the basis of cost, the 2021 Chevy Trailblazer would win hands down, since its base model starts nearly $3,500 lower than the base 2021 Subaru Crosstrek. That being said, we think the Crosstrek is the better car. It's proven itself to have excellent resale value, it's got a more refined interior and ride, it has a 5-star safety rating, and even the base model comes with all-wheel drive. Just make sure you opt for the CVT rather than the manual.
Find a Chevrolet Trailblazer for sale or Find a Subaru Crosstrek for sale
| | | |
| --- | --- | --- |
| | 2021 Chevrolet Trailblazer | 2021 Subaru Crosstrek |
| Popular Powertrains | | |
| Engine | 1.3-liter turbo I3 | 2.0-liter Flat-4 |
| Horsepower | 137 hp @ 5000 rpm | 152 hp @ 6000 rpm |
| Torque | 162 lb-ft @ 2500 rpm | 145 lb-ft @ 4000 rpm |
| Transmission | CVT | CVT |
| Fuel Economy | 31 mpg (28 city/33 hwy) | 30 mpg (28 city/33 hwy) |
| Also Available | 1.2-liter turbo I3; 9-spd automatic | 2.5-liter Flat-4; 6-spd manual |
| Specs | | |
| Warranty | 3 years or 36,000 miles | 3 years or 36,000 miles |
| NHTSA Overall Safety Rating | 4 Stars | 5 Stars |
| Max Seating Capacity | 5 | 5 |
| Wheelbase | 103.9 inches | 104.9 inches |
| Overall Length | 173.5 inches | 176.5 inches |
| Width | 71.2 inches | 79.0 inches |
| Height | 62.5 inches | 63.6 inches |
| Turning Diameter | 37.4 feet | 35.4 feet |
| Headroom, Front | 40.0 inches | 39.8 inches |
| Headroom, Rear | 38.4 inches | 38.0 inches |
| Legroom, Front | 40.9 inches | 43.1 inches |
| Legroom, Rear | 39.4 inches | 36.5 inches |
| Shoulder Room, Front | 55.4 inches | 56.7 inches |
| Shoulder Room, Rear | 53.8 inches | 55.6 inches |
| EPA Passenger Volume | 98.2 cu. ft. | 100.9 cu. ft. |
| EPA Cargo Volume | 54.4 cu. ft. | 55.3 cu. ft. |