The 2021 Ford Bronco is clearly aimed at the likes of the Jeep Wrangler and Toyota 4Runner. But Toyota's other modern midsize body-on-frame off-roader, the FJ Cruiser, enjoys a cult following, not to mention very strong resale value, and therefore will likely also come to mind by those considering the new Bronco. Here we'll compare the Bronco and FJ Cruiser to highlight the major differences between them. At the end of this article is a table that compares the specifications of the two.
Quick Facts
The 2021 Ford Bronco is all-new and offers off-road capability, a removable roof, and doors, and is available in both two- and four-door bodystyles

The Toyota FJ Cruiser was sold from 2007 through 2014 model years and can be thought of as a slightly smaller, retro-styled version of the 4Runner.
2021 Ford Bronco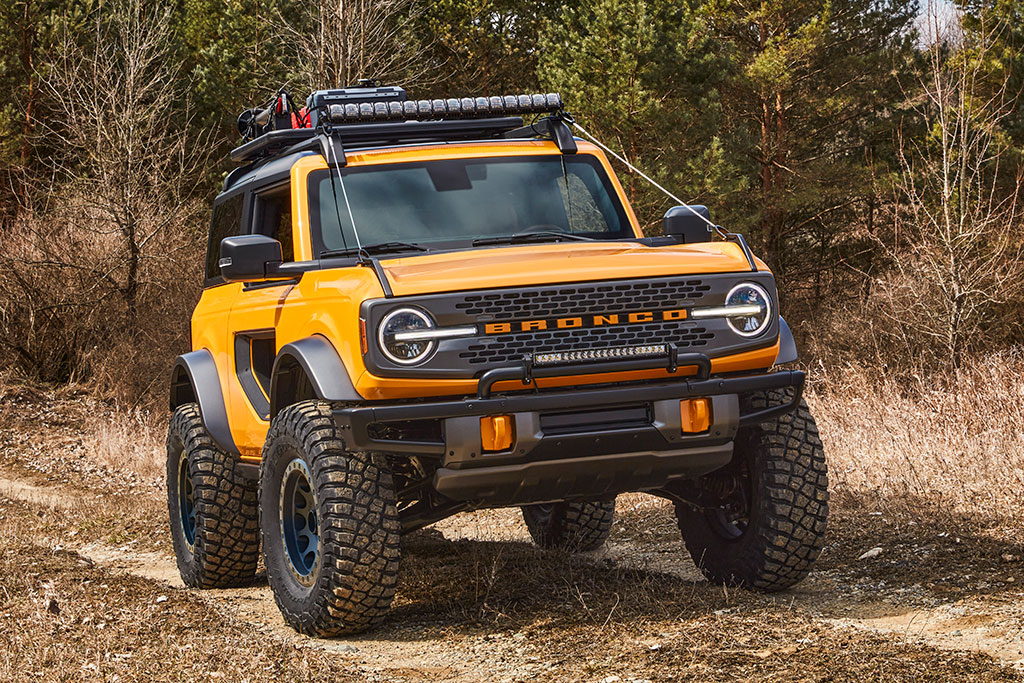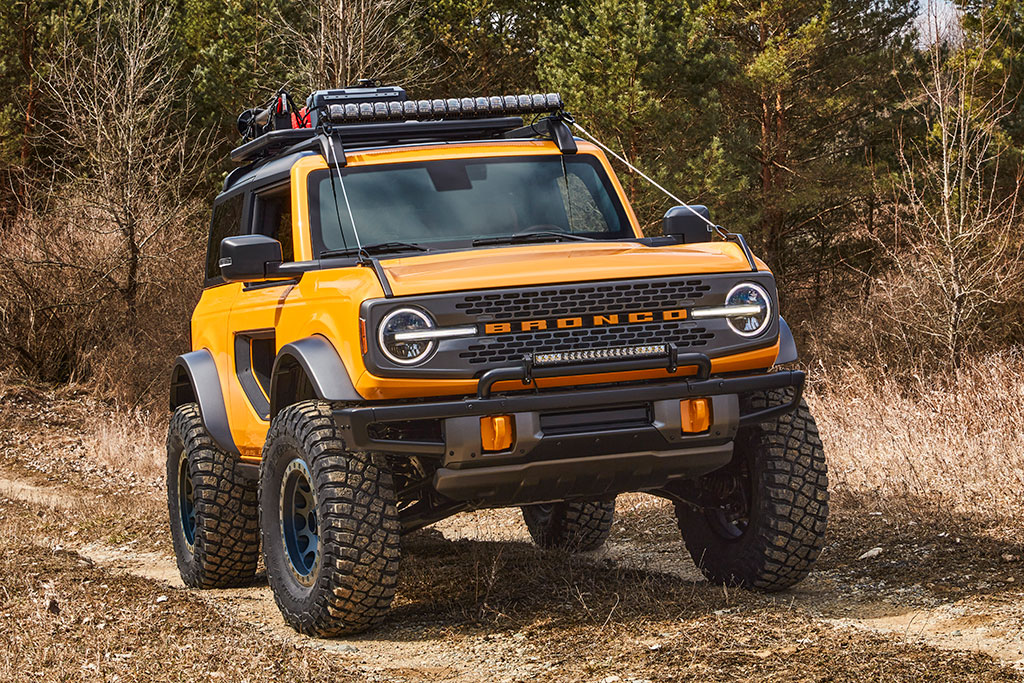 Base price: $29,995 / Read our 2021 Ford Bronco Review
What We Like: Retro-futuristic styling, modern tech, generous packaging, two- and four-door versions, doors and roof come off.
What We Would Change: Availability will likely be limited until the second half of 2021, dealers will attempt to charge huge mark-ups.
Overview: One of the most hotly anticipated new vehicles to launch in years, the 2021 Ford Bronco is a dedicated off-roader. It's designed to compete directly with the beloved Jeep Wrangler, and like the Jeep, comes standard with a removable roof and doors. Unlike the Wrangler though, the Bronco features an independent front suspension to go with a solid rear axle. This setup earns it a comparison to the also-beloved Toyota 4Runner, and by extension, the structurally similar FJ Cruiser that Toyota discontinued after the 2014 model year. The Bronco rides on an updated version of Ford's midsize truck platform which will also form the basis of the next-generation Ranger, which is due to be revealed in a few years. It's available with two engines; a turbocharged four-cylinder also shared with the Ranger, and a turbocharged six-cylinder that can also be found in the F-150. Either engine comes paired with a ten-speed automatic, although the base four-cylinder can also be had with a six-speed manual featuring an ultra-low crawler gear positioned below first.
Features and technology: The Bronco is offered in either two- or four-door form with either a soft or hard-top removable roof. Unlike the doors found on the Wrangler which use full window frames, the Bronco uses frameless doors, making them lighter and easier to handle once removed; in fact all four doors can be stored in the cargo area of a four-door model. Six different trim levels will be offered, the most capable of which are the Black Diamond, Wildtrak, and Badlands models. The Bronco's Black Diamond trim comes with steel wheels and a locking rear differential, and is probably what we'd cross shop against a used FJ Cruiser. The Sasquatch package can be had on any Bronco, and adds 35-in tires, locking front and rear differentials, higher-performance suspension and more. Wildtrak models come standard with the Sasquatch pack. Top-spec Badlands models gain a trick disconnecting front sway bar, and more off-road tech that closely aligns this trim with the Jeep Wrangler Rubicon. Other features offered on the Bronco include a full array of active safety tech, and two infotainment systems running the latest version of Ford's Sync infotainment software, complete with Android Auto, Apple CarPlay, and a number of off-road mapping services.
What's the future hold?: The Bronco likely won't be available in large quantities until at least the second quarter of 2021. Expect a high-performance Raptor variant to be introduced in a year or two, and Ford is also rumored to be working on a pickup version of the Bronco aimed squarely at the Jeep Gladiator. See the 2021 Ford Bronco models for sale near you
Used Toyota FJ Cruiser
Expect to pay between about $20,000 and $40,000 for a used FJ Cruiser in good running condition with reasonable mileage; figure anywhere between 60,000 and 140,000. At the time of this writing, the least expensive four-wheel drive-equipped FJ on Autotrader is a white 2014 model with 152,000 miles on the odometer and an asking price of $22,494. The most expensive is, ironically, also a white 2014 model, but with just 17,500 miles on the odometer, some light modifications, and an asking price of $54,750.
Read our 2014 Toyota FJ Cruiser Review
What We Like: Toyota reliability, good off-road capability, still holding its value extremely well, not as common as the alternatives.
What We Would Change: The newest one is now six years old, limited technology, love-it-or-hate-it styling, awful rear visibility, rear half-door and side-hinged rear hatch are cumbersome.
Overview: The FJ Cruiser was introduced for the 2007 model year as a tribute to the iconic 'FJ40' Series Land Cruiser. Built on the same basic platform as the 4Runner and Lexus GX 460, the FJ Cruiser wore retro styling and was even offered in a color palette very similar to that of the iconic early Land Cruiser. A quirkier alternative to the 4Runner, the FJ Cruiser came with two full doors and rear-hinged half doors allowing for easier access to the second row. With a wheelbase four inches shorter than that of the 4Runner, the FJ Cruiser was somewhat of a Jeep Wrangler competitor, although unlike the Wrangler, the FJ's roof and doors aren't removable.
Under the hood of a used FJ Cruiser you'll find a 4.0-liter V6 engine paired to either a six-speed manual or a primitive five-speed automatic transmission. Like other Toyota trucks, the FJ Cruiser is known for mixing good off-road capability with the consistency and reliability typically associated with Toyota.
Features and technology: Like the 4Runner, the FJ Cruiser came with independent front suspension and a solid rear axle. Both two- and four-wheel drive versions were offered. Four-wheel drive models with the automatic transmission used part-time four-wheel drive, while those with the available manual made use of a full-time four-wheel drive system. If you know you'll be taking your FJ off-road more than once or twice a year, you'll probably want to look for a TRD Special Edition (offered for 2007) or a Trail Teams Special Edition (2008-2014). These came with Bilstein shock absorbers, all-terrain tires (which would more than likely have been replaced two or three times at this point), rock rails, a TRD cat-back exhaust, and more. A locking rear differential and Toyota's clever Crawl Control and Active Traction Control systems were available. Beyond this, the FJ Cruiser came pretty modestly equipped; about what you should expect from a utility-oriented vehicle from the late 2000s.
What's the future hold?: Used FJ Cruisers will certainly become less and less valuable as the years go by, but certainly not at the rate that a comparable 4Runner, Bronco, or Wrangler will lose value, and those vehicles are already known for slow depreciation. Expect values to take a hit whenever Toyota gets around to introducing a new 4Runner, which is expected for the 2023 model year. Either way, as automakers continue to simplify and consolidate their lineups, we don't expect another vehicle in the vein of the FJ Cruiser to be offered by Toyota any time soon, so no matter how old it gets, the FJ Cruiser will always be a special. See the used Toyota FJ Cruiser models for sale near you
Bronco vs. FJ Cruiser: Strengths comparison
Both of these vehicles pack great off-road capability and are available in trim levels that'll make barreling down a forest road a blast. In terms of accessorization, the 2021 Ford Bronco is set to launch with over 200 factory accessories with more to join via the aftermarket, while loads of accessories are already available for the FJ Cruiser via the aftermarket. Really though, the main thing these two vehicles have in common is character; either one looks ready for adventure, and has the capability to match.
Ford Bronco Benefits: The Bronco is a much more modern vehicle than the FJ Cruiser. For around $40,000, you'll be able to get yourself a brand-new four-door Bronco Black Diamond with Android Auto and Apple CarPlay, loads of active safety tech, a locking rear differential, and more. For a few thousand more, you'll be able to add the Sasquatch Package and get 35-in tires, front and rear lockers, Bilstein shock absorbers, and more yet. The Bronco also uses more modern design and better engines than the FJ Cruiser. Oh, and the Bronco's roof and doors are removable; the FJ Cruiser was never even offered with a sunroof. Since it's brand new, any Bronco you buy will also come with a factory warranty. Additionally, the Bronco's more modern and more focused design means it'll probably take you ever a little further into the rough stuff than an FJ Cruiser.
Toyota FJ Cruiser Benefits: While this becomes less true as technology advances, buying an all-new vehicle in its first year of production can often mean dealing with some quality abnormalities and recalls during your first couple of years of ownership. With a used FJ, you'll know that the vehicle has likely had any of these issues rectified, and not to mention, has been fully broken in. One real edge the FJ Cruiser has on the Bronco is towing capacity; the Toyota is rated at 4,700lbs, while the Ford is rated at just 3,500. Additionally, while this won't be the case early on, the FJ's relative rarity means that once the dust settles, it will likely stand out a little more than the Bronco once pent up demand is met for the new Ford. And finally, at this point you'll probably have to wait until the middle of 2021 to park a new Bronco in your garage, while acquiring an FJ Cruiser is as simple as locating one and buying it.
New Bronco vs. Used FJ Cruiser: Which is better?
The 2021 Ford Bronco is hands down a more appealing vehicle than an FJ Cruiser; you probably could have seen that coming. It has a more modern design, more features, better safety tech, greater off-road capability, and a roof and doors that can be removed in a few minutes. That said, even for the value-driven shopper, used FJ Cruisers typically go for between $25,000 and $40,000, meaning that they're hardly a cost-effective alternative to the new Bronco. Sure, Toyota is known for offering world-leading reliability, and an FJ Cruiser should be capable of traveling upwards of 250,000 miles without needing a major overhaul provided you maintain it properly, but there's nothing to say that the new Bronco won't be capable of such a feat as well, while being an all-around more modern and more advanced vehicle. As much as we all love and trust Toyota trucks, for most people, the Bronco is probably a better buy than a used FJ Cruiser headed into 2021. Find a Ford Bronco for sale or Find a Toyota FJ Cruiser for sale
2021 Ford Bronco 4-Door

2014 Toyota FJ Cruiser

Base Powertrain

2.3-liter Turbo I-4

4.0-liter V6

Horsepower

270

260

Torque

310

271

Transmission

10-Speed Auto or

7-Speed Manual

5-Speed Automatic or 6-Speed Manual

Fuel Economy

Not yet rated

17/20/18 (A) 15/18/16 (M)

Optional Powertrain 1

2.3-liter Turbo V6

Horsepower

310

Torque

400

Transmission

10-Speed Automatic

Fuel Economy

Not yet rated

Platform

Body-on-Frame

Body-on-Frame

Axles

Independent Front, Solid Rear

Independent Front, Solid Rear

Wheelbase (in.)

116.1

105.9

Length (in.)

189.4-190.5

183.9

Width (in.)

75.9-79.3

75.0

Height (in.)

72.9-75.3

72.0

Seating Capacity

5

5

Second Row Leg Room

38.3

31.3

Cargo Volume (cu. ft.) (Rear/Rear+2nd Row)

36/78

28/67

Payload

1370

1251

Towing Capacity

3500

4700

Ground Clearance (in.)

11.6

9.6

Best Approach/

Breakover/

Departure Angles

43.2/26.3/37.0

34.0/27.4/30.0

Warranty

3 Years/36,000 Miles

Not anymore!