New Mercedes-Benz Cars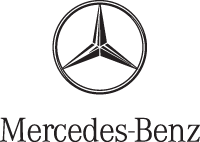 Strengthening its expression of and association with luxury and refinement over the decades, Mercedes-Benz has built one of the most distinct brand identities in the automotive world. Interestingly, however, the origins of Mercedes-Benz were the very beginnings of the entire industry: Karl Benz created the world's first automobile, a three-wheeled vehicle dubbed the Benz Patent Motor Car, in 1886. The same year, Gottlieb Daimler and engineer Wilhelm Maybach created a four-wheel, petrol-powered car, and the world was changed. The two companies merged in 1926. Soon they adopted a three-pointed star wreathed in a laurel as the Mercedes-Benz logo; Daimler had dreamed up the threefold signature for a company whose engines would be used on land, in the air and at sea. From the beginning, Mercedes-Benz established itself as the pinnacle of automotive excellence and innovation, with engineering achievements such as the first four-wheel suspension and the "crumple zone" front body designed to absorb the impact of a crash. Model after model, Mercedes-Benz upped the ante, through the elegant 600 sedan in the Sixties and the launch of the S-Class line in the Seventies. The parent company inadvisably acquired Chrysler in the Nineties, then quality levels for the Mercedes-Benz brand per se fell. But Mercedes-Benz recovered nicely and now fields its most complete lineup ever.
Find Mercedes-Benz Inventory
Trade In or Sell a Car for a Mercedes Benz


We're sorry, 2016 Mercedes-Benz vehicles are not available in that body style.


Mercedes-Benz Special Offers
Next steps to own your Mercedes-Benz
See other Mercedes-Benz models
Mercedes-Benz News & Reviews
Car Buying Guides