Nissan's luxury-oriented Infiniti brand straddles the line between performance and mainstream with its lineup of sporty cars and SUVs. Read on to learn more more about all of the new Infiniti cars and SUVs, as well as updates to existing models.
2013 Infiniti EX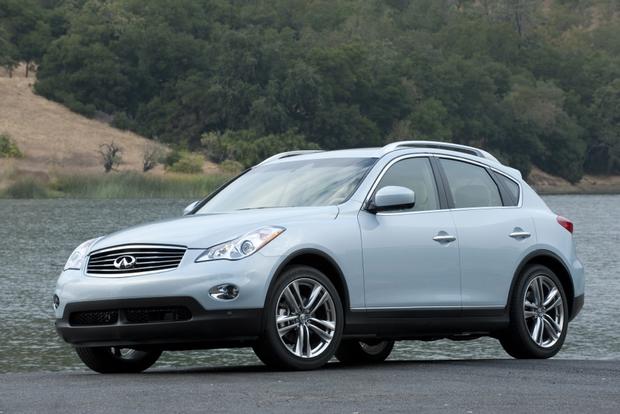 Infiniti's compact EX37 crossover trades in the 297-horsepower 3.5-liter V6 in last year's EX35 for a new 3.7-liter engine that produces 325 hp.
2013 Infiniti FX
Like the smaller EX, the base 2013 Infiniti FX37 swaps out the 3.5-liter V6 engine in last year's FX35 for a more powerful 3.7-lter unit. The sporty SUV also gains a new Limited Edition trim offered only in Moonlight White.
2013 Infiniti G
Gone is last year's base-model sedan, which was dubbed the G25 and featured a 2.5-liter V6. A sporty new IPL G Convertible is now available, mirroring the IPL G Coupe's specs but adding a folding hardtop roof.
2013 Infiniti JX
The full-size JX35 crossover debuted for 2013 featuring three rows of seats, a 3.5-liter V6 engine, available front- or all-wheel drive and a starting price of around $41,500. A continuously variable automatic transmission is standard, while many available safety features give the JX typical Infiniti technological pizazz.
2013 Infiniti M
Infiniti's flagship sedan now includes an optional Sport Package on all-wheel-drive variants. Other changes for 2013 include a new Performance Tire and Wheel Package with 20-inch alloys and a newly available Infiniti Connection telematics service.
2013 Infiniti QX
The full-size Infiniti QX56 is largely unchanged for 2013, save for newly standard auto-dimming exterior mirrors.