Mazda's cars and crossovers feature sporty styling, excellent handling and impressive fuel economy thanks to its new SkyActiv technology. Read on to learn more more about all of the new Mazda cars and SUVs, as well as updates to existing models.
2013 Mazda CX-5
The compact CX-5 crossover is all-new for 2013, replacing old Ford-based Tribute and Mazda CX-7 SUVs. Among the most fuel-efficient SUVs on the market, the CX-5 starts around $21,000 and offers a standard 155-horsepower 4-cylinder engine.
2013 Mazda CX-9
Mazda's larger CX-9 crossover gets a restyled front end for 2013, with LED headlights and design that matches other Mazda models.
2013 Mazda2
The only 2013 change for the subcompact Mazda2 is the addition of a standard USB port.
2013 Mazda3
The Mazda3 now offers air conditioning and a USB port as standard equipment.
2013 Mazda5
Like other Mazda models, the compact Mazda5 gets a standard USB port. After last year's full redesign, other changes for 2013--such as mirror-mounted turn signals--are minor.
2013 Mazda6
The midsize Mazda6 sedan is unchanged for 2013, as an all-new, fully-redesigned model is expected to bow early next year as a 2014 model.
2013 Mazda Miata MX-5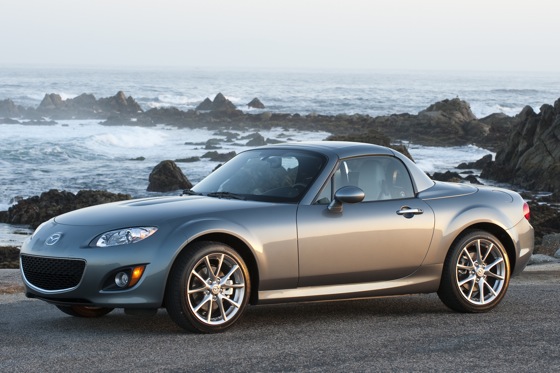 The MX-5 Miata roadster receives a revised front end with an updated grille. Other changes include a new Club model that replaces last year's Touring trim and a sporty Suspension Package available for MX-5 models equipped with a manual transmission.