Though Subaru is best known for sure-footed all-wheel drive models, it's adding the sporty rear-drive BRZ coupe for 2013 to help spice up its lineup. Read on to learn more about all of the new Subaru cars and SUVs, as well as updates to existing models.
2013 Subaru BRZ
The rear-wheel drive BRZ sports coupe joins Subaru's lineup for 2013. Co-developed with Toyota, the 4-seater BRZ offers a 200-horsepower 4-cylinder engine, a wide track for sporty handling and choice of manual or automatic transmissions.
2013 Subaru Forester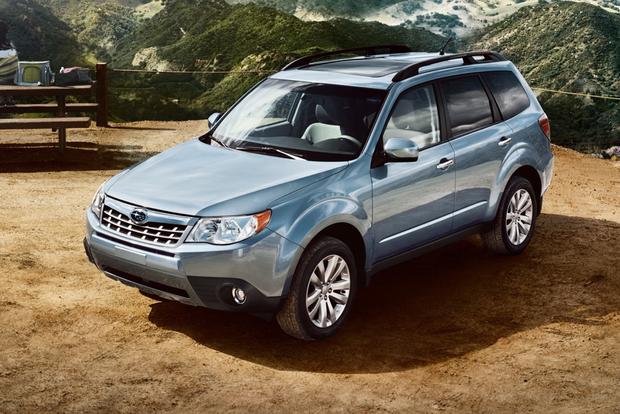 The Forester receives only a few changes for 2013, the most notable of which is newly standard Bluetooth, a USB port, an auxiliary jack and steering wheel-mounted audio controls.
Find the Subaru Forester for sale
2013 Subaru Impreza
Like its Forester sibling, the recently redesigned Impreza adds standard Bluetooth, a standard USB port and a standard auxiliary jack for the 2013 model year.
Find the Subaru Impreza for sale
2013 Subaru Impreza WRX
The performance-oriented WRX continues on the previous-generation Impreza platform for 2013. Beyond a special-edition Tangerine Orange model, there are no significant changes for the WRX. An all-new 2014 WRX, based on the latest Impreza, should be revealed soon.
Find the Subaru Impreza WRX for sale
2013 Subaru Legacy
Revised interior and exterior styling are the key updates to the Legacy for 2013. Other changes include a newly standard Bluetooth system, auxiliary jack and USB port, plus improved fuel economy for the base-level 4-cylinder engine due to a new CVT automatic transmission. The turbocharged 2.5 GT model is gone.
Find the Subaru Legacy for sale
2013 Subaru Outback
The Legacy-based Outback wagon also gets new interior and exterior styling for 2013, along with a standard auxiliary jack, USB port and Bluetooth system. Like the Legacy, the Outback now offers a CVT transmission for its base-level 4-cylinder engine, leading to improved fuel economy.
Find the Subaru Outback for sale
2013 Subaru Tribeca
Only minor updates mark the 2013 model year for the Tribeca, which adds newly standard leather, Bluetooth and a brake override system designed to prevent accidental or uncontrolled acceleration.
Find the Subaru Tribeca for sale
2013 Subaru XV Crosstrek
The Impreza-based XV Crosstrek is all-new for 2013. Featuring nearly nine inches of ground clearance and a CVT automatic transmisision, the compact XV Crosstrek is aimed at urban drivers with an active lifestyle.