How to Price Your Used Car to Sell
When you've decided it's time to sell your car, the first thing to determine is a realistic price.
What is my car worth? | KBB Car Value
So you want to know how much your car is worth. Autotrader's car valuation tool can help you find the Kelley Blue Book® Value of the car you would like to sell and give you a suggested car price. You'll be well on your way to listing your car for sale on Autotrader.
There are many factors that affect a sales price, including the car's condition and mileage, as well as what the market will bear in your area. Fortunately, arriving at a fair price is easy thanks to the tools available on the Internet and some basic knowledge you have of your vehicle.
Step 1: Gather Information About Your Car

The first step is to gather all the necessary information about your car that will affect its value. Take a notepad and jot down the year, make, model and trim level. Next, note any optional features your car has, such as a leather seating package or rear seat entertainment system.
It's a good idea to consult your original sales paperwork or window sticker to be sure you haven't missed anything. Optional features can often add a substantial amount to your car's resale value, so be sure to include all of them when you make your calculation.
If you've added aftermarket items, such as an upgraded stereo system or different wheels, you can expect to get a little more for the car, but in most cases you won't be able to recoup your entire investment.
Note the current mileage on your vehicle. Consult your owner's manual for the various warranties that came with your vehicle to determine if it's still under warranty. Your car's bumper-to-bumper warranty may have expired, but there may still time or miles left on its powertrain warranty, for example. A car that is still under warranty is more desirable than a car whose warranty has expired.
If you purchased an extended warranty through the dealer or a third party, locate that paperwork to determine if that warranty is still in effect, what its terms are and whether it is transferable. You'll also need to determine if there is a transfer fee and decide whether you or the buyer will pay it.
Take a good look at the condition of your car. You'll need this information to rate the car when you go to obtain your used car price. Items such as large (or multiple) door dings or paint scratches will reduce the car's value, as will stains or severely worn upholstery.
To help get the highest price, consider getting your vehicle detailed by a professional. Depending on the number and location of door dings, you may also want to hire an expert to remove those. The small cost can often be worth it to help you sell your car quickly, particularly if you have a lot of small dents or if they are in particularly noticeable locations, such as on the driver's door or in the curve of the body.
Next review any paperwork you received from the manufacturer since you purchased the car. Make note of any recall notices and, using your receipts from your dealer, confirm that they were corrected.
Make special note if you received any extended warranty notices from the manufacturer, such as if there was a problem with the engine that resulted in the manufacturer extending the powertrain warranty. Proof that these things have been taken care of will make your sale easier.
Locate all your receipts and repair orders for all the maintenance and repairs completed since you've owned the car. If you haven't kept them, your dealer or independent mechanic should be able to print a statement that summarizes each visit. Having this information will put a new buyer at ease that the car has been well cared for and will help you get a higher sales price.
If your car needs a repair or its regular maintenance, consider having that done before you put it on the market. If you choose not to, then get a quote for the work and factor the estimate into the selling price.
Step 2: Research Local Used Car Values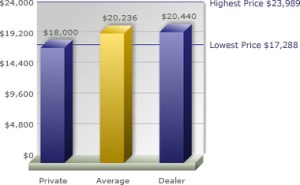 Once you've gathered all your notes about your car, it's time to research used car prices for similar cars in your area. Start by obtaining prices through all of the major pricing sites online, such as Autotrader's Car Values page, Kelley Blue Book and NADAguides.com.
Be sure to have your notes handy, as you'll need that information to obtain a used car value on each site. You will likely find that the prices vary somewhat, because each company uses somewhat different methodology and data to calculate prices.
Autotrader's Car Values page, for example, uses its classified listings to calculate how many cars are available locally that are similar to the seller's, while KBB.com looks at actual consumer sales each year to calculate its price.
Once you've researched used car prices online, consult your local newspaper and other publications that run classifieds in your area to look for cars similar to yours. Compare the prices in the ads to the online pricing reports you've gathered to see how they stack up.
If there are a lot of similar vehicles for sale in your area, you may want to use your notepad to make a list of the ads, including the prices, mileage and major differences between the vehicles, such as engine, trim level and options.
Step 3: Determine Your Price
Now that you've gathered information about your car and prices for similar cars, look at the range of prices you've found in your research. Choosing a number within that range is only logical, but how do you decide whether to go low, high or in the middle? If you don't own your car outright, be sure to call your lender to determine the cost to pay off your car. The sale price you choose should take that into consideration.
A good idea is to start in the middle of the range and add or deduct from that point. You might add to the price if your car is in top-notch condition or has very low miles, such as an average of 7,000 miles per year or fewer. (Just remember that the range you've arrived at has taken condition and mileage into consideration already.)
Optional features, a car that is still under warranty, an extended warranty and proof that you've completed regular maintenance are all things that will help you get the higher price in the range. As a result, you'll want to factor them in when determining your price-and also note them in your ad.
You might also boost the price if you've just completed a major scheduled maintenance, such as a 60,000-mile service, or if you've just purchased a new set of tires or installed new brakes, though keep in mind that since these are considered part of regular wear and tear, you'll only be able to justify adding to them to the price if they are nearly new.
Similarly, you might price your car lower than average if it needs a major scheduled service, new tires or brakes and you want the buyer to take care of that. You might also drop the price if you need to make a quick sale. Finally, it's usually a wise idea to leave some room in your price for negotiating with prospective buyers.
With thorough research and taking all these details into consideration, you're well on your way to an easy and successful sale. Soon you'll be cruising in your new ride.
Tara Baukus Mello is a freelance automotive writer whose work has appeared in numerous publications including Woman's Day and The New York Times.
We're here to help. Call 1-866-288-6872.