While they both compete in the subcompact segment, the 2020 Honda HR-V and Ford EcoSport are two very different SUVs. They serve to represent the widespread of vehicles offered in this segment, and here we'll highlight the ways in which they differ to determine which one might be better for you.
Quick Facts
Both vehicles offer optional all-wheel drive
The Honda HR-V has been on sale in its current generation since the 2016 model year; the Ford EcoSport has been on sale since the 2013 model year since its last redesign.
2020 Honda HR-V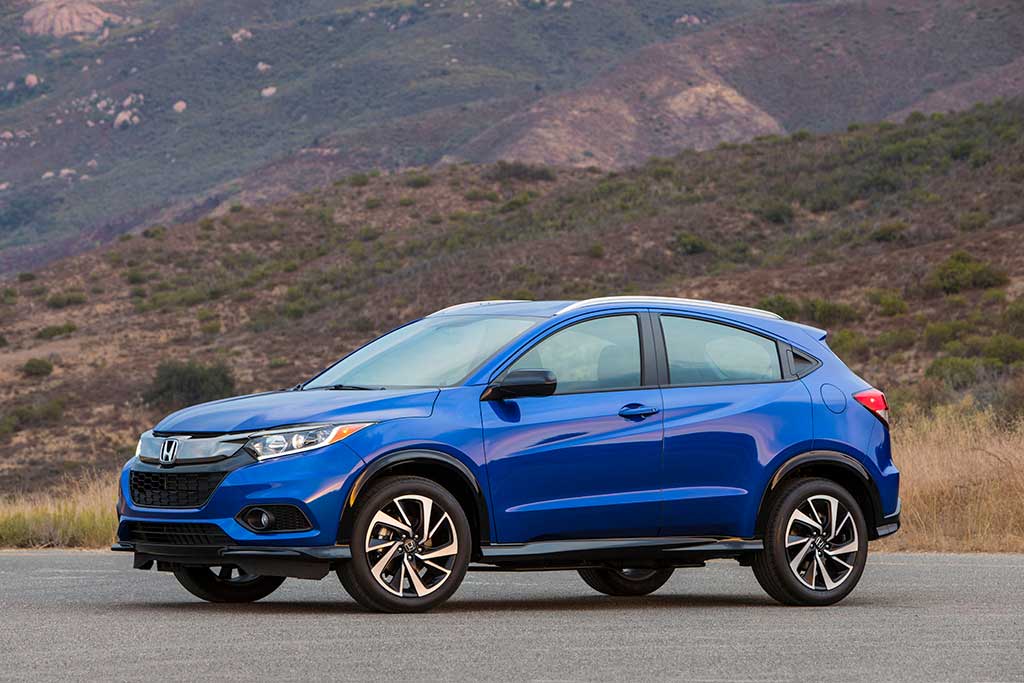 Starting Price: $22,040 | Check out our 2020 Honda HR-V Review
What We Like: Highly versatile cargo area, good fuel economy, fun to drive
What We'd Change: Somewhat underpowered, advanced safety tech doesn't come standard
Overview: The 2020 Honda HR-V is the very definition of efficient packaging; small on the outside, large on the inside. Clever features like Honda's extra-configurable 'Magic' seating make it easy to fit large items in this diminutive SUV. The HR-V also packs above-average driving dynamics and gets you Honda's proven reputation for reliability and resale value.
What's New for 2020: The HR-V received a mid-lifecycle update for 2019 and receives no changes for 2020.
Features & Tech: Powering every HR-V is a 1.8-liter four-cylinder engine putting out 141 horsepower and 127 lb-ft of torque paired with a continuously variable automatic transmission. Fuel economy is rated at 28 city/34 hwy/30 combined, and dips by about 2 mpg all around when you add all-wheel drive.
The HR-V comes in five different trim levels; LX, Sport, EX, EX-L, and Touring. AWD is a $1,500 option on all but the Touring trim, where it comes standard. Starting on the base LX trim, the HR-V comes with 17-in wheels, Bluetooth audio, and a 40/60 split rear 'Magic Seat'. Sport models gain Android Auto and Apple CarPlay, while EX models gain active safety features, and other items like heated seats and automatic climate control. Leather upholstery is added on the EX-L trim, while the top-spec touring model comes with LED lighting, an 8-way power driver's seat, navigation, and additional body-colored trim.
What Does the Future Hold: Expect an all-new HR-V to debut for 2022 or 2023. See the 2020 Honda HR-V models for sale near you
2020 Ford EcoSport
Starting Price: $21,240 | Check out our 2020 Ford EcoSport Review
What We Like: It's among the lowest-cost vehicles in the segment, two available engines, some will view the side-hinged rear cargo door as a positive.
What We'd Change: Aging design, plastic-heavy interior sluggish base engine, lack of advanced safety features, some will hate the side-hinged rear door.
Overview: The 2020 Ford EcoSport is among the most entry-level of subcompact SUVs. Prior to commencing sales in the US, the EcoSport had been on sale in South America in its current form since 2012, so while it was 'all-new' in the US for 2018, the vehicle itself is now nine years old, leading to it feeling a little long in the tooth.
What's New for 2020: The EcoSport sees very few changes for 2020. A new 8-in infotainment system comes standard on all but the base trim, while FordPass Connect now comes standard across the board.
Features & Tech: Like the HR-V, the EcoSport is available with both front- and all-wheel drive. Front-wheel drive models come with a 1.0-liter 3-cylinder engine making just 123 horsepower and 125 lb-ft of torque, and mated to a six-speed automatic transmission. AWD models use the same transmission, but make power from a 2.0-liter four-cylinder engine making 166 horsepower and 149 lb-ft of torque. Fuel economy for the FWD model is rated at 27 city/29 hwy/28 combined; adding AWD results in figures of 23 city/29 hwy/25 combined.
While it's a little awkward overall, the EcoSport is not without its merits, and it counts an available B&O sound system, wi-fi, rain-sensing wipers, a heated steering wheel, and a handful of available safety tech as some of its best features. Additionally, an 8-in touchscreen infotainment system running the third-generation of Ford's Sync infotainment system comes on all but the base model, and makes for a very competent and user-friendly experience.
What Does the Future Hold: As the EcoSport is based on an old design primarily meant for emerging markets, we expect Ford to roll out a more modern, more competitive, more appropriate offering in this segment as soon as it possibly can. See the 2020 Ford EcoSport models for sale near you
HR-V vs. EcoSport: Strengths Comparison
Honda HR-V: The HR-V comes in a good mix of trim levels and offers smart features, like a second row and front passenger seat that can be folded completely flat. Additionally, Honda's full mix of active safety tech comes on all but the base model. The HR-V also offers more agile handling and returns significantly better fuel economy than the EcoSport. It also offers more cargo volume than the EcoSport; 24 cu ft. behind the second row, or 59 cu ft. with the second row folded. The EcoSport has just 21 and 50 cu ft., respectively. Finally, the HR-V earns a Top Safety Pick nod from the Insurance Institute for Highway Safety; the EcoSport hasn't been tested.
Ford EcoSport: While the EcoSport is a bit lacking in comparison to the HR-V, it does offer a better infotainment experience, provided yours comes equipped with the 8.0-in system. Beyond this, there's not a lot to focus on. Ford dealers tend to be more prevalent than Honda dealers, meaning that servicing will be more convenient for many, while others may like the side-hinged rear hatch, although for most it'll prove to be more of an annoyance.
HR-V vs. EcoSport: Which is Better
When it comes down to it, we'd choose the HR-V. It's a more 'Americanized' vehicle than the EcoSport, which was designed primarily for developing markets outside of North America. The Honda is also more flexible when it comes to interior configurations and cargo area usability, and offers a better driving experience; something for which Honda is known. Finally, the HR-V will offer better reliability and resale value than the EcoSport, which we expect will be replaced by a vehicle designed specifically for our market in the next couple of years. Find a Honda HR-V for sale or Find a Ford EcoSport for sale
| | | |
| --- | --- | --- |
| | 2020 Honda HR-V | 2020 Ford EcoSport |
| Popular Powertrains | | |
| Engine | 1.8-liter I4 | 1.0-liter I3 |
| Horsepower | 141 hp @ 6,500 rpm | 123 hp @ 6,000 rpm |
| Torque | 127 lb-ft @ 4,300 rpm | 125 lb-ft @ 6,000 rpm |
| Transmission | Continuously variable | Automatic, 6-spd |
| Fuel Economy | 30 mpg (28 city/34 hwy) | 28 mpg (27 city/29 hwy) |
| Specs | | |
| Warranty | 3 years/36,000 miles | 3 years/36,000 miles |
| NHTSA Overall Safety Rating | 5 Stars | 4 Stars |
| Max Seating Capacity | 5 | 5 |
| Wheelbase | 102.8 inches | 99.2 inches |
| Overall Length | 170.4 inches | 161.3 inches |
| Width | 69.8 inches | 81.0 inches |
| Height | 63.2 inches | 64.8 inches |
| Turning Diameter | 37.4 feet | N/A |
| Headroom, Front | 39.5 inches | 39.6 inches |
| Headroom, Rear | 38.3 inches | 37.5 inches |
| Legroom, Front | 41.2 inches | 42.9 inches |
| Legroom, Rear | 39.3 inches | 36.7 inches |
| Shoulder Room, Front | 56.8 inches | 53.3 inches |
| Shoulder Room, Rear | 54.5 inches | 51.3 inches |
| EPA Passenger Volume | 100.1 cu. ft. | 91.1 cu. ft. |
| EPA Cargo Volume (behind first row) | 58.8 cu. ft. | 50.0 cu. ft. |