Distinctive and stylish, the 2021 Mini Cooper Countryman takes on the all-wheel drive, practical 2021 Subaru Crosstrek. For the compact crossover shopper, the question is, which is better?
Quick Facts
2020 Mini Cooper Countryman includes a plug-in hybrid variant.
2019 Subaru Crosstrek was the winner of KBB's Best Resale Value in the Compact/SUV category.
Crosstrek comes standard with all-wheel drive and 8.7 inches of ground clearance.
2021 Mini Cooper Countryman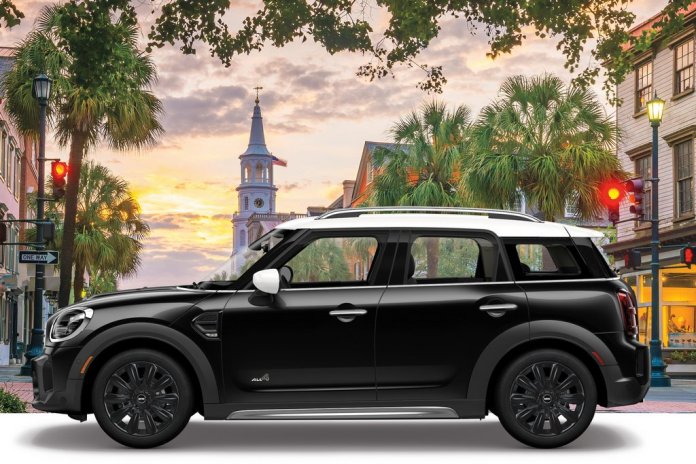 Base price: $26,750 / Read our 2021 Mini Cooper Countryman review
What we like: Range of models, including a plug-in hybrid and the more performance-oriented John Cooper Works; distinctive looks; optional all-wheel drive
What we would change: Not very quick; handling could be better; add more driver assists; add Android Auto compatibility; pricing with options
Overview: One of the most distinctive cars on the road, the 2021 Mini Cooper Countryman is the largest of the Minis, and like all Minis, can be customized almost endlessly, with a number of paint colors, interior options, and even a Union Jack paint job. Be aware, however, that prices can climb quickly with options. A choice of powertrains ranges from a somewhat anemic turbocharged three-cylinder up to the top 2.0-liter turbocharged four-cylinder making 301 horsepower and 332 lb-ft of torque. Sadly, the Countryman, while fun to drive, is not as nimble and sporty as we would like. There is also a plug-in hybrid variant that can go 17 miles on electricity alone and returns 29 mpg combined. The base model has been renamed the Oxford Edition, and while the engine is sluggish, it includes a fair amount of standard equipment, including an 8.8-inch touchscreen that includes both navigation and Apple CarPlay, although Android Auto compatibility is not available. Also included are run-flat tires and heated seats. Higher trims add even more features but as mentioned above, they can cause the price to rise quickly.
What's new for 2021: This year's Countryman gets a bit of a physical update, with some freshening of its front end appearance and new options, including some new tech features. Exterior updates include standard LED headlights (including a cornering function) and foglights and a Union Jack design for the rear LED lights. A new Piano Black exterior trim option has been added, as well as optional Melting Silver roof and mirrors. New wheel options include 17-inch Channel Spoke black alloys and 19-inch Turnstile Spoke alloys. The central instrument display has also received an update with an 8.8-inch touchscreen. This includes Apple CarPlay, navigation, and real-time traffic information. Also, the battery capacity in the plug-in hybrid has been increased from 7.6 kWh to 10 kWh.
Features and technology: The name of each Countryman variant reflects its engine choice. The base includes a 1.5-liter turbocharged 3-cylinder powered by a 7-speed automatic. All-wheel drive (All4) models use an 8-speed auto. The Cooper S has a 2.0-liter turbocharged 4-cylinder, and the John Cooper Works also includes a 2.0-liter turbocharged 4-cylinder, tuned for more than 300 hp. The Cooper SE Countryman is a plug-in hybrid that comes standard with all-wheel drive. Each variant is offered in three trims: Classic, Signature, and Iconic. The base is called the Oxford Edition and includes 18-inch wheels, LED headlights and foglights, SensaTec faux leather seats, air-conditioning, rear parking sensors, a back-up camera, push-button start, Bluetooth connectivity, and a 6-speaker audio system with satellite radio and a USB port. Also included are an 8.8-inch touchscreen with Amazon Alexa and Apple CarPlay but not Android Auto. It has a no-haggle price and is not eligible for incentives.
The Signature edition includes 18-inch wheels, remote keyless entry, heated front seats, and dual-zone automatic climate control. The top Iconic trim includes 19-inch wheels, premium leather upholstery, and Harman Kardon audio. Also available on all trims is the Driver Assistance Package, which includes adaptive cruise control, a parking assistant, and a head-up display. Be aware that some features such as lane-departure warning, lane-keeping assistant, and blind-spot monitoring are not available. All-wheel drive adds about $2,000 to the price of any model except for the John Cooper Works and SE plug-in, on which it comes standard.
What does the future hold: Minis are known for their character and style, but the other models do tend to have a bit sportier feel behind the wheel, so we would like to see a bit more of that in the Countryman. Also, the 1.5-liter turbo isn't much considering the Countryman weighs 3,300 pounds, so we could like to see a stronger base engine. Find a 2021 Mini Cooper Countryman for sale
2021 Subaru Crosstrek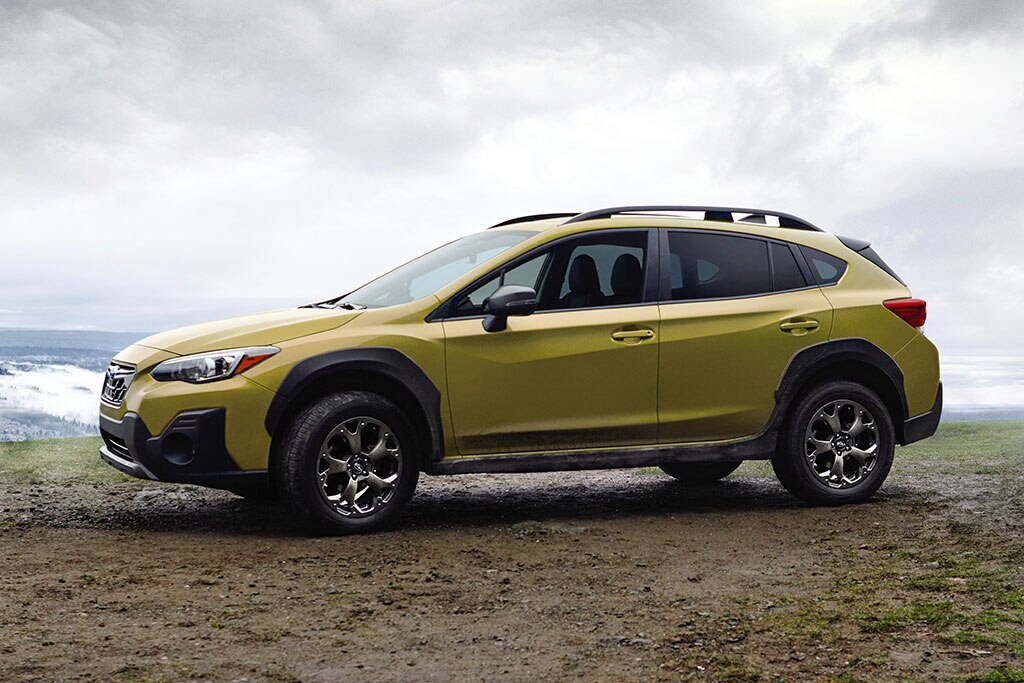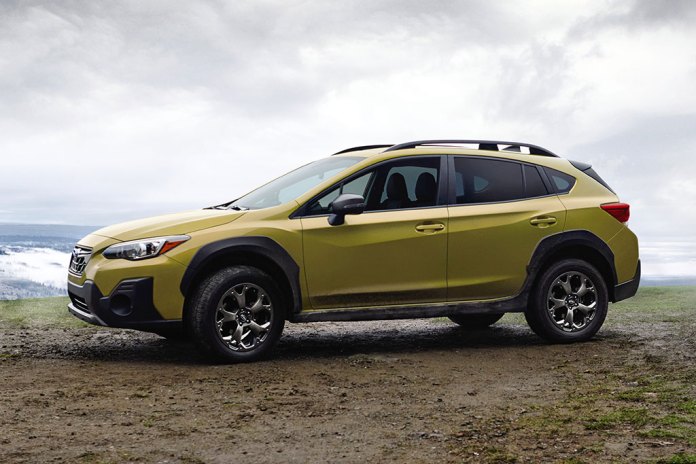 Base price: $23,295 / Read our 2021 Subaru Crosstrek review
What we like: All-wheel drive comes standard; EyeSight safety suite in CVT-equipped models; decent off-road chops and 8.7 inches of ground clearance
What we would change: Weak base engine; poor fuel economy with manual transmission; could stand more cargo space
Overview: Straddling a couple of different categories, the 2021 Subaru Crosstrek is neither a compact SUV nor a hatchback, but rather something in between, with a carlike ride but also some of the attributes of a crossover/SUV. With standard all-wheel drive and 8.7 inches of ground clearance, the Crosstrek is a solid camping vehicle, comfortable on anything from mud to dirt to snow, although it's still not a great choice for true off-roading on rocky terrain. We find the standard 2.0-liter engine to be a bit underpowered, but are more than satisfied with the upgrade 2.5-liter engine. We also don't much care for the manual transmission, since not only does the CVT deliver better gas mileage, but CVT-equipped models come with a more sophisticated AWD system, which offers Hill Descent Control. CVT models also come with SI-Drive, a driver-selectable powertrain management system that goes from more fuel-efficient to more sporty. The interior is comfortable and roomy, with a clear 360-degree view out front and 55.3 cubic feet of space with all seats folded.
What's new for 2021: Style changes include a redesigned grille and front bumper, while inside, Sport and Limited models get a 182-hp 2.5-liter engine, and adaptive cruise control comes standard on all CVT-equipped models.
Features and technology: Trim levels for the Crosstrek range from the base model up to the Limited, with the two lower levels offering either a manual or continuously variable transmission and the upper two with CVT only. Prices range from nearly $24,000 for the base model up to $29,000 for the base Limited, which includes more standard equipment.
Standard features include 17-inch alloy wheels, a 6.5-inch touchscreen, and automatic climate control. As we have mentioned, such things as SI-Drive and EyeSight are offered only on CVT-equipped models. Upper trim levels include such things as paddle shifters and foglights on the Premium, and the X-Mode all-wheel-drive system, and a water-repellent interior on the Sport model. The upper-level Limited comes with 18-inch wheels, push-button ignition, a leather interior, an 8-inch touchscreen, and LED headlights, among other things. Other options include a moonroof on the Premium and up and a Harman Kardon audio system on the Limited.
What does the future hold: Subaru says there is a hybrid variant of the Crosstrek coming in 2021, but details are vague. The 2020 Crosstrek plug-in hybrid had 17 miles of all-electric range. Find a 2021 Subaru Crosstrek for sale
Countryman vs. Crosstrek: Strengths comparison
Countryman Benefits: Fuel economy; optional hybrid; optional high-performance model; distinctive style.
Crosstrek Benefits: Better off-road; more cargo space; lower price.
2021 Mini Cooper Countryman vs. 2021 Subaru Crosstrek: Which is better?
On paper, it's pretty clear that the 2021 Subaru Crosstrek is the more practical compact crossover than the 2021 Mini Cooper Countryman. It's less expensive, has the all-weather practicality of all-wheel drive, and has more cargo space. The base engine is competent and there's an upgrade. But sometimes such decisions are made more with the heart and the head, and the Countryman has an undeniable sense of presence and style. Practically, the Subaru's the winner. But you might just be the sort that goes with your heart.
Find a 2021 Mini Cooper Countryman for sale or< Find a 2021 Subaru Crosstrek for sale
20

21 Mini Cooper Countryman

20

21 Subaru Crosstrek

Popular Powertrains
Engine
1.5-liter turbocharged I3
2.0

-liter

flat-

4

Horsepower
134

hp @

4,400

rpm

152

hp @

6,000

rpm

Torque
162

lb-ft @

1,250

rpm

145

lb-ft @

4,000

rpm

Transmission
7-spd automatic
6

–

s

pd

manual

Fuel Economy
29

mpg (

26

city,

33

highway)

25

mpg (

22

city

/29

highway)

Also Available
2.0-liter I4; 8-speed automatic; 2.0-liter I4 (higher tune); plug-in hybrid
2.5-liter flat-4; CVT
Specs
Basic W

arranty

4

years or

50

,000 miles

3

years

/36

,000 miles

Powertrain Warranty
4 years or 50,000 miles
5 years/60,000 miles
NHTSA Overall Safety Rating
n/a
5

Stars

Max Seating Capacity
5
5
Wheelbase
105.1

inches

104.9

inches

Overall Length
169.8

inches

176.5

inches

Width
78.9

inches

79.0

inches

Height
61.3

inches

63.6

inches

Turning Diameter
35.4

feet

35.4

feet

Headroom, Front
39.9

inches

39.8

inches

Headroom, Rear
37.5

inches

38.0

inches

Legroom, Front
40.4

inches

43.1

inches

Legroom, Rear
37.6

inches

36.5

inches

Shoulder Room, Front
54.8

inches

56.7

inches

Shoulder Room, Rear
54.0

inches

55.6

inches

EPA Passenger Volume
n/a
100.9

cubic feet

EPA Cargo Volume
47.6

cubic feet

55.3

cubic feet