The 2021 Subaru Impreza and the 2021 Volkswagen Jetta are two very different compact cars. Which is better?
Quick Facts
The Subaru Legacy features standard all-wheel drive (AWD) and lots of cool safety features.
Along with a low starting price, Jetta features excellent engine power and great handling.
2021 Subaru Impreza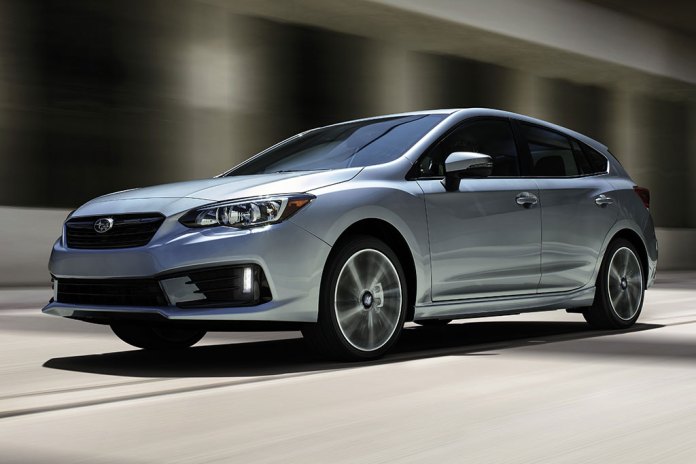 Base price: $19,720 / Read our 2021 Subaru Impreza Review
What we like: All-wheel drive (AWD); sedan and hatchback body styles; good resale record
What we would change: CVT transmission is still problematic; engine power is limited; key safety elements require up-level trim
Overview: The 2021 Subaru Impreza receives a full dose of the standard Subaru uniqueness with such options as AWD as standard equipment and both sedan and hatchback body styles, which allows the buyers to tune the vehicle for their needs. The engine output (152 horsepower, 145 ft-lb torque) is just okay in terms of performance. Transmission choices include the 5-speed manual or the continuously variable automatic transmission (CVT). The CVT is great for normal driving but when challenged to climb a hill or overtake another vehicle, engine rpm steps up considerably creating a fair amount of cabin noise. We've never been a fan of the CVT for this reason but understand the mileage benefits – so we understand why it exists, but we still wish there was a better transmission alternative.
Overall handling was good during our test drive with very little body lean, good feedback from the power steering system, and short stopping distances due to the efficient braking system. The interior is quite roomy with great amounts of head and legroom for a car of this size and price. The interior surfaces are pleasant and while still plastic, look far less "plasticky" than some of the Compact cars we have tested. A 5-star NHTSA rated vehicle, safety equipment abounds but to get the Subaru EyeSight safety features, you'll have to go for the higher trim and mandatory CVT.
What's new for 2021: While the Subaru Impreza is only slightly changed for 2021, there are elements of note. The Premium trim level gets Subaru's SI-Drive, which allows the driver to select different engine modes. Other than that, the Sport trim's rear spoiler is now black with Crystal Black Silica end panels.
Features and technology: The Impreza sports an impressive list of features with an interior designed to store tons of stuff with cubbies and cup holders just where you need them. Safety equipment centers around the Subaru EyeSight system, which adds a suite of cool stuff including adaptive cruise control, blind-spot monitoring, lane keep assist and cross-traffic alert and breaking. The only downside is that EyeSight requires selecting the CVT so manual transmission buyers will miss out. Apple CarPlay and Android Auto can be activated through the 6.5-inch touch screen.
Subaru has done a great job of building vehicles that require very little in terms of service and great reliability. The Impreza features a two-year/24,000-mile free maintenance package. The Impreza comes with a four-year/50,000-mile overall warranty that also covers the powertrain and the vehicle. For comparison, that is one additional overall year of warranty than the Jetta, and one less on the powertrain warranty side.
If you opt for the upper-level Subaru Premium trim, there are a wide array of special upgrades offered including the SI-Drive short-throw manual shifter that adds a nice performance feel to the driving experience. Other benefits include the 6-speaker audio system, alloy wheels, CVT transmission, and much more. The Sport trim Impreza has enhanced handling through active torque vectoring, sport-tune suspension, 8-inch touchscreen, and optional moon roof just to hit the highpoints.
What does the future hold: The Impreza is a key part of the Subaru product lineup and has been a solid seller for decades. It may not be for everyone, Subaru's rarely are, but it is a very solid performer that looks to have great staying power overall. Find a 2021 Subaru Impreza for sale near you
2021 Volkswagen Jetta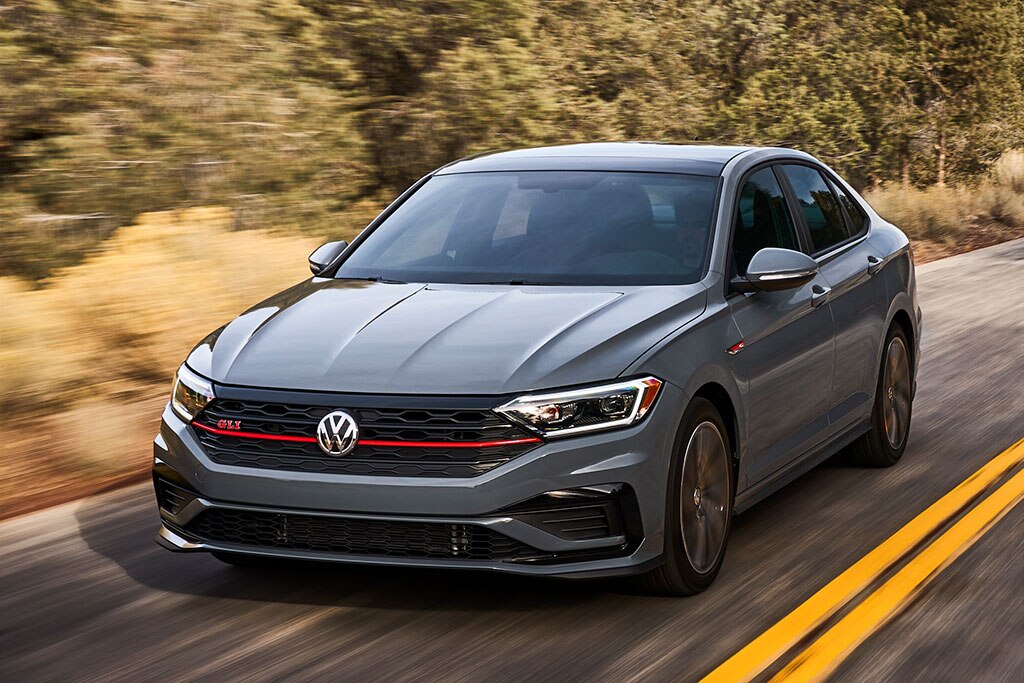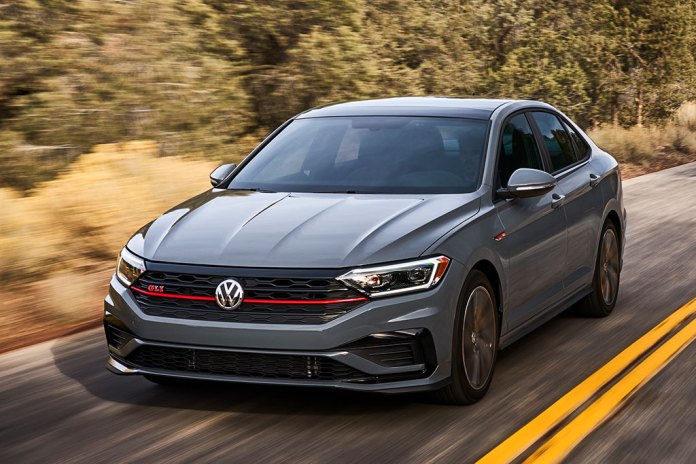 Base price: $19,720 / Read our 2021 Subaru Impreza review
What we like: Low starting price; Lots of engine torque to help maintain highway speeds; new GLI version adds over 100 hp and assorted suspension and design upgrades
What we would change: Add a hybrid powertrain for improved mpg; make adaptive cruise control and lane-keep assist standard as with some of Jetta's Compact competitors
Overview: With a starting price well under $20,000 the Jetta is an amazing value and will draw a large contingent of first-time new-car buyers to try one out. The inline four-cylinder turbocharged engine generates 147 hp and 187 ft-lb of torque making it great for highway cruising and around town play. The Jetta is available with either a six-speed manual in the base and lower trim levels or an 8-speed traditional automatic transmission (no CVT here). Each transmission is smooth and very pleasant to operate. The 13.5-gallon gas tank combined with 40+ mph highway means you won't be stopping for fuel for over 450 miles. The power steering offers good feedback and the brakes are even better.
What's new for 2021: New GLI sporty Jetta package; MIB3 infotainment on Autobahn trim line; MIB3 adds improve navigation and voice-activated controls; USB-C charge ports help keep electronic devices charged
Features and technology: The 2021 Volkswagen Jetta has a host of excellent features not usually found on Compact level vehicles. Car-Net technology allows for gesture control so you don't even have to contact the console controls to enact their functions. The MIB3 infotainment system provides plenty of intuitive operation of audio and other controls, the oversize screen clear and bright. Interior comfort is great, the base Jetta equipped with cloth covering but the up-fit trims featuring leather-like leatherette upholstery that are well worth the cost.
A 4-speaker audio system with WiFi hot spot, USB-C ports, and 16-inch alloy wheels are all standard on the Jetta this year. Bluetooth, Apple CarPlay, and Android Auto are also just part of the standard fare, operated through a 6.5-inch touch screen. Forward collision and blind-spot monitoring help to keep you safe and a dual-zone climate control and heated seats keep you comfortable.
Step up to the R-Line and the Jetta changes personality adding a sporty flair with 17-inch alloy wheels, fog lights, and an electronic differential. The GLI S and GLI Autobahn push another 100 hp out of the 2.0-liter turbo engine upgrade along with limited-slip differential, larger touch screen, and a nicer audio system.
What does the future hold: The Jetta has been a strong part of the Volkswagen lineup since 1983 and we see nothing breaking that run in the foreseeable future. Find a 2021 Volkswagen Jetta for sale near you
Impreza vs. Jetta: Strengths comparison
2021 Subaru Impreza Benefits: AWD standard on all models; sedan or hatchback versatility
2021 Volkswagen Jetta Benefits: Impressive list of high tech safety equipment; high torque output engine; excellent fit and finish
2021 Subaru Impreza vs 2021 Volkswagen Jetta: Which is better?
The 2021 Subaru Impreza features AWD standard on all trim levels and your choice of either a sedan or hatchback body style all helping to make the Impreza an excellent compact car. But the Jetta offers a stronger engine that is more capable in highway or around town driving, an excellent suite of safety features, and a better complement of benefits that drivers and passengers will appreciate. In this comparison, we bestow the winner's medal to the Volkswagen Jetta. Find a 2021 Subaru Impreza for sale or Find a 2021 Volkswagen Jetta for sale
| | | |
| --- | --- | --- |
| | 2021 Subaru Impreza | 2021 Volkswagen Jetta |
| Popular Powertrains | | |
| Engine | 2.0-liter flat-4 | 1.4-liter turbo I4 |
| Horsepower | 152 hp @ 6,000 rpm | 147 hp @ 5,000 rpm |
| Torque | 145 lb-ft @ 4,000 rpm | 184 lb-ft @ 1,400rpm |
| Transmission | CVT | 8-spd automatic |
| Fuel Economy | 27 mpg (23 city/31 highway) | 34 mpg (30 city/40 highway) |
| Also Available | 5-spd manual | 2.0-liter turbo I4; 6-spd manual |
| Specs | | |
| Warranty | 3 years/36,000 miles | 4 years/50,000 miles |
| Powertrain warranty | 5 years/60,000 miles | 4 years/50,000 miles |
| NHTSA Overall Safety | 5 stars | 5 Stars |
| Max Seating Capacity | 5 | 5 |
| Wheelbase | 105.1 inches | 105.7 inches |
| Overall Length | 182.7 inches | 185.1 inches |
| Width | 70.0 inches | 70.8 inches |
| Height | 57.3 inches | 57.4 inches |
| Turning Diameter | 35.4 feet | 36.4 feet |
| Headroom, Front | 39.8 inches | 38.5 inches |
| Headroom, Rear | 37.2 inches | 37.2 inches |
| Legroom, Front | 43.1 inches | 41.1 inches |
| Legroom, Rear | 36.5 inches | 37.4 inches |
| Shoulder Room, Front | 56.7 inches | 55.9 inches |
| Shoulder Room, Rear | 55.6 inches | 54.0 inches |
| EPA Passenger Volume | 99.8 cubic feet | 94.7 cubic feet |
| EPA Cargo Volume | 12.3 cubic feet | 14.1 cubic feet |