There are no family sedans more mainstream than the 2021 Toyota Camry and the 2021 Volkswagen Passat. Which is better?
Quick Facts
The Camry continues to offer impressive all-wheel drive and V6 power options
Passat undergoes further refinement after last year's restyling success
2021 Toyota Camry
Base Price: $23,065 / Read our 2021 Toyota Camry Review
What we like: Elegant exterior styling; multiple engine options including hybrid and V6; AWD is optional for inclement weather driving safety
What we would change: Add Plug-in hybrid (PHEV) powertrain
Overview: One of America's top favorite vehicles year after year, few vehicles have Camry's reputation for reliability and resale value. Available in 13 different trim levels dependent on powertrain choice so no one goes away unhappy when selecting their perfect comfort level. For those looking for sporty handling and overall performance, the TRD option is the one to pick. The overdrive 8-speed automatic is the only transmission offered.
What's new for 2021: Toyota Safety Sense 2.5+ combines Emergency Braking; Radar Cruise Control; Lane-keep Assist and Pedestrian Detection technology into one incredible package; new front end styling; new touchscreen infotainment set up
Features and technology: The Toyota Camry can be ordered in either three, four or five trim levels. For V6 buyers there are three levels, XLE, XSE, and TRD. For base four-cylinder engine trim levels, five trim levels for AWD-equipped vehicles, and four trim grades for those ordering the hybrid engine. Each level offers a block of upgrades and packages that feature a group of diverse benefits such as the Driver Assist package that adds Intelligent Clearance Sonar, Rear Cross-traffic Braking Bird's Eye View Camera, and multi-stage ventilated front seats.
Toyota's Dynamic Torque-Control system is the brain behind the amazingly efficient and surefooted AWD system that is one of the best in class. The new infotainment system uses a floating 7-inch display (9-inch screen is available) that keeps the driver's attention high and forward helping the driver stay attentive to changing road conditions for improved overall safety.
What does the future hold: The newest Camry shows the continued dedication to improved safety-focused technology and overall refinement of the model. For these reasons and a lot more, Camry continues to be a leader in the midsize sedan category – something that we see continuing for many years to come. Find a 2021 Toyota Camry for sale near you
2021 Volkswagen Passat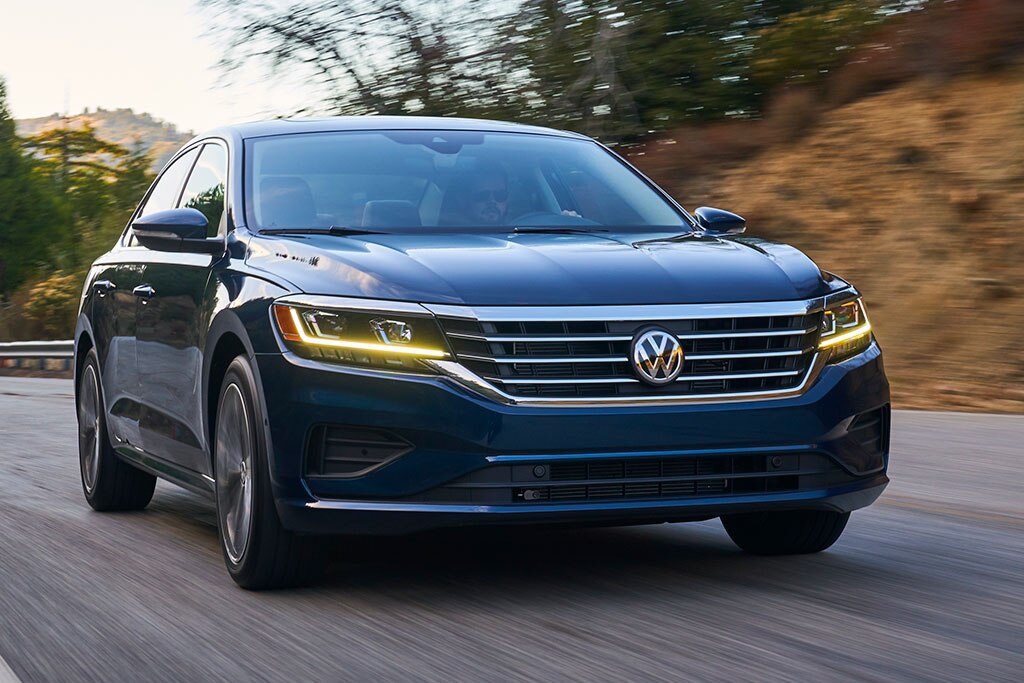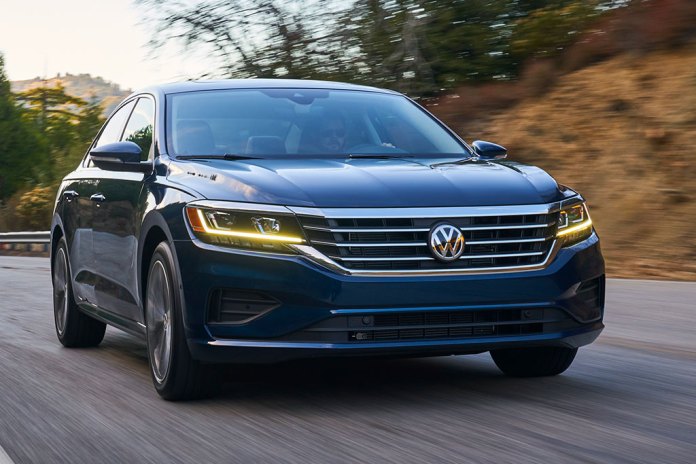 2021 Volkswagen Passat Starting Price: $27,340 / Read our 2021 Volkswagen Passat Review
What we like: Excellent visibility from all angles; two years of free maintenance; powerful turbocharged engine
What we would change: Only one engine choice available; an AWD option
Overview: The 2021 Volkswagen Passat offers excellent value and excellent safety, two elements that are Volkswagen keystones. The turbocharged 2.5-liter four-cylinder engine (174 hp / 206 lb-ft torque) is the only option but that isn't necessarily a bad thing since it does everything well. Handling is good but not very sporty and we would like to see an AWD system optionally available in the near future. The big 6.3-inch infotainment touch screen is fairly intuitive and includes all the key elements such as Bluetooth, Apple CarPlay, and Android Auto. The 4-year/50,000-mile warranty is better than most Midsize vehicles and the two-year free maintenance is a benefit that could help tip the scales in favor of Passat for some buyers.
What's new for 2021: SE edition gets new 18-inch wheels and standard sunroof; R-Line gets Navigation, Fender premium Audio; Adaptive front lights and Light Assist; SEL trim level dropped
Features and technology: The Passat, Volkswagen's largest sedan, comes with standard pedestrian and Blind Spot Monitoring, Rear Cross-traffic Alert and Front Traffic Assist making this the safest Passat ever. Volkswagen's Adaptive Cruise Control reduces driver fatigue, especially on long drives. The turbocharged engine is highly efficient and with 206 lb-ft of torque. The infotainment system that was introduced in last year's Passat is easy to use and the 400-watt Fender Audio system, heated front, and rear seats and Park Assist are all top-notch.
What does the future hold: Volkswagen is clearly dedicated to continued refinement of the Passat as a key piece of the entire Volkswagen line up. The current Passat exhibits a level of quality fit-and-finish that only helps to ensure durability and fewer trips to the dealership for repairs. Find a 2021 Volkswagen Passat for sale near you
Camry vs. Passat: Strengths comparison
Toyota Camry Benefits: Assorted drivetrain offering including 50mpg hybrid edition; optional AWD that is state-of-the-art
Volkswagen Passat Benefits: Refinement of a second-year model; two-year free maintenance; a torquey turbo 4-cylinder engine
2021 Toyota Camry vs. 2021 Volkswagen Passat: Which is better?
The Passat is a solid choice for those looking for a high quality, durable, technologically current, and safe vehicle with Germanic styling features. However, the Camry is tough to beat with a wide assortment of engine options, AWD option, new Safety Sense 2.5+, and a wide array of trim levels so you can dial in the comfort level to your needs. Toyota Camry is our choice. Find a 2021 Toyota Camry for sale or Find a 2021 Volkswagen Passat for sale
| | | |
| --- | --- | --- |
| | 2021 Toyota Camry | 2021 VW Passat |
| Popular Powertrains | | |
| Engine | 2.5-liter I4 | 2.0-liter I4 |
| Horsepower | 203 hp @ 6.600 rpm | 174 hp at 5,200 rpm |
| Torque | 182 lb-ft @ 5.000 rpm | 206 lb-ft at 1,700 rpm |
| Transmission | 8-speed automatic | 6-speed automatic |
| Fuel Economy | 32 mpg (28 city/39 highway) | 27 mpg (23 city/34 highway) |
| Also Available | 3.5-liter V6; I4 Hybrid, AWD | |
| Specs | | |
| Warranty | 3 years/36,000 miles | 4years/50,000 miles |
| Powertrain warranty | 5 years/60,000 miles | 4 years/50,000 miles |
| NHTSA Overall Safety | 5 stars | n/a |
| Max Seating Capacity | 5 | 5 |
| Wheelbase | 111.2 inches | 110.4 inches |
| Overall Length | 192.2 inches | 193.6 inches |
| Width | 72.4 inches | 72.2 inches |
| Height | 56.9 inches | 58.7 inches |
| Turning Diameter | 37.4 feet | 36.4 feet |
| Headroom, Front | 38.3 inches | 38.3 inches |
| Headroom, Rear | 38.0 inches | 37.8 inches |
| Legroom, Front | 42.1 inches | 42.4 inches |
| Legroom, Rear | 38.0 inches | 39.1 inches |
| Shoulder Room, Front | 57.7 inches | 56.9 inches |
| Shoulder Room, Rear | 55.7 inches | 57.0 inches |
| EPA Passenger Volume | 100.4 cubic feet | 102.0 cubic feet |
| EPA Cargo Volume | 15.1 cubic feet | 15.9 cubic feet |