Selling a car yourself may seem like a complicated process, but if you do your homework up front and prepare for the experience, you'll likely find it's the ideal way to get the most money for your car with minimal inconvenience.
A key task when preparing to sell a car is to make sure you have all the necessary documents together so you can smoothly (and legally) transfer ownership.
Here's a checklist of what you should have ready as you start the selling process:
Vehicle history report
When you place your ad, you may want to include your vehicle identification number (VIN), as some buyers will want to check the car's history for themselves.
However, it's also important for you to have a thorough knowledge of your vehicle's history, especially if you are not the original owner. You should be able to discuss any major repairs or issues that have come up while you owned the car.
Maintenance records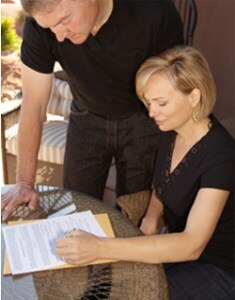 It's one thing to mention in your ad that your car has been meticulously maintained. It's quite another to have proof. If you've kept copies of all your maintenance records, or if you can get them from the dealer or repair shop, by all means make them available to prospective buyers. It will help convince them that buying your car is a safe bet.
Warranty documentation
If you have a transferable warranty, it can justify an increase in your asking price for the car or help you stick to your guns if a buyer wants to bargain the price down. But your word alone won't cut it. Have the warranty documentation in hand, including contact information for the warranty provider so that the buyer can readily get the balance of the warranty put in his name.
As-Is documentation
Outside of transferring an existing warranty, you should make it clear in writing that there are no implied warranties when you sell your used car. This ensures that the buyer acknowledges and understands that he is accepting all future responsibility for the repair and maintenance of the vehicle.
Even though, as a private seller, you are not required to provide any warranties or disclaimers on your vehicle, it is well worth the effort to get the peace of mind this documentation provides. Once the car and the money change hands, buyer and seller go their separate ways and the matter is legally closed.
Odometer disclosure
The Truth in Mileage Act, a federal law, requires the seller of a motor vehicle to provide an odometer disclosure to the buyer at the time of sale or transfer of ownership. This applies to all motor vehicles less than 10 years old up to and including 12,000 lbs.
The odometer disclosure typically includes:
year, make, model and vehicle identification number (VIN)
buyer's name and address
buyer's signature
seller's signature
current vehicle mileage at the time of sale or transfer of ownership
notary public's signature/seal
Title
He who holds the title owns the vehicle. If the title is currently in your possession, great. You are equipped to complete the sale of your vehicle on the spot. Once the buyer's funds are securely in your possession, you simply need to sign the title over and hand the new owner the keys.
However, if you are still making payments on the car you're trying to sell, your title is in the hands of a lienholder, a.k.a. the bank. In this case, you'll need to contact the bank to find out the loan payoff amount.
By the way, you can sell your leased vehicle; it's just a bit more complex a process. However, if you've taken good care of the car and kept the mileage low, you could even make money on the sale.
Get the phone number from your lease statement and call to request the payoff amount. Once you pay off the lease, you'll need to transfer the title from the lease holder to yourself, and then to the person who purchases your car. Speak to your lease holder to see what their procedure is for transferring the title to you.
If you do have a payoff for the vehicle (whether leased or financed), it's best to disclose that fact in your ad, since it could take several days to secure the title and transfer it to the buyer.
Either way, the process of transferring vehicle ownership varies by state. Typically, it involves signing and dating the back of the vehicle title. The buyer then needs to go to his state's Department of Motor Vehicles and apply for a title in his name.
Bill of Sale
While not required, a Bill of Sale is a good idea because it documents the terms and conditions of the sale in writing. These terms and conditions include, but are not limited to:
vehicle description
odometer disclosure
purchase price
delivery date
signatures of buyer, seller and notary public
In the event of a dispute after the fact, you will have a signed, notarized Bill of Sale that can help absolve you of liability.
Get a Bill of Sale from eforms.com
Justine Petruska is a senior staff writer at AutoTrader.com.