It would be easy to tell you that you need to make $200,000 to buy a $100,000 car. Unfortunately, spending half of your income on a vehicle wouldn't be wise since you also must factor in car insurance, gas, maintenance, and any potential repairs. Then, suppose you pay a mortgage or rent. In that case, you need to consider groceries, utilities, and other household expenses.
To afford a $100,000 car, it's probable you need to make $300,000 a year conservatively after taxes.
For this example, we use our car payment calculator and approach it using the price of the car of $100,000. According to credit agency Experian's State of the Automotive Finance Market, the average new car loan interest rate is 3.48% for buyers with credit scores in the range of 661 to 780. The average used car loan interest rate is 5.49% for those with scores in the same range.
As a result, we'll assume the buyer wants a new car, qualifies for an interest rate of 3.48%, prefers a loan term of 60 months, and will put down $25,000. That means the estimated monthly payment is $1,509 for the estimated total loan price of $90,550 after tax and down payment.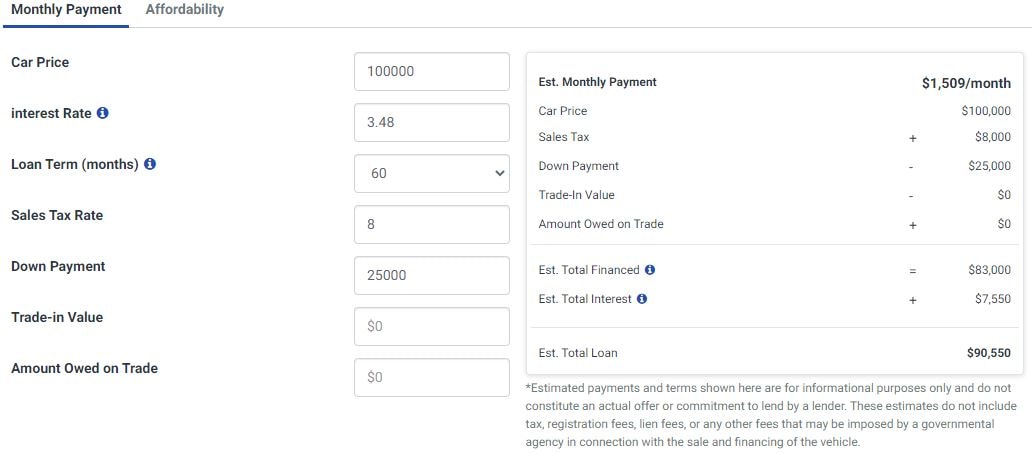 Graphical user interface
Description automatically generated
If your monthly car payment is $1,509, we calculate that you will need $1,000 for car insurance, gas, car maintenance, and repairs, for a total budget of $2,500/month.
Remember that you can always lower your costs by trading in a vehicle or using more for a down payment, helping to reduce the actual annual income amount after taxes that we suggest.