Shopping for used trucks can seem daunting, but we're here to help. Trucks support our society in more ways than can be counted — they offer endless utility. Need a job done? There's a high likelihood that a truck will be involved. For this reason, they're always in demand, which means cheap options can be tough to come by. Fear not, though, as there are options even for a tight budget, and if you're willing to accept 2-wheel drive or higher mileage, there's much to choose from at the $5,000 mark. Here are ten that will surely get the job done.
1998–2012 Ford Ranger
The midsize Ranger was a staple in Ford's lineup starting way back in the 1980s, and there are close to 600 currently for sale on Autotrader for $5,000 or less. We recommend a third-generation, 1998-or-newer model. Ranger buyers have their choices of single cab and extended cab configurations. The Ranger is both durable and reliable, with both 4- and 6-cylinder engines offered, although the one to get is the more powerful 4.0-liter V6. Since tens of thousands of Rangers were built and sold, maintenance and replacement parts shouldn't be much of a problem, as the third-generation ranger changed very little over its 14 years on sale. Also consider the mechanically identical Mazda B-Series pickup of the same era, of which there are currently over 50 listed on Autotrader for under $5,000.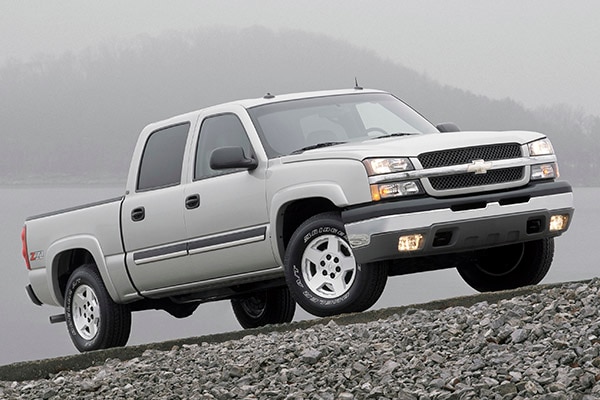 1999–2013 Chevrolet Silverado 1500
With $5,000 to spend, there are over 600 Silverados 1500s to choose from on Autotrader. Many of the newer examples listed are simple 2-wheel-drive, single-cab, long-bed work trucks that have been used as such over the course of their lives, meaning higher mileage and considerable wear and tear. But as work trucks need to be reliable, most will have been well-maintained, meaning the important stuff like the powertrain will be good to go for miles to come. If you're looking for something a little less 'commercial,' there are close to 400 extended and crew cab options available, most of which are of the first-generation, 1999–2006 variety, but there are a few higher mileage second generation 2007–2013 options as well. If you really want to save, opt for the entry-level V6 engine, as the larger V8 engines still offer considerable utility, which contributes to sustained value. If you're open to higher mileage, though, just about anything is possible. Remember to also look for the Silverado's sibling, the GMC Sierra, of which there are currently 200 for sale on Autotrader that meet these credentials.
On another note, don't rule out turning a well-used full-size truck into a mild restoration project — with relative mechanical simplicity and hundreds of thousands sold every year, parts are widely available, meaning a well-worn pickup could be made to feel new again with a trip to the junkyard and a few hours of work on the weekend.
Find a Chevrolet Silverado 1500 for sale
1995–2012 Toyota Tacoma
The Toyota Tacoma is known for holding its value remarkably well, but there are still close to 150 for sale on Autotrader for around $5,000. At this price point, buyers are forced to settle for higher mileage, but in the case of the Tacoma, this isn't something to fear. At $5,000, most listings are for the first-generation Tacoma, built from 1995 to 2004, but there are a few second-gen Tacomas listed, and if you're willing to forgo 4-wheel drive, a second gen Tacoma is a great option. If you like the 4×4 look but need to come in at well under $5,000, the Tacoma's PreRunner trim level might be for you, which offers the more capable Tacoma's suspension and styling but with the 2-wheel-drive drivetrain. Right now, there are only around 30 4-wheel-drive models listed, but over 40 2-wheel-drive PreRunner models listed.
2004–2014 Ford F-150
Any list of great used trucks wouldn't be complete without the inclusion of the Ford F-150: the best-selling vehicle in America. With some patience, buyers have a chance of finding a 2009–2014, twelfth-generation F-150 for under $5,000, but the majority of F-150s listed at this price point are of the eleventh-generation variety; sold from the 2004 to 2008 model years. Right now there are 367 listed on Autotrader for around $5,000; 145 of which are of the 4×4 variety. A number of configurations are available at this price point, with buyers having the option of single, extended and double cabs, short and long-beds. While many of the options are higher-mileage examples that served their previous owners as work trucks, there are numerous clean options and a number of trim levels to choose from. Remember that in order to find a better optioned truck, you're likely to limit yourself to higher mileage options, but trucks are built to last, and the F-150 is no different.
2005–2011 Dodge Dakota
The third and final generation of the Dodge Dakota was sold from 2005 to 2011. For this third generation, Dodge offered three engines — a 3.7-liter V6 producing 210 horsepower and two V8s, a 4.7-liter V8 with 230 hp and a higher-output 4.7-liter V8 churning out 260 hp and 310 lb-ft of torque, although later versions of this engine made 310 hp and 330 lb-ft of torque. During its time, the Dakota boasted the longest standard bed and the most cab space in the midsize pickup segment. No single-cab bodystyle was offered, with only extended and crew cabs available, which Dodge marketed as the club cab and quad cab, respectively. We also recommend taking a look at the mechanically identical Mitsubishi Raider, sold from 2005 to 2009. Right now there are around 100 2005–2011 Dodge Dakotas and only a handful of 2005–2009 Mitsubishi Raiders for sale on Autotrader for around $5,000.
2004–Present Nissan Frontier
The Nissan Frontier is tough, durable and simple. Perhaps best of all, it hasn't changed much over the years, and thanks to Nissan's position as a lower-profile truck manufacturer, many Frontiers can be had for under $5,000, with around 160 currently listed on Autotrader. Of this 160, a handful are even the current-generation 2005-and-newer model. Like the Tacoma, pickup buyers looking for a Frontier for under $5,000 are looking at higher mileage and mostly 2-wheel-drive options. That said, over 30 of the Frontiers listed offer 4-wheel drive. Where the Frontier differs from the Tacoma is that for the same money, you'll be able to get a Frontier that is a few years newer than a comparably-priced Tacoma, making the Frontier a great value.
Find a Nissan Frontier for sale
2004–2012 Chevrolet Colorado
The Colorado was the successor to the venerable Chevrolet S-10, and higher mileage examples can be had for around $5,000, with around 150 listed on Autotrader at the moment. The first-generation Colorado was sold with two available bed lengths and three cab configurations, with trim levels offered for both on- and off-road use. At the $5,000 mark, most options are of the 2-wheel-drive variety, but there are also around 30 Colorados for sale on Autotrader offering 4-wheel-drive. Along with its platform-mate, the GMC Canyon, the Colorado offered 4- and 5-cylinder engines, along with a 5.3-liter V8 that was introduced for the 2009 model year, but is outside of the $5,000 price range.
Find a Chevrolet Colorado for sale
2002–2008 Dodge Ram 1500
Like the rest of the full-size trucks from the big three, the Dodge Ram 1500 offers ample power, towing and payload capacity. The Ram 1500 also offers three choices of engines: a V6 and two V8s. The majority listed on Autotrader are of the V8 variety. Opt for the range-topping 5.7-liter Hemi V8 and you'll be able to haul up to 1,400 lbs or tow up to 8,550 lbs, thanks to the engine's 390 hp and 410 lb-ft of torque. There are currently over 300 2002–2008 Ram 1500s for you to choose from on Autotrader. As is usually the case, 4-wheel drive models tend to hold their value better, with only 145 listed at the $5,000 price point.
Find a Dodge Ram 1500 for sale
2000–2010 Toyota Tundra
Less common as a work truck than as a personal use vehicle, Toyota Tundras are more difficult to find at the $5,000 price point than most American branded trucks despite being built in the US since 1999. Like most Toyota products, they offer a reliable, dependable package with good quality components and an engine that will run and run. First generation Tundras were sold from 2000 to 2006, while second-gen models have been on sale since 2007. The Tundra has always been offered with both V6 and V8 powerplants. That said, we recommend the V8 options, which are reliable, capable and surprisingly affordable. Given that there are far fewer Tundras sold every year than F-150s, Ram 1500s, Silverados and Sierras, options are more limited on the used market — there are fewer than 100 listed on Autotrader at the $5,000 price point.
1999–2007 Ford F-350
Finding a heavy-duty diesel powered truck can be challenging, as the immense utility that they offer means they tend to hold their value extremely well, and there aren't many on the used market, with fewer than 175 currently listed on Autotrader from any automaker. That said, your best bet is a Ford Super Duty pickup, as these are the most common; there are currently over 80 F-250s, F-350s and F-450s listed on Autotrader for around $5,000. Many of these trucks come already outfitted with dump beds, snow plows and other utility setups out back for use in various applications, offering a great value to anyone needing this type of setup. We recommend looking for a 1999–2007 example, as these provide the best value.