On sale now for over 30 years, the Toyota 4Runner is a rugged truck-based SUV with go-anywhere capability. While new models now carry an MSRP of up to around $50,000, old-school 4Runners are becoming sought after as well, as buyers are snatching them up for their classic, retro SUV vibes. Regardless of the generation, the 4Runner is cool, so here we've outlined six new and used Toyota 4Runners for a variety of different budgets.
$5,000 – 1984-2002 Toyota 4Runner
The 4Runner's immense popularity leads to good resale value, meaning that to find one for around $5,000, you've got to go all the way back to the vehicle's early generations, and the newest you'll find for this price range is a third-generation model, sold from 1996-2002. The third-gen 4Runner came with either a 4-cylinder or a V6 engine. Trim levels consisted of base, SR5, and Limited trims, the latter offering a leather interior. Additionally, if you're buying a 4Runner as a project or as a fun beater car, include both the first and second-generation models in your search. The second gen 4Runner, sold from 1990 to 1995, was available in a unique 2-door body style, while the first gen 4Runner, which was sold from 1984-1989, had a removable roof. Regardless of what you end up with, expect your $5,000 4Runner to come with well over 150,000 miles on the odometer, and plan on having a pre-purchase inspection conducted prior to making things official.
Options are still fairly slim at this price point. A quick Autotrader search for used Toyota 4Runners from 2002 all the way back to 1984 yields only 128 options for $5,000 or less. Find a Toyota 4Runner under $5,000 for sale
$10,000 – 2003-2009 Toyota 4Runner
The fourth-generation 4Runner came out for the 2003 model year and was sold through 2009. One thing that was particularly unique about this 4Runner is that it's the only one to ever offer a V8 engine. Powering higher-spec trim levels is the same 4.7-liter V8 you'd find in the Tundra, the Sequoia and the Land Cruiser from the same era. In 2003 and 2004, this engine put out 235 horsepower and 320 lb-ft of torque, while in 2005 it received a bump up to 268 hp and 315 lb-ft of torque. The 4.0-liter V6 offered in the 4th-gen 4Runner was potent as well, making 241 hp and 297 lb-ft of torque. Right now on Autotrader there are 550 2003-2009 4Runners listed for around $10,000, around 300 of which have 4-wheel drive. Find a Toyota 4Runner under $10,000 for sale
$20,000 – 2010-2013 Toyota 4Runner
Buyers looking to spend $20,000 on a used Toyota 4Runner should start their search by looking for a 2010-2013 model from the vehicle's fifth generation. The fifth-generation 4Runner went back to offering a V6 as its primary engine, but for just 2010, 2-wheel drive models were available with an underpowered 2.7-liter 4-cylinder. Virtually every 2010-2013 4Runner for sale on Autotrader comes with the V6 though. Three trim levels were offered: SR5, Limited and a new Trail trim, which offered off-road features like a locking rear differential, crawl control, terrain select modes and a unique feature called the Kinetic Dynamic Suspension System, or KDSS, capable of disconnecting the vehicle's front and rear sway bars when it senses uneven terrain, allowing for greater wheel articulation. There are 375 2010-2013 4Runners currently listed on Autotrader, around 200 of which come with 4WD. Find a Toyota 4Runner under $20,000 for sale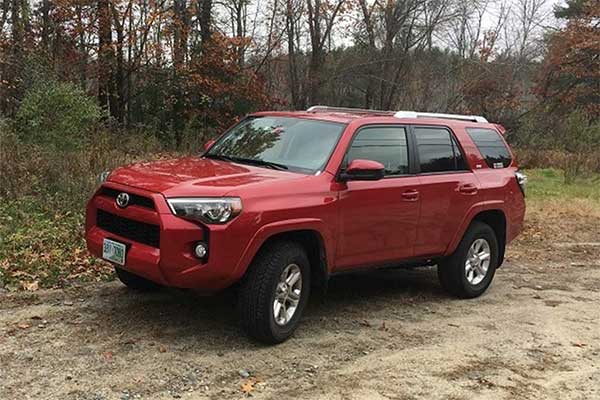 $30,000 – 2014-2017 Toyota 4Runner
With a budget of $30,000, anyone interested in a 4Runner should be looking for a 2014 to 2018 model. The 4Runner received a face-lift for 2014 offering new exterior and interior styling. While the Trail addition continued on until 2016, Toyota opted to rebrand the 4Runner's mainstream off-road model as the "TRD Off-Road" for 2017. The basic SR5 and luxury-oriented Limited carried on as usual. SR5 and Trail models come with part-time 4WD, while the Limited has a full-time 4WD system. Right now on Autotrader, there are over 1,000 2014-2017 Toyota 4Runners listed for around $30,000. Find a Toyota 4Runner under $30,000 for sale
$40,000 – 2020 Toyota 4Runner TRD Off-Road
Buyers with around $40,000 to spend on a 4Runner should look to a new TRD Off-Road model. We recommend the TRD Off-Road trim because it represents the 4Runner at its best, leveraging its off-road credibility better than the entry-level SR5 trim by offering good off-road tech like a locking rear differential and that clever KDSS feature. The TRD Off-Road is also superior to the Limited in our opinion, as the Limited model adds luxury features like low-hanging running boards and 20-in wheels that only serve to damage the vehicle's inherent off-road capability. If comfort is your top priority, a 4Runner isn't for you, and you're probably better off with a RAV4 or a Highlander. Altogether, the 4Runner TRD Off-Road is the best 4Runner you can get as it comes with a good mix of off-road features and a still reasonable price tag.
Additionally, if you're looking to buy a brand new 4Runner, we strongly recommend waiting for the 2020 model year, which will rectify two of the 4Runner's biggest weaknesses: safety and tech. Toyota's suite of driver-assistance features, which hadn't been available on the 4Runner previously, becomes standard across the model range for 2020. Additionally, an updated 8-in infotainment system will be available offering Android Auto, Apple CarPlay and Amazon Alexa integration for the first time ever. Find a Toyota 4Runner under $40,000 for sale
$50,000 – 2020 Toyota 4Runner TRD Pro or TRD Off-Road Premium
The closest you can come to a $50,000 Toyota 4Runner is with a fully-loaded, top-of-the-line TRD Pro model, which comes in at $47,710 when factoring in shipping fees, leaving you with a few dollars left over. Worth noting though is that while it's the most exciting looking 4Runner and it offers a Fox-branded suspension for 2019, the 4Runner TRD Pro isn't available with the trick KDSS system available on the 4Runner TRD Off-Road trim. Given that this system isn't something you can install via the aftermarket, the TRD Off-Road is arguably a better, more capable off-road package. Additionally, the TRD Pro isn't available with a sunroof, which is included on the TRD Off-Road Premium trim. Comparing the two, buyers can pick up a 4Runner TRD Off-Road Premium with both KDSS and a sunroof for $43,140. A good aftermarket off-road suspension then costs around $4,000 with installation, putting you at $47,140 for a brand new 4Runner with KDSS, a sunroof and a beefy suspension. When it comes down to it, both of these are cool trucks, but the more hands-on buyer may prefer the TRD Off-Road for its better features. Either way, a great, off-road-ready Toyota 4Runner can easily be had for under $50,000. Find a Toyota 4Runner under $50,000 for sale