Arguably no other automaker is more commonly associated with overall reliability than Toyota. The company's cars generally have a reputation for outlasting the competition, and as a result, a Toyota makes for a great used car purchase. With that in mind, here are seven good used Toyotas available for around $5,000 or less.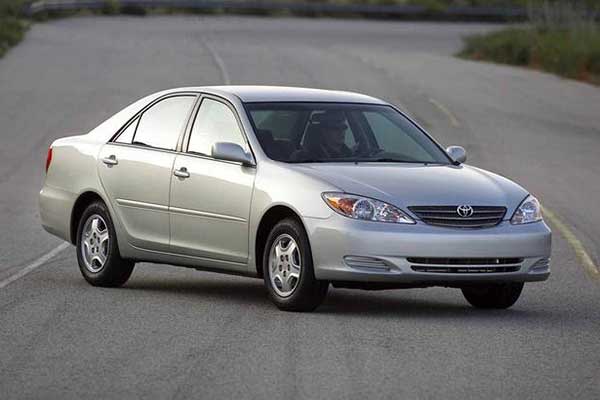 2002-2006 Toyota Camry
It shouldn't come as a surprise that the Toyota Camry spent many years as the top-selling passenger car in the U.S. The Camry offers sensibility, efficiency, great build quality, a spacious cabin and trunk and low cost of ownership. Both 4-cylinder and 6-cylinder engines are available. Right now on Autotrader, buyers have loads of 2002-2006 Camrys to choose from, with close to 600 listed for around $5,000 or less. If you're looking for something newer, the Camry sold from 2007-2011 is also available for around $5,000, with about 300 to choose from on Autotrader — although many of these come with high mileage. Find a Toyota Camry for sale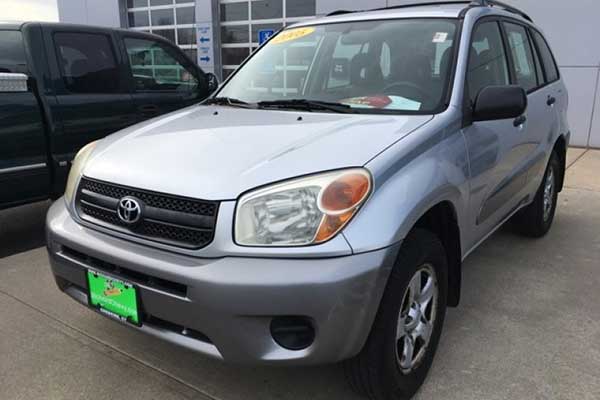 2001-2005 Toyota RAV4
The RAV4 is a compact crossover that offers a good balance of space, efficiency and utility. Since its introduction back in 1995, the RAV4 has been sold over five different generations, and buyers can now pick up a second-generation RAV4, sold from the 2001-2005 model years, for around $5,000. Under the hood, these have a basic 4-cylinder engine paired with a 4-speed automatic transmission. While the original RAV4 was sold in both 2- and 4-door body styles, the second generation model was only offered as a 4-door here in the U.S. Right now on Autotrader, buyers interested in a cheap RAV4 have about 200 options to choose from for around $5,000 or less. Find a Toyota RAV4 for sale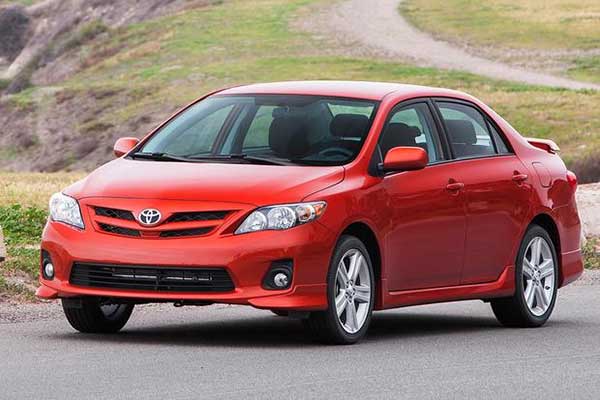 2009-2013 Toyota Corolla
As a smaller alternative to the midsize Camry, the compact Corolla has also ranked highly in terms of yearly sales figures for the past few decades. While it's smaller than the Camry and offers less equipment, buyers looking for used Toyotas for around $5,000 will be able to afford a much newer Corolla than they could a Camry. For around $5,000, we'd look to a Corolla from the 2009-2013 model years, of which there are currently around 200 listed for sale on Autotrader. The 2009-2013 Corollas were reasonably efficient, and buyers should get around 26 miles per gallon in the city and 34 mpg on the highway, according to the Environmental Protection Agency. Other positive attributes of the Corolla from this era are a reasonably large interior and, as always, Toyota reliability. Find a Toyota Corolla for sale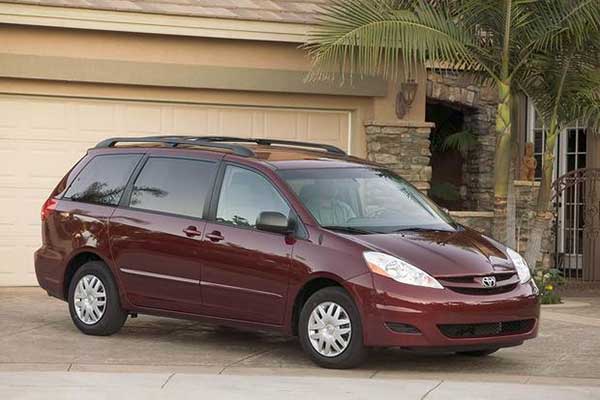 2004-2010 Toyota Sienna
The Sienna minivan is arguably Toyota's most practical vehicle. With a pair of sliding doors and room for up to eight passengers, the Sienna is all about moving your family as effortlessly as possible. The third row even folds into the rear cargo floor, making it easy to transition from hauling people to hauling things. Plus, the large rear cargo hold this creates is capable of carrying a piece of plywood up to 4-ft by 8-ft long when you remove the second row. The second-generation Sienna, sold from 2004-2010, was powered by a 3.3-liter V6 making between 215 and 266 horsepower, depending on the model year, paired with a 5-speed automatic transmission. Right now on Autotrader, buyers have around 400 2004-2010 Toyota Siennas to choose from for about $5,000 or less. Find a Toyota Sienna for sale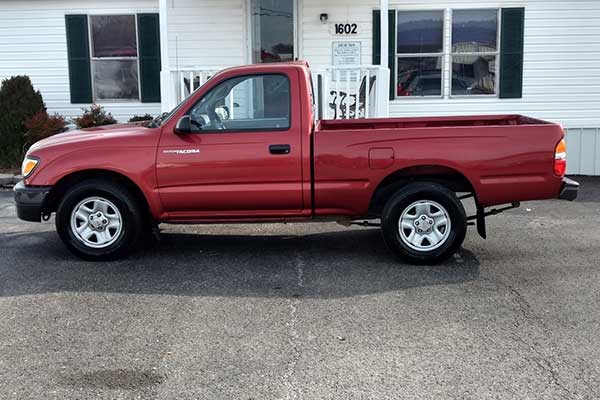 1995-2004 Toyota Tacoma
Thanks to its reputation for exceptional reliability, the Toyota Tacoma has great resale value. Seldom is even a well-used Tacoma available for what could be considered a "bargain." Finding a sub-$5,000 Tacoma means going all the way back to the truck's first-generation body style, sold from the 1995-2004 model years. Three different cab lengths were available — single, extended, and crew cab — along with two different bed options: a 5-ft, 5-in short bed or a 6-ft long bed. While a 4-cylinder engine was standard, a V6 was optional, and obviously, 4WD was, too. Right now, there are just under 100 Tacomas listed on Autotrader for around $5,000 or less. Like we said, cheap Tacomas just don't come around too often, but if you can find one, they offer great utility and low cost of ownership.
Take note, though: If you find a 1995-2004 model, make sure it's had its frame rust issues addressed, as Toyota was forced to buy back or fix many Tacomas from this era due to inadequate rust prevention measures at the factory. Find a Toyota Tacoma for sale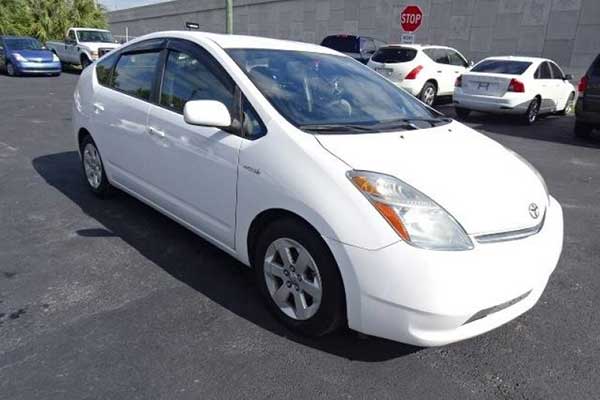 2004-2009 Toyota Prius
Since you aren't going to find many sports cars for $5,000 or less, it might make sense to target a vehicle that's extremely fuel efficient. Enter the Toyota Prius. Toyota's legendary hybrid hatchback was rated to return, on average, 45 mpg in combined driving in its second generation body style, which was offered from the 2004-2009 model years. There are currently around 400 second-gen Priuses for sale on Autotrader for around $5,000 or less. As the Prius has more intricate mechanicals than your average vehicle, make sure that any used example you're considering has had all of its recalls addressed. Taking it for a pre-purchase inspection at a local Toyota dealership or independent Toyota mechanic is a great place to start. Find a Toyota Prius for sale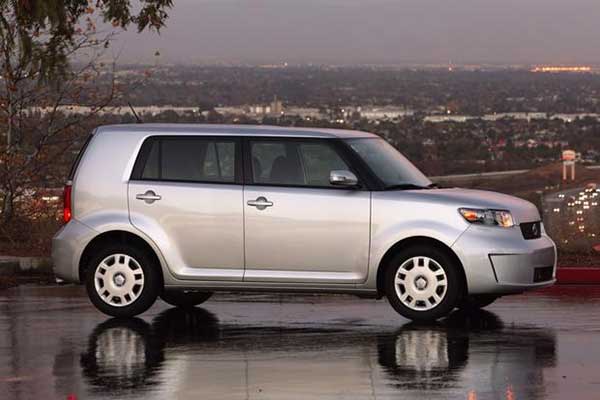 2004-2015 Scion xB
While it was wound down a few years ago, Toyota experimented with the Scion sub-brand for a little over ten years, and over that time, a number of the company's small, youth-oriented vehicles were sold wearing a Scion badge. Perhaps the most notable was the funky, boxy xB. Categorized as a subcompact during its first generation and later as a compact in its second, the xB offered added practicality and interior volume thanks to its boxy, upright proportions. This also added to the vehicle's personality, as did available premium audio systems and customizable interior accent lighting. In both of its generations, the Scion xB came with a simple 4-cylinder engine paired with either a 4-speed automatic or a 5-speed manual transmission. Right now on Autotrader, buyers have over 150 Scion xBs to choose from for $5,000 or less. Find a Scion xB for sale