The 2023 Nissan Ariya is one of the most compelling of a new class of electric cars.
Many manufacturers will have a new EV on lots in 2023. Many of them are midsize SUVs. Most have ranges around, or just under, 300 miles. And most have price tags in the mid-$40,000 range.
All of those traits describe the Ariya, with its $43,190 starting price and 304-mile projected range.
So what sets it apart? Its near-luxury design. The Ariya is simply lovely inside and out. Even in base Engage trim, it features elegant design touches and soft-touch materials. However, the top-of-the-line Ariya Platinum+ e-4orce AWD might as well wear a badge from Nissan's Infiniti luxury marque.
Let's look at what the fully-loaded Ariya Platinum+ e-4orce AWD offers for a price tag in the mid-$60,000 range.
389 Horsepower, All-Wheel Drive
Nissan offers the Ariya in several configurations. The top-of-the-line model gets all-wheel drive thanks to a pair of electric motors, one per axle. The total system output is 389 horsepower. Nissan says the combination is good for a zero-to-60-mph run of under five seconds – a blistering time for an SUV from a mainstream manufacturer.
EV manufacturers often build a trim level designed for buyers who want maximum range, which is the origin of the Ariya's 304-mile number. Platinum+ e-4orce AWD models are heavier, thanks to all the luxury bits, and have more electronics that draw power from the battery than the maximum range model does. So it's good for just 265 miles with the standard 19-inch wheels and 240 with the larger 20-inch wheels.
But Nissan says drivers can recharge the battery from 10% to 80% full in just 40 minutes with a DC fast charger.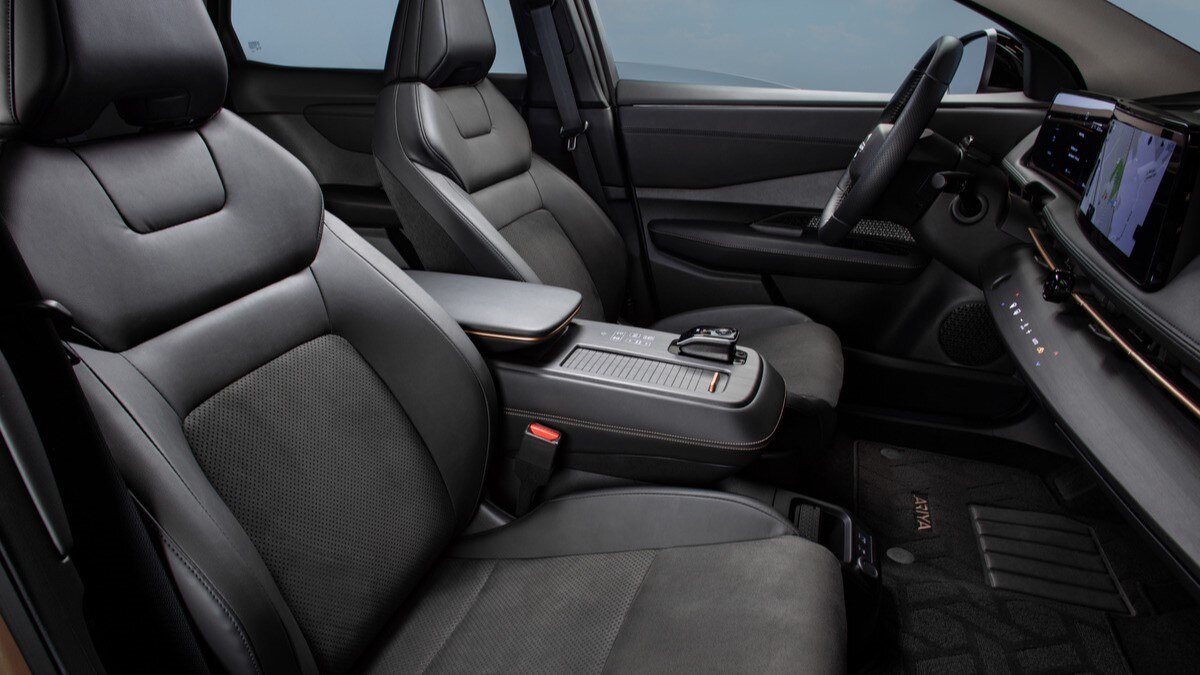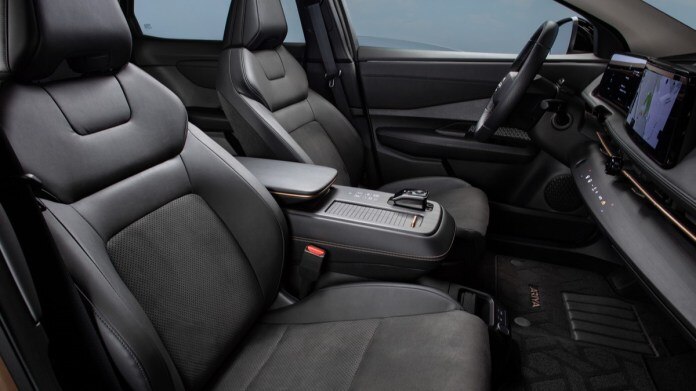 Nappa Leather Zero-Gravity Seats
Nissan's Zero Gravity seats are some of the most comfortable available. Developed with researchers from the Yamazaki Laboratory at Keio University in Tokyo using NASA-derived research, they minimize muscle fatigue on long rides.
Every Ariya gets them up front, but Platinum+ models get them upholstered in Nappa leather. The front seats are heated and ventilated as well.
ProPilot Assist with Navi-Link
No manufacturer will sell an actual self-driving car in 2023. But Nissan's ProPilot Assist 2.0 system can take over a surprising amount of the workload of driving on some pre-mapped highway routes.
After a test drive, Autotrader's Executive Editor Brian Moody said it provides "miles and miles of hands- and feet-free driving."
The driver still needs to stay attentive and be ready to take over at a moment's notice. But being able to relax your hands on road trips is a rare luxury and one we're impressed to find outside the luxury classes.
Voice Commands for Everything
The Ariya Platinum+ e-4orce AWD includes two voice command systems.
Amazon's Alexa Built-in lets you control entertainment functions, get news and weather updates, and even control some smart home technologies with voice commands, like Phillips Hue lighting. Nissan's own "Hello Nissan" system can adjust cabin temperature and make phone calls on request.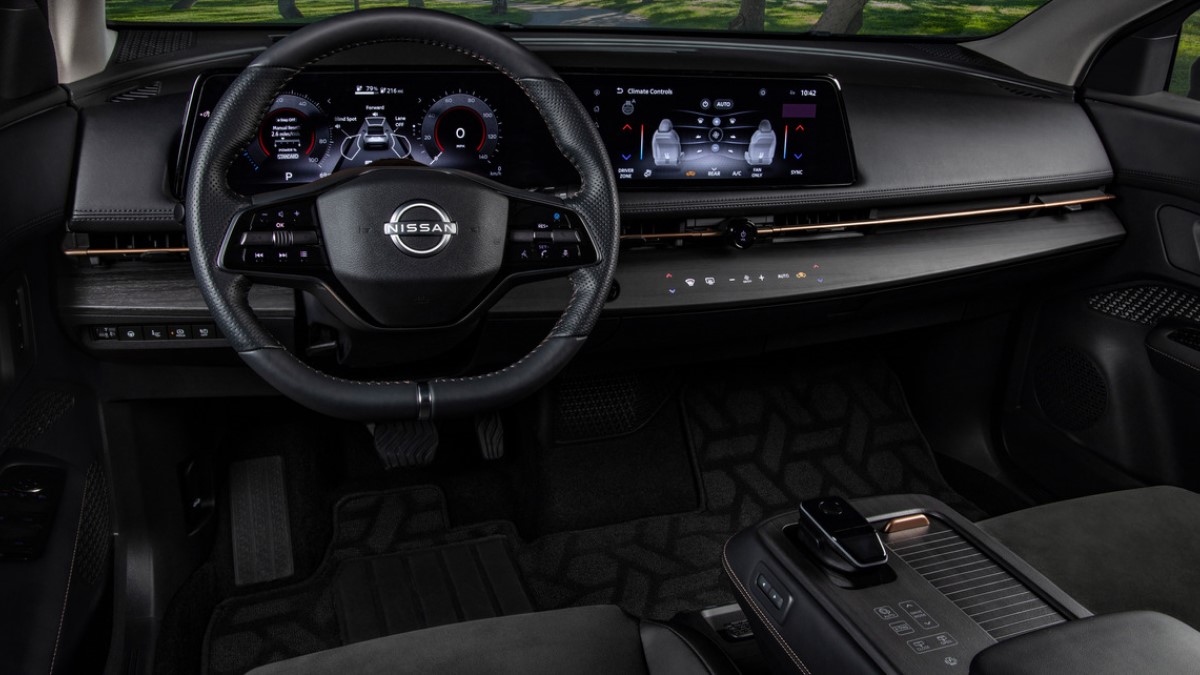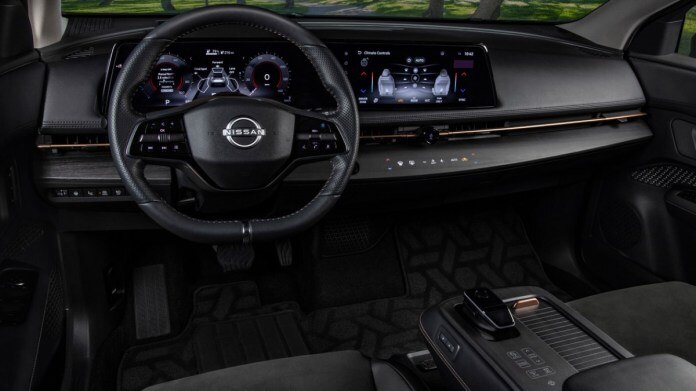 Swipe Between Screens, or Ignore Them
Many 2023 cars put a pair of screens in front of you. The Ariya is no exception, with a 12.3-inch screen for the driver and a 12.3-inch central touchscreen for entertainment and information functions. But the Ariya's are more elegant than most.
For one thing, they look better. They're together like one wide screen, but the driver's is slightly concave, and the central screen is somewhat convex. That makes them easy to see and use, and the curves look like more advanced tech than similar flat screens from other automakers.
But the real magic is the user interface that drives them. Drivers can swipe back and forth, even moving information between the screens with the flick of a finger.
And if you're worried all those screens will take your attention from the road, don't be. The Plantinum+ e4orce AWD model has a head-up display that puts speed, turn-by-turn directions, and other critical info directly in the driver's line of sight.
More Nissan Ariya
See what other Ariya trim levels offer, or See 2023 Nissan Ariya models for sale near you.