RESEARCH LA AUTO SHOW BY YEAR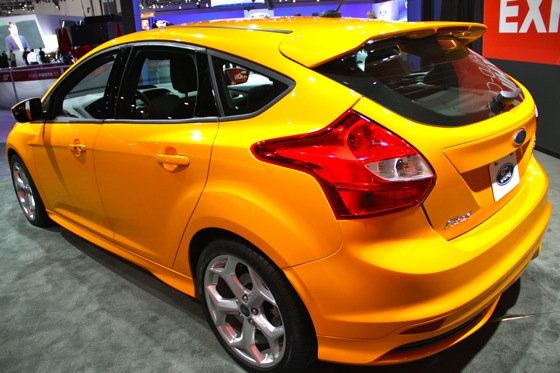 Ford unveiled its 2013 Focus ST hot hatch at this year's LA Auto Show
The souped-up hatchback has a 250-horsepower four-cylinder engine and 6-speed manual transmission
We expect the Focus to debut next year with a base price around $25,000


The high-performance 2013 Ford Focus ST made its North American debut this week at the Los Angeles Auto Show. Featuring muscular styling, a powerful engine and a host of performance upgrades, the Focus ST is scheduled to arrive at U.S. dealerships next year.
Shown in a striking bright orange color, the Focus ST will only be available in the compact car's hatchback bodystyle. Exterior upgrades over the traditional Focus are extensive, and include muscular fenders, a distinctive performance-oriented body kit, unique 18-inch alloy wheels, a larger front air dam, a center-mounted exhaust, and a roof-mounted rear mounted spoiler.
Interior upgrades to the racy Focus are also extremely thorough. The standard model's seats are ditched in favor of sporty leather Recaros, while unique pedals provide the hatchback's cabin with a further high-performance aura. Other revisions include a thicker steering wheel, exclusive gear lever and darkened headliner, which help create an exciting cockpit feel.
Under the hood, the high-performance Focus shines even further. Building on a theme carried throughout the hot hatch, the standard Focus's engine stays put, but undergoes heavy modifications - including turbocharging - to produce a staggering 250 horsepower. And while the automaker's available dual-clutch transmission produces lightning-quick shifts on the regular Focus, the sporty ST is only available with a purist-pleasing six-speed manual.
But Ford went beyond boosting horsepower and tweaking design details to create the ultimate high-performance Focus. The automaker says other changes include upgraded sport suspension, electric power-assisted designed steering to combat torque steer, and enhanced torque vectoring control which improves handling by braking the inner wheel in corners. Ford also says its traction control system, dubbed ESC, can be scaled back or eliminated entirely for drivers looking to have fun in a competition setting.
While Ford hasn't announced pricing, we expect the Focus ST to start in the mid-$20,000 range. That would put its base price squarely against Volkswagen's GTI hot hatch, which starts at $23,695 before destination.
What it means to you: The VW GTI may not rule the hot hatch world for much longer.
See more LA Auto Show news.